The Best Mother's Day Quotes for Every Kind of Mom in 2022
Moms deserve some extra love after a hell of a year.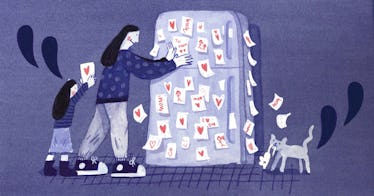 Jonathan Muroya for Fatherly
Figuring out what to say to a mom on Mother's Day is never easy. How can you adequately express your gratitude for all that a mother — or an aunt, sister, or grandma — is, does, and means to you? Especially on Mother's Day 2022, when all moms deserve some extra love for what the pandemic has put them through — and for what they tackle and achieve every day of every year.
If you're wondering what to say in a Mother's Day card this year, we're here to help. If you aren't a natural poet, worry not — leaning on the greats for beautiful, thoughtful Mother's Day quotes is totally respectable. As long as it comes from the heart and makes her feel appreciated, seen and loved, you simply can't go wrong. Here are some of the best Mother's Day quotes to include in a card this year, from some of the world's wisest sons and daughters.
The Best All-Around Mother's Day Quotes for 2022
"It may be possible to gild pure gold, but who can make his mother more beautiful?" —Mahatma Gandhi
"The bond of love and dedication a mother shares with her children and family is without bounds or conditions. Whether an adoptive mom or grandmother, mother or partner, the women who raise us show us that no hurdle is too high, and no dream is beyond our reach." —Barack Obama
"When you look into your mother's eyes, you know that is the purest love you can find on earth." —Mitch Albom
"Yes, Mother. I can see you are flawed. You have not hidden it. That is your greatest gift to me." —Alice Walker
"To describe my mother would be to write about a hurricane in its perfect power." —Maya Angelou
"It is at our mother's knee that we acquire our noblest and truest and highest ideals." —Mark Twain
"A mother is the one who fills your heart in the first place." —Amy Tan
"God could not be everywhere, therefore he made mothers." —Rudyard Kipling
"Mama was my greatest teacher, a teacher of compassion, love, and fearlessness. If love is as sweet as a flower, then my mother is that sweet flower of love." —Stevie Wonder
"The best place to cry is on a mother's arms." —Jodi Picoult
"The natural state of motherhood is unselfishness." —Jessica Lange
"Whatever else is unsure in this stinking dunghill of a world, a mother's love is not." —James Joyce
"I unapologetically and unabashedly biased towards my mother." —Chelsea Clinton
"I hope to be like my mom: fair, tough, and supportive. Our family is everything. Her greatest skill was encouraging me to find my own person and independence." —Charlize Theron
"My mother is my root, my foundation. She planted the seed that I base my life on and that is the belief that the ability to achieve starts in your mind." —Michael Jordan
"It's a funny thing about mothers and fathers. Even when their own child is the most disgusting little blister you could ever imagine, they still think that he or she is wonderful." —Roald Dahl
"That's the wonderful thing about mothers: you can because you must, and you just do." —Kate Winslet
"I believe in the strength and intelligence and sensitivity of women. My mother, my sisters, they are strong. My mum is a strong woman and I love her for it." —Tom Hiddleston
Mother's Day Quotes for Grandmas
"A grandma is a both a sword and a shield." —Fredrik Backman
"I would say my grandma would be like my personal god." —Jamie Foxx
"Nobody can do for little children what grandparents do. Grandparents sort of sprinkle stardust over the lives of little children." —Alex Haley
"When I want to think about what would be the right thing to do, the fair thing to do, the wise thing to do, I can just think of my grandmother." —Maya Angelou
Mother's Day Quotes for Step-Moms
"Family isn't defined only by last names or by blood; it's defined by commitment and by love." —Dave Willis
"Being a parent wasn't about bearing a child. It was about bearing witness to its life." —Jodi Picoult
"Families don't have to match. You don't have to look like someone to love them." —Leigh Anne Tuohy
"Family isn't something that's supposed to be static or set. It's always evolving, turning into something else." —Sarah Dessen