8 Co-Parenting Apps & Scheduling Apps to Help Parents Manage Their Time
Never forget a pick-up, drop-off, doctor's appointment, or playdate, while cutting down on unnecessary scheduling (and emotional) conflicts.
by John Mihaly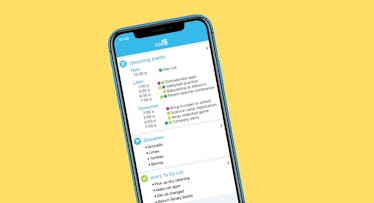 The time management that co-parenting requires could crush an otherwise organized individual. We have to be where, when? Who's week is this? But what about next week when I have that thing and we need to split days? It's expected, but still it can be a lot to handle. Add in any potential court mandates, and you've got a recipe for not only letting your kids down but also potentially losing custody of them. That's why co-parenting apps are so useful.
The best co-parenting apps and custody calendars provide scheduling tools for divorced parents that engender positive communication and keep all child-related needs in one, easy to access place. Able to be accessed by both partners, they serve as all-in-one joint calendar programs that store important information, manage schedules, and even act as a financial ledger. With them, you're more organized and much less likely to send your ex a frantic "HEY ARE YOU FREE TO DO PICKUP THIS AFTERNOON?" text.
But what are the best co-parenting apps to check out? There are a number of excellent options with easy-to-use interfaces and handy features. Some are free, others are, well, not so free. Here are our favorites.
2Houses
With an interactive calendar primed for sharing and synchronization so parents can eliminate scheduling conflicts, 2Houses also features an information bank for easily forgettable (and valuable) details about your children (social security numbers, blood types, clothing sizes.) There's also a financial management system to help you keep tabs on shared expenses and account balances. You can even archive and print out all of your communications with your co-parent, your children, or your mediator (none of which can be deleted).
14-day free trial; $10 per month
Coparenter
Coparenter goes well beyond the basics of scheduling features. Secure, non-trackable notifications are sent to co-parents for all pick-ups and drop-offs of the kids. Smart filters catch any language that might be deemed "inappropriate" and give you the chance to catch your breath and choose your words wisely before firing off a fiery message. The company also offers an "on-demand coParenter professional" for mediating and resolving disputes, drafting agreements, and better organizing schedules. An impending update will soon allow you to track and transfer money.
30-day free trial; $12.99 per month; $119.99 per year; $199.99 per year for you and a co-parent
AppClose
AppClose is super useful even for those not using the app itself. The AppClose Solo feature allows users to send requests or events to non-app-connected co-parents, childcare providers, lawyers, other family members or third parties via text, email, or social media. Submit a request and be notified immediately as to whether it was approved, declined, or paid through the built-in payment solution "ipayou." AppClose also makes it super easy to scan receipts, attach documents, and keep records of all un-deletable communications concerning your children.
Free, no subscription or monthly charges
Cozi
If making lists is your preferred method for organizing, Cozi has certainly got you covered. Create shared to-do, honey-do, shopping, or chore lists (for the kids) and share them on a calendar that family members can access via nearly any desktop or mobile device. Cozi plays well with other calendar programs like Google Calendar, Outlook, and iCal. There's also a place for recipes for favorite meals, but you don't need to let your Seamless app know about that.
Free, no subscription or monthly charges
Fayr
Co-parenting apps excel at keeping you on point from one day to the next, but often, it helps to have a more macro view from above. Fayr creates a monthly parenting report with stats that track, "your custody, your engagement with documentation, and even your message response time." In addition, you've got all the usual suspects in a time-sharing calendar, messaging with easily accessible records, thoroughly organized expenses, a geo-location log with GPS-verified location check-ins at precise times and dates, a private journal for photos, and a file vault for uploading important documents.
$9.99 per month; $99.99 per year; $249.99 for three years
Talking Parents
Talking Parents is all business and heavily emphasizes the need for clear and respectful communication between co-parents and professionals (judges, lawyers, mediators, or any court-appointed guardians). Like competitor apps, communication records can't be deleted, tampered with, or lost, but they can be efficiently, coherently, and chronologically organized. So that way you won't ever have to worry about your lawyer shuffling through messy stacks of papers and printouts of screen grabs. No spam, junk, or off-topic distractions make Talking Parents a no-nonsense platform to get the co-parenting job done.
Free for the standard plan (website only); $4.99 per month for the mobile plan
Our Family Wizard
Our Family Wizard keeps your visitation schedule, expenses, and communication contained within one app so that custody issues can be solved all in one place. It has an in-app calendar where you can put things like doctor's appointments and parenting drop-offs down for clear communication, a secure message board that keeps a record of all text communication between parents, a check-in function, and an expense log. There's also an "Info Bank" where co-parents can input medications, immunizations, medical history, emergency contacts, and school schedules, minimizing room for conflict around important information. We also love the app's ToneMeter, which reads over your messages before you send them and warns you if any of the language is "emotionally charged" — giving you the opportunity to tone down any potentially angry missives.
$99.00 and up for a-la carte programs, $119.97 for a 1-year bundled program, $209.97 for a two-year bunded program
Alimentor 2
This sequel Alimentor 2 is all about getting granular with your data and maintaining equal accountability. No-shows and withheld visitations are always an unfortunate possibility, so instead of deleting events that should have (but didn't happen), you can mark them as canceled instead. Then you can view reports on planned parenting time (based on the custody schedule) and the actual time you spent with your child. If there's an instance in which one parent didn't follow the agreed-upon plan, you have the ability to raise a "disagreement flag" and document your issue.
$2.99 one-time purchase; no subscription fees; no in-app purchases