The Best Budgeting Apps to Get Your Family Finances In Order
Managing a family budget doesn't have to be a massive time suck.
by Dave Baldwin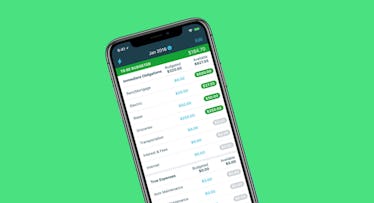 Raising a kid is expensive. And it's becoming more costly every year. It's also time-consuming, which means keeping tabs on all that newly spent money often falls by the wayside. Nobody wants to stay up at night entering receipts into Quicken when your toddler's going to be knocking at your door at 5 a.m.
Getting a grip on the family finances, however, doesn't have to be a burden. Nor do you need, as was once the case, an accounting degree to understand the personal finance software that came with your computer. No, today there is any number of personal finance apps and planners available for download. Most are either free or charge a small fee, link directly to your bank and credit-credit accounts (thus eliminating the need to manually enter expenses), and sync in real-time across devices so everybody in the family can see how much you just spent on golf clubs. Not only that, but they make budgeting ⏤ and more importantly, sticking to a budget and saving ⏤ infinitely easier than using an Excel spreadsheet and a drawer full of white envelopes.
But which ones are worth the time you'll spend setting them up? Here are five of the best budgeting apps for busy parents.
EveryDollar
Cost: Free to manually enter income/expenses, $10 per month to link to bank accounts
Built around financial expert and radio host Dave Ramsey's zero-based budgeting (income minus expenses equals zero), EveryDollar lets parents easily create (and adjust) a monthly budget and track spending against it. The interface is clean, you can split expenses between categories, and the app syncs across all devices so that spending by one partner is immediately visible to the other. It also guides users through Ramsey's seven Baby Steps of financial security and tracks where they are in the process. Only catch, the free version of EveryDollar requires that transactions be entered manually; it costs $99 a year to link to your bank accounts. (iOS) (Android)
Mint
Cost: Free
It's easy to understand why Mint is the most popular personal finance app out there, it has it all: budgeting, expense tracking, bill alerts, investment monitoring, and even credit checks. Also, it's free. It's the one that's most similar to an actual piece of personal financial software like Quicken (both are made by the same company, Intuit). Mint is web-based, so while there is no manual entry option for users who don't trust the cloud, it automatically updates and categorizes transactions ⏤ which means it's low effort. It also allows users to create budget subcategories, make manual changes after transactions are downloaded, and set financial goals, such as saving for a new car. (iOS) (Android)
GoodBudget
Cost: Free for 'Basic' Version (20 total envelopes), $6 per month/$50 per year for 'Plus'
Based on the old envelope budgeting system, GoodBudget lets you create virtual envelopes (or categories) and divide up your income. As you input your expenses, the green bar grows and the money in the 'envelope' disappears. It sends alerts when you're about to bust a category (so you can reallocate), syncs across all devices (two with the 'Basic' version) for real-time tracking, and allows users to divvy expenditures across multiple categories. It also includes a handsome pie chart of total spending by category and lets you download transactions to Excel, which is good because it only maintains one year of history unless you pay for the upgrade. (iOS) (Android)
You Need A Budget (YNAB)
Cost: $7/month, $84/year
One of the most popular budgeting apps available, YNAB is similar to Ramsey's EveryDollar in that it's based on the "every dollar has a job" principle in which users know where their money is being spent before a paycheck ever rolls in. Unlike EveryDollar, however, it also provides investment tracking and bill management (although still no bill payment). YNAB focuses on budgeting future money toward bigger expenses down the road (Christmas gifts, vacations, etc.), as well as on getting ahead so you're not living paycheck to paycheck. It links to your bank accounts to eliminate manual entry (although it's not required), includes a "roll with the punches" feature that allows moving unused money on-the-fly between categories, and comes with a free 34-day trial. (iOS) (Android)
Acorns
Cost: $1 per month
Focused less on budgeting and more on savings, Acorns is all about "micro investing" small amounts of money over an extended time and without much thought. It works by rounding up the remaining change on every purchase you make and automatically investing it into a diversified portfolio. You control which accounts/credit cards are connected to the app, as well as which funds are in the mix based on your level of risk/stage in life. Not only that, but Acorns lets users set up recurring investments (daily, weekly or monthly), drop money in on a whim if they find extra cash in the budget, and even open up/manage an IRA with the Acorns Later feature. They also just launched Acorns Spend, which is billed as the "first checking account with a debit card that saves, invests, and earns for you." (iOS) (Android)