The Best Bank Accounts and Debit Cards For Kids
Child accounts and cards have grown up in recent years. Here are five with great features and manageable costs.  
by Daniel Kurt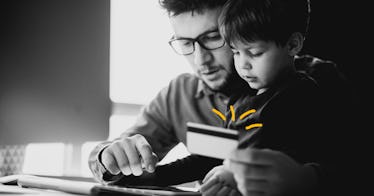 For their first few years of life, that porcelain piggy bank on your kid's dresser does exactly what you need it to, providing a safe haven for the stream of cash they accumulate with each passing birthday.
As children get a little older, however, they're ready for a more sophisticated approach — and to gain more financial literacy in the process. Even if there's room in their piggy to squeeze a few more bills, relying on cash is not a very modern way to pay for chores or an allowance. It also doesn't teach them valuable lessons about modern money management. And besides, they may yearn for an easy way to make purchases on their own – something that gets a lot easier with a piece of plastic in their pocket.
So what are the best bank accounts for kids? Or, if you're searching, what are the best debit cards for kids? While it certainly doesn't hurt to check out your community bank to see what they offer, the fact is that larger institutions have certain advantages when it comes to targeting the teen and pre-teen markets. Namely, they have the resources to develop user-friendly apps that allow kids look up balances, while giving parents the ability to transfer funds, limit certain purchases and lock debit cards when they go missing.
Among the nationally marketed accounts for kids, here are some of our favorite bank accounts and debit cards for kids.
If you're looking to introduce your child to the banking world, the MONEY Teen Checking account from Capital One is a great option. Among the features parents will like: the lack of any minimums to start or maintain an account, a free debit card that's good anywhere MasterCard is accepted, and access to 40,000 Capital One ATMs across the country.
Oh, and there's a pretty nifty mobile app that goes with it. Kids will like the easy way to track their account balance and set up specific savings goals – say, if they have a new gaming console they have their heart set on. And for parents, there's the ability to create an automated allowance (you can link non-Capital One accounts, if you don't bank there), set up parental controls and lock their debit card if it's ever stolen or lost.
MONEY Teen Checking accounts are FDIC-insured up to $250,000, too. So unless your son or daughter has some really generous relatives, their balance is as safe as a kitten.
Don't let the name of the account fool you. While high schoolers might be Capital One's primary market here, any kids 8 years and older can sign up with a parent or legal guardian as their joint account holder. Once they turn 18, they can open up a 360 Checking account and transfer the balance there if they like.
Pros: No minimums. Free debit card. Solid mobile app.
Cons: At 0.10% APY, you can find a better interest rate elsewhere (Capital One's Kids Savings account offers 0.30% APY, but without a debit card).
Credit unions may not be the first place you think to look for a kid's account, but these member-owned institutions frequently offer better rates than you'll find at a traditional bank. Alliant Credit Union's Teen Checking is no exception.
Kids ages 13-17 can apply, as long as their parent or guardian signs on as a joint account holder. Currently, Alliant is offering 0.25% APY on these accounts; in today's low-interest environment, even that's considerably better than you'll find at a brick-and-mortar bank. For larger amounts that they might get from birthdays or a Bat Mitzvah, it's a good way to optimize growth within a conservative, federally-insured option (an agency called NCUA protects credit union accounts like this one).
Unless you live in the Chicago area, kids won't have access to an Alliant-owned teller machine. But the credit union does provide $20 a month in ATM fee rebates, which is more than enough to cover the occasional visit. Plus, there's no monthly service fee, and they'll get a free Visa debit card. You can transfer money to your child from either your own Alliant account or an external account.
The trick with any credit union is that you have to be a member to open an account, although getting through the door isn't particularly difficult. If you don't live in Chicago or work at an affiliated company, all you have to do is join the nonprofit Foster Care to Success – and Alliant pays your $5 membership fee.
Pros: Higher-than-average interest rate. Visa debit card. No maintenance fee.
Cons: Mobile app may not have as many features as other cards on this list.
BusyKid was one of the first mobile apps built specifically with kids in mind. So it stands to reason that it's a pretty handy interface for most of the things kids need: looking up balances, getting money for chores or an allowance. Kids can even use their money to make donations or buy stock in a menu of well-known companies like Netflix or Nintendo. It's a pretty nifty way to help them learn about stocks (if they're not already gobbling up shares of Gamestop.)
BusyKid has plenty of functionality built in to soothe parent anxieties, too. For example, you can put a lock on how much the kiddos have in their "spend" category – forcing them to save more of what they take in – and an "activity feed" on your device lets you know exactly what they're doing with their money.
In addition to a pretty fantastic app, BusyKid users also get a BusyKid Visa Prepaid Spend debit card for $19.99 a year (each additional card is $7.99). So if they're itching to become more independent and buy their own clothes or video games, all they have to do is pull out their card.
Pros: Terrific app that parents and kids will love. Low-cost subscription. Investing capability.
Cons: You don't have a local bank branch that you can pop into.
Chore lists that allow you to pay specific dollar amounts when they complete a task? Controls that let you limit their spending at specific retailers? The ability to pay them interest in order to encourage saving?
Yeah, there's a lot about the Greenlight debit card and its accompanying mobile app for parents to like. That includes the notifications you receive whenever they spend money online or at a local store (they can use it anywhere that takes Mastercard).
Safety-minded parents will probably like the fact that the Greenlight Debit Cards are all chip-enabled and that all communications between phones and the Greenlight server are encrypted. Like the other cards on our list, the first $250,000 in their account is federally-insured, so you don't have to sweat over the bank's financial strength, either.
Greenlight's fee of $4.99 a month covers up to five cards, which means bigger families won't have to pay an arm and leg to get everyone their own piece of plastic. For a one-time charge of $9.99, users can also get their picture right on the card, which a lot kids will love (it also makes it pretty hard for a stranger to steal the card and use it anywhere in person).
Pros: Feature-laden app. Vast Mastercard network. Fixed monthly pricing is good for bigger families.
Cons: No Greenlight-paid interest. You have to pay extra to unlock investing capabilities.
Gohenry is another debit card designed specifically for younger users, offering up a convenient mobile experience and the ability to make purchases at any store that'll take a Mastercard – which is to say, pretty much everywhere. Even the ability to customize their card is kind of cool. For $4.99, they can choose their favorite graphics and have it read "Golauren" or "Gokevin," for example, in the upper left.
Kids and parents each have their own login. Moms and dads having the ability to manage as many as four child accounts on the app, making it easy to keep an eye on what the whole crew is doing money-wise. You can set up either a scheduled allowance or one-off transfers for, say, raking the leaves or cleaning the bathroom – especially helpful for kids who need a little extra incentive.
Like Greenlight, the app is pretty good at calming parent fears – you can select where the card can be used (in-store, online or at an ATM) and your phone will get real-time notifications whenever they make a transaction with their card. Plus, their balance is FDIC-insured up to $250,000, so you don't need to stress about the gohenry's banking partner going bust.
One caveat: Gohenry's pricing model probably works best for smaller families. At $3.99 a month for each card, the fees can get a little heavy for those with three or more kids.
Pros: Great mobile app with lots of parent-friendly features.
Cons: Can get pricey if you have more than one child. No investment options.