The 5 Best Apps For Teaching Kids How to Manage Their Money
From allowance trackers to prepaid debit cards, these digital piggy banks will help you raise financially savvy kids.
by Dave Baldwin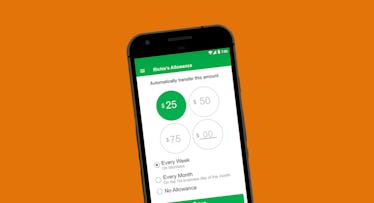 Teaching kids the value of money ⏤ and especially how to save money ⏤ is one of the most important lessons a parent can impart. Simply, a child who learns good financial habits now is far more likely to become a financially savvy adult later ⏤ or, at least, an adult who doesn't max out their credit cards on Amazon every month. But how do you teach a kid or a teenager how to manage their money in a digital age, when so little cash actually seems to trade hands these days? Simple, you turn to an app.
There are essentially two types of personal finance apps for children ⏤ allowance trackers for younger kids and debit cards for teens. And while it's hard to argue against the effectiveness of cold hard cash to teach kids the value of a dollar, using an app ⏤ really a digital piggy bank ⏤ in conjunction with actual dollars to help them track chores and allowance can have a number of advantages.
In addition to teaching them the basics of online bank and transferring funds, a skill they'll most certainly need in the future, money-management apps help kids learn how to budget, set savings goals, understand interest rates, and the importance of giving to charity. Most are available across all devices, are negligible in cost (although those affiliated with debit cards have monthly fees), and offer parents a level of control not afforded by a good old-fashion piggy bank ⏤ including the ability to turn off accounts, block specific merchants, and receive spending notifications.
But which apps are the most effective at teaching kids about managing money, and for which ages? Here are five that parents can use for pre-schoolers on up.
Bankaroo
Ages: 7+
Cost: Free for iOS, $2.99 on Android Bankaroo is your kid's first 'virtual' bank account. There's no actual money in (that stays either in their piggy bank or your pocket) but the account allows them to manage their incoming cash as if they were online banking. Once parents add funds (and only parents can do the adding), kids can use the colorful interface to record expenses, set goals, and earn badges for being savvy savers. It's web-based so younger kids don't need a smartphone (although it's also available as an app) and for a one-time $5 upgrade to Bankaroo Plus, kids can move money between three accounts ⏤ checking, savings, and charity. (iOS) (Android)
Current
Ages: 13+
Cost: $36/year for first teen; $12/year for each additional childCurrent is a legitimate debit card designed to teach teenagers about financial responsibility before they max out your credit card at Spencer's. The cards are connected to a parent's bank account ⏤ they require a US social security number to set up ⏤ and can be loaded either automatically with a weekly allowance or per completed chore/task at the touch of a button. Even better, the app sends notifications when the card is used and lets parents pause the card and block or limit purchases at certain stores or within specific spending categories. (iOS) (Android)
PiggyBot
Ages: 6+
Cost: Free Another allowance-tracking 'virtual' bank to help younger kids manage their money, PiggyBot is nice because it allows kids to swipe money into one of three accounts ⏤ Spend, Share, and Save ⏤ as soon as it comes in from mom and dad, teaching them how to budget right out of the gate. It also lets them upload pictures of the stuff they're saving for as a motivational tool, and provides a countdown to let them know how long it's going to take at the current savings rate. While PiggyBot was developed (no doubt as a clever marketing tool) by online bank Kasasa, you don't have to have an actual account with the company to use it (in fact, it doesn't link to any real financial accounts). That said, it is only available for iOs devices. (iOS)
Greenlight
Ages: 13+ (minimum age to use)
Cost: $5 per month Similar to Current, Greenlight is a debit card for kids that parents control from their smartphone. Unlike Current, though, it can be used in over 120 countries ⏤ so kids can buy souvenir Eiffel Tower keychains on the big family vacation to Paris. Greenlight also offers two other cool features. First, it lets parents divide the cash they give their kids into one of two categories: money that can be spent anywhere and money designated for a specific parent-approved merchant, i.e. Starbucks. Once they run out of 'anywhere' money, they get to drink a lot of coffee until their next payday. Of course, parents are notified any time money is spent. And second, you can create parent-paid interest rates to help encourage them to save their money rather than spend it on soy lattes. There are versions of the app for both kids and parents. (iOS) (Android)
FamZoo
Ages: 5+
Cost: $6 per month/family Billed as an all-in-one family financial tool for kids from preschool to high school, FamZoo combines both an IOU allowance tracker and actual prepaid debit card for teens. The interface is more business than pleasure (especially for younger kids) but it's ripe with features, including the ability to reward for odd jobs, penalize for missed work, and even match contributions like a tiny 401k. It also works across all devices and connects everybody in the family, so money can move as easily between siblings as it can come from mom and dad (although loving siblings are required for this feature to work) The big drawback of FamZoo is that both types of accounts come with monthly fees. (iOS) (Android)