What Men Need to Hear Right Now, According to 11 Therapists
We asked a variety of therapists for the one piece advice they had for men right now. Here's what they said.
by Fatherly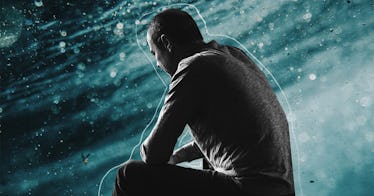 It's easy for men — and fathers in particular —to have tunnel vision, to tuck their head down and barrel through obstacles, ignoring their own needs for the sake of their families. This is necessary to a point. But we all need to take time and work through our feelings in order to arrive at a better place — or simply remain in the good place — for ourselves, our partners, and our kids. Upkeep and introspection are always crucial to being able to, well, be there.
Now, in the midst of a pandemic, when stress, burnout, and emotions are redlining and our normal means of decompressing are largely unavailable, they're even more so. Attending therapy is a step in the right direction. But, as this can be a non-starter for many, we decided to ask a variety of therapists for the one piece of advice they offer men right now. Some urged for more vulnerability, others offered tips about keeping one's self in good health, still others stressed modeling proper behaviors. All of the advice provides sound advice for men during a pandemic and beyond.
See This As an Opportunity
"With our current social isolation and working from home, our fathers are facing challenges — and opportunities — unlike those they have had in the past. Foremost I reflect this to them: That while it's hard to step up and be more directly involved in things like schooling, it's also an opportunity to challenge those myths of toxic masculinity and connect with your wife and kids like never before. Many of the dads I work with have done just this, and everyone in the family is noticing and benefitting. These COVID dads will come out of this uniquely equipped to help their kids and to support their wives, husbands, and significant others." — Heidi J. Dalzell, PsyD
Emotional Regulation Is Essential
Don't forget to teach your child about emotions and how to express them. As you model many things for your children, make sure that you are modeling emotional regulation and how to express emotions in a healthy way expressing your wants and needs. Be a positive model for your child in all things. This guidance in therapy allows fathers to feel liberated from their own emotional bondage, while providing a healthy guide for their children. — Dr. Markesha Miller, psychotherapist
Don't Forget Why You're Working
"One reminder I find myself sharing with fathers and husbands recently is about working from home during the pandemic. If you are working from home and get irritated when your kids or spouse disturb you during your work, just remember — they are the main reason you work at this job. If you took a pay cut, they are the main reason you didn't quit. If your job is stressful, they are why it makes sense to stick with it. Make a conscious effort to remind yourself of this bigger picture the next time you're feeling irritated while working from home. It will help." — Paul Greene, Director of the Manhattan Center for Cognitive-Behavioral Therapy
Embrace Your Vulnerability
"We all want to heal from past hurts, but we're not always ready or able to do the work. However, once we become parents, healing begins to feel like an imperative, a visceral urge. We don't want to pass on any damage we endured (intentionally or not) from our own parents. I invite my clients to read a poem 'This Be the Verse' by Philip Larkin. The first verse is, "They Fuck You Up Your Mum and Dad, They Don't Mean To, But They Do." It's a bit dark, in a funny-because-it's-true kind of way. And it opens up this incredibly important conversation about inter-generational trauma. So, here's my advice to fathers: do everything in your power to break the cycle of inter-generational trauma. Start by fully embracing your vulnerability." — Annalisa Smithson, Animal-Assisted Therapy, LLC
Acknowledge Your Children's Feelings
"Empathize with your spouse and children. Listen, validate feelings, hug and say it will be okay, but most importantly — acknowledge the fear, anger, frustration, boredom, loneliness, or whatever children are struggling with." — Allison G. Johnsen, LCPC, BCC, manager of behavioral health at Northwestern Medicine Central DuPage Hospital and Delnor Hospital
Don't Be Afraid to Ask For Help
"The one piece of advice I always tell fathers is that their feelings matter, too. We often focus so much on the mother's feelings and experiences that we neglect dad. We forget that he's going through all these changes and difficulties, and we assume that he's strong enough to brave through them without intervention. That's not true. Everyone needs support. I always tell my father clients to find a support system and reach out to them. It's okay to ask for help. It's okay to have feelings." —Nicole Arzt, MFT
Remember: You Are Showing Your Kids What Life Looks Like
"There is so much that needs to be said to build dads up, to affirm their manhood and their marriages and to motivate them to greater excellence as fathers. However, if I could only give one piece of advice, it would be to remember that they and their partners are showing their children what life looks like. Children are sponges and will soak up the patterns in their families, and then most often play those same patterns in their life forever. Healthy relationships, love, compassion, kindness, and clear communication will make their lives wonderful. Abuse, addictions, hate, divisiveness, relational dysfunction and unhealthy communication will affect the children adversely. It is worth any amount of work — even getting help if necessary — to provide a great heritage for your children." — Ellen J.W. Gigliotti LMFT, Clinical Director, Sanctuary Christian Counseling
Talk More About Your Emotional Struggles
"The biggest piece of advice or growth area that I've seen for fathers has been to talk more about emotional struggles. Men are told from a young age that they should be robots and not have or show any feelings. In a number of the couple and family sessions the guidance I've been giving is about opening up, being vulnerable, and sharing difficult emotions." — David Grammer, MA, LMFT, Grammer Family Therapy
Take Care of Yourself
"Take care of you. While the brave new world of fathering has pluses, it's also challenging. Don't forgot to take care of yourself during this time. That may mean exercising, meditating, or finding those times to slip away for a solo walk." — Heidi J. Dalzell, PsyD
It's Okay to Not Have All the Answers
As a therapist, I work with men who are fathers, and they have been feeling powerless lately. When their kids ask them how soon things will get back to normal, they don't have an answer. When their spouse brings up money, they may avoid the issue. A few months ago, dads had answers; today they are searching for them.
It's okay not to have all the answers. It's okay to say, "I don't know." Saying this is not a sign of weakness or lack of leadership. On the contrary, it's a sign of strength to tell the truth, and it models good character. A dad might say to his child, "I don't know when things will get back to normal, but we can talk about anything that's on your mind."
Dads right now can embrace the concept of circles of concern, influence, and control. Notice your concerns, and don't shy away from them. Understand what you can influence, to varying degrees. And finally, realize what you actually have control over, then take appropriate, positive action. — Michael Ceely, LMFT, Ceeling Counseling
Slow Down and Really Contemplate Your Life
"This is a very important moment in time, where everything has been closed or slowed down, and men can take this opportunity to really be there and enjoy the time with their kids and wife/partner. This probably won't happen again, and memories can be made that their kids will remember forever. It's a time to slow down and really contemplate your life, how you're living it, and decide to make changes to it while things are slowed down, such as working less and putting energy into the things that they really value." — Jason Fierstein, MA, LPC, Phoenix Men's Counseling