7 Unique Upsides of Being a Disabled Dad 
Despite needing a ventilator to breathe, a feeding tube to eat, a tablet to type, and a power chair to get around, life is good. Seriously.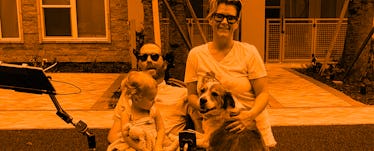 Kevin Swan
First, you must be wondering: What kind of glass-half-full, sappy, optimist comes up with a list like this? Maybe it's a guy that got hit by a Domino's delivery driver and now has more money he can count? Or maybe he was Tony Robbins' number two, so he was well equipped to handle the tragic life of being completely paralyzed?
Well, I'm not the heir to the Domino's empire nor did I work as a motivational speaker. I am, however, an optimist. And I'll be damned if I let my situation beat me.
I am completely paralyzed with the exception of a few stubborn facial muscles that refuse to quit. My condition did not happen overnight. It was an extremely gradual process that has been happening since the summer of 2010.
The culprit behind its methodical degeneration is a neurological disease known as amyotrophic lateral sclerosis, or ALS. You might remember hearing about it during the Ice Bucket Challenge, a global phenomenon that gave the disease its 15 minutes of fame. Despite the hundreds of millions of dollars that were raised in the summer of 2014 there is still no known cause or cure.
Fortunately for me, despite needing a ventilator to breathe, a feeding tube to eat, a tablet to type, and a power chair to get around, life is good. Seriously. I have a beautiful, kind, and smart wife. I'm also a father to the world's next RBG, our three-year-old daughter Elliott Monroe. Perspective is everything, and I sure as hell won't allow my situation to dictate my mood. So I wanted to write about some of the positive aspects of my life. Here goes.
When it comes to skipping out of the chores around the house, it doesn't get any easier than pulling the ALS card. I have not had to do the dishes once. Dirty diapers? No thanks! It turns out that you need fine motor skills to do both tasks.
Need some help multitasking? I'm your man. Thanks to being completely paralyzed, I am able to write emails, while getting my fingernails clipped, and have lunch at the same time! Easy breezy baby, thanks to eye gaze technology, a caregiver, and a feeding tube.
Is there anything worse than a gulp of fresh squeezed orange juice right after toothpaste? Or debating on having a cup of coffee after you just brushed your teeth? Not me, I don't ever have to worry about such a conundrum.
I'm no Carrie Bradshaw, despite once finding a pair of Manolo Blahniks in the back of a cab in NYC. But my shoe game is strong. I do have a lot of custom-designed sneakers from Nike. The best part about having fresh kicks and being in a wheelchair is that my shoes are always on display. Not to mention that they never get dirty because they never touch the ground.
Everyone poops. It's not just a great book, it's a fact of life. Now, I do require two different people to help me do my business, and I am quite regular. The two lucky individuals that get to join me have very defined duties. Pun intended. One person lifts me up in a bear hug motion while the second person pulls my pants down. But thanks to technology, that is really the only part of the experience that requires hands on help. I have a wonderful bidet that has more settings than a Sharper Image recliner. You haven't lived until you felt the warmth of a heated toilet seat in the middle of winter.
Lady Gaga is not the only one with a poker face. Thanks to ALS I can keep a straight face, no matter how high the stakes get. There is some minimal movement in my eyebrows and that is how I signal yes or no when I don't have my tablet. This nuanced language is tough for people to fully understand. However, it gives me and my wife an incredibly intimate form of communication.
I draw the line at smuggling narcotics across foreign borders, but other than that, if you got stuff to smuggle or "hold"? I am your man. Nothing makes a security guard feel worse than having to pat down a completely paralyzed guy that talks with his eyes. I am also quite the Sherpa too. If we're at the mall or Disney and I can hold bags. Throw them on the back and let's roll.
This list was surprisingly easy to make. I am a truly positive person, but I am not an angel or some type of hippy-dippy sap that has his head in the clouds. I believe my life is hard but it is not any more difficult than yours. We all have battles and struggles. The choice to allow it to dictate your mood or how you see the world is exactly that, a choice. What do you choose?
Kevin Swan is a father, husband, and writer. He founded the nonprofit A Life Story Foundation to raise awareness of, and help find a cure for, ALS. He types with his eyes.