What Is BDSM? Want to Try Bondage? Here's What Curious Couples Need to Know
Interest in BDSM is gaining steam, but there are a few things beginners need to know before participating in the practice.
by Carrie Weisman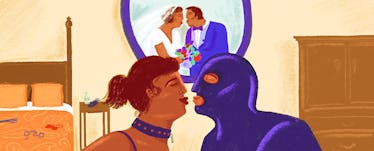 Julia Barnes for Fatherly
According to the Kinsey Institute, roughly 30 percent of American adults enjoy some spanking during sex. Another twenty percent have experimented with restraints, and 13 percent have found themselves engaging with whips and floggers. Other studies suggest even those who haven't given such activities a shot yet have likely fantasizing about doing so.
These proclivities fall under the umbrella of BDSM, an acronym for bondage/discipline, domination/submission and sadism/masochism. The term refers to a variety of practices and procedures, all of which revolve around the idea of power and control. Like almost all things associated with sex, it exists on a spectrum. There are the varsity players that have come to embrace BDSM as a lifestyle. Whips and chains and other kinds of gear may very well be stationed within their wheelhouse. There are also the folks who simply like to dabble, and do without the accessories. And then, of course, there are the virgins.
Still, studies suggest even those who haven't given yet BDSM a shot have likely fantasizing about doing so. Budding interests, however, don't always translate into responsible execution. And, as BDSM contains a wide swath of bedroom activities from the tying of hands, light spanking, and the following of orders to erotic asphyxiation, hog tying, and more that range from modest to extreme, the world can be hard to navigate. So, if you're interested in exploring BDSM sex, it's a lot easier to walk through with a guide in hand. That's why we spoke to a pair of experts about what those interested in dipping their toes into BDSM waters need to know: Dulcinea Pitagora, a psychotherapist and sex therapist who's been a member of and mentor in the New York City's BDSM community for more than a decade, and Justine Cross, a lifestyle dominatrix and BDSM consultant who owns two of L.A.'s premiere dungeon studios. Here's their advice for what couples interested in BDSM need to know.
Talk It Out
Communication in and out of the bedroom is essential for any relationship. It's even more so when it comes to experimenting with BDSM. "Having a strong practice of open communication in place is crucial to success in getting into discussions about kinky desires," says Pitagora. Of course, diving right into explicit conversations concerning sex can be a little, well, intimidating. Her advice? Couples need to start slow. Begin by talking about the non-sexual characteristics you appreciate about each other. Then, transition into the sexy stuff. That said, there are some bullet points couples must cover when exploring options. "You want to talk about things like negotiations, boundaries, and consent," says Cross. The more specific you get in these areas, the better.
Seek Expert Guidance
It's always a good idea to do some research before embarking on any new endeavor. Don't be afraid to rely on the existing literature out there. If you want to read up on BDSM practices, Pitagora suggests The New Topping Book, The New Bottoming Book, Playing Well with Others: Your Field Guide to Discovering, Exploring, and Navigating the Kink, Leather, and BDSM Communities, and Enjoy Sex: How, When, and If You Want To. Of course, you don't have to limit yourself to text. Pitagora also encourages couples to look to ethical porn for some guidance. Some of her favorite studios include Crash Pad Series, Pink Label TV, and Foxhouse Films. Kinky Academy, an instructional studio designed to educate curious and consenting adults, is another of her preferred option. And if these don't do it for you, well, there are still more options to consider. Cross reminds us that sex-positive stores like Babeland and the Pleasure Chest often host workshops to better educate customers on sexual culture. The best thing is to check out the schedule and see if there's anything on BDSM coming up.
Accessorize at Home
The Internet can introduce you to a lot of things. Like $100 paddles or $250 handcuffs. But these aren't necessary purchases, especially for BDSM beginners. Cross reminds us that you can find a lot of stuff to accessorize with around the house. Stockings can be used to tie someone up. Ribbon can be used as a blindfold. And if you do end up having to make a purchase or two, they don't have to break the bank. "The rope I have in my studio is from Home Depot," admits Cross. In other words? Keep it simple.
Never Stop Communicating
Just because you had an initial conversation surrounding your exploration into BDSM doesn't mean you're done talking about it. Communication is something that should be actively employed before, during, and after any BDSM activity. "Do check-ins. Make sure consent is enthusiastic," says Cross. "Make it a point to only go as fast as the slowest person." Pitagora suggests partners also come up with a safe word, which she defines as a "phrase, word, or physical signal that stops the scene immediately, for any reason."
Know Your Limits
Just because you agreed to something doesn't mean you have to see if through until the end. "Explicit, enthusiastic consent to proceed should be consistently and frequently built into communication," says Pitagora. "Partners also need to verbally reassure each other that rescinding consent will always be okay, no matter what."
It's also a good idea to stay away from more advanced forms of BDSM, especially when starting out as a beginner. "There are two things I tell people they absolutely should not try," Cross explains. "Do not engage in any heavy breath play — don't try to restrict someone's air way. And don't tie someone up and then leave them alone. This is absolutely how someone will get hurt," she says.
Always Practice Aftercare
So maybe the sex and the scene have come to an end. But there's still work to be done. In BDSM, "aftercare" refers to the affection and attention exchanged between partners following any form of play. If you have specific requests regarding what this might look like, well, that's something you should probably discuss before things even get started. This is also a good time to talk about the scene. "Go back to step one and communicate about what worked and what didn't, and what you both might want to try next time," says Pitagora.
This article was originally published on