Author Matt de la Peña on How To Fit A Decade Of Love Into One Brief Note
It's all about writing in the language of your relationship.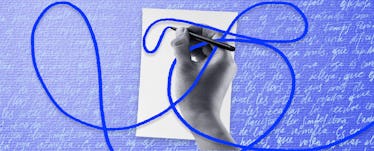 Presented by Pandora Jewelry.
Fact: Any partner who's ever told you they were fine with a romantic love letter in lieu of a gift was lying. Also a fact: A romantic note paired with the perfect gift will win you points that will last you into the New Year and beyond. Such a note shouldn't recount your entire epic love story — there's only so much paper real estate on fine stationery — so a short and sweet encapsulation of the unique love you've found is all you need. In Found Love: Gift Notes, we asked fathers to share a quick tip on how to say a lot to the mother of their children in only a few words.
When I write a love note for my partner Caroline, I stick (mostly) to language only she will understand. We've been together for over 10 years now, which means we've accumulated all kinds of shared experiences and inside jokes and silly pet names and parental mishaps. This is what makes up the language of our relationship. A general/generic love note is great. We all love getting those. But a love note written in the language of your relationship – no matter how short – is even better.
Here's a quick example (translation in parenthesis):
Pookedy-Pookedy-Pookedy (Dear Caroline),
There's a reason The Viking (our anxious, shih tzu puppy) arrogantly saunters across my lap each night to snuggle against your leg. White Claw fumes! It's because all of us – even the dog – recognize you as the center of the universe. We're only two days into your first work trip since before COVID, and the big boy (our 4-year-old son) has already refused to eat The Bowl (my black-bean-forward, culinary specialty) and come up short of the goal line (shorthand for any and all potty training setbacks). We love you. We miss you. I plan to wash your feet by hand to honor your safe return.
Matt de la Peña is the Newbery Medal-winning children's book author of Mexican WhiteBoy, We Were Here, and many others.
The perfect note deserves the perfect gift. Take our quiz to reveal which piece of Pandora jewelry best fits your partner's personality.
This article was originally published on