And the Father of the Year Is …
Fatherly + Just for Men present the 2018 Father of the Year.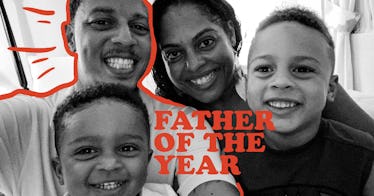 This story was produced in partnership with Just for Men.
For the past year, Fatherly has scoured the country, looking for dads who go above and beyond to support their children and communities. We found firemen, volunteers, and community organizers; rabbis, chefs, and stay-at-home-dads; soccer coaches, primary caregivers, and guys who work double shifts to provide. We listened to stories about exceptional men becoming exceptional fathers and about exceptional fathers doing everything in their power to support their families. In partnership with Just for Men, we poured through letters attesting to the fine qualities of hundreds of fathers, looking for someone deserving of recognition — and $5,000 in prize money.
To stand out among the ranks of the remarkable fathers championed by Fatherly readers took some doing. Hardworking wasn't enough. Kind wasn't enough. Amazing wasn't enough. Allen Jones, Fatherly's 2018 Father of the Year, is all of those things and much more: inspiring, impactful, a father figure among fathers. A public school teacher in Harlem, Jones is both selfless and reflective, committed to understanding and bettering himself within the context of his family and community.
Like all the nominees, Jones is, first and foremost, a great dad. His five-year-old, Cameron, and three-year-old, Christian are the center of his world. He drives them to school and takes them to see their grandmother every weekend. He reads to them constantly. He talks to them all the time. What makes Allen's commitment particularly inspiring is that he wasn't a natural. When he and his wife Vicky had Cameron in 2013, Jones realized he didn't quite know how to express himself. He worried about what that would mean for his son. Jones understood that being present for a kid requires skill and so he set about working on that skill.
"I didn't want my kids to feel like they couldn't come to me," he says. "I didn't want them to feel anxiety talking to me."
Like so many dads, he found himself blundering with the most important thing he'd ever done in his life: raising a boy to be a good man. It was also something he encountered on a daily basis as an English teacher in a New York City public school. Men talking to boys about feelings — their own feelings, characters' feelings, other people's feelings — was not something Jones, or anyone he knew, was teaching. He just didn't know how to proceed.
So Jones decided to improve himself. With Vicky's support, he reexamined his relationship with his father, sought couples therapy, and read bell hooks' The Will to Change: Men, Masculinity, and Love, a 2004 barn-burner that focuses on what prevents men from being comfortable with their emotions.
He grew. He learned to express himself to his boys, to talk about feelings to them before bed. If one of his sons is crying, he listens to him and helps him get to the root of his emotions. He began making amends with his father, working on years of repressed feelings. He's also taking all that he has learned about fatherhood, parenting, and masculinity, and bringing it to other young men in his community.
Jones then brought The Will to Change to his 11th graders. He also brought his newfound understanding of what it means to be a man in 2018. "I think going on my own journey to find that language — that emotional language — is making me better as a dad and is going to continue to make me better as a dad," Jones says.
At the end of the year, he asked his students what being a good man means. The lesson didn't come through for all of them, of course, but he did see an impact on some. "Many students said, 'I think what makes a good man is someone who's dedicated to his family and is not selfish,'" Jones says. "'He shows compassion to his kids. He's not this aloof character off in the distance that just — he pays the light bill, but we don't really know.' I felt like I accomplished what I set out to accomplish which was to show these young people that there's more than one way to be or to define a good man."
For all this and more, Fatherly is excited to name Allen Jones the Father of the Year for 2018.
With this award, thanks to Just for Men, a sponsor of Father of the Year and a company that wants dads everywhere to be the better man, Jones will be receiving a $5,000 award. Fatherly will also produce a short documentary that looks at the good work Jones does in his home and with his students. There's more than one way to be a man, and Just For Men and Fatherly want to empower dads (and moms) to raise better kids and lead more fulfilling lives.
This article was originally published on