9 Mistakes Parents Make When Buying a New Home
Often, emotions play the biggest part in choosing a property. But it pays to make sure it checks all the right boxes, too.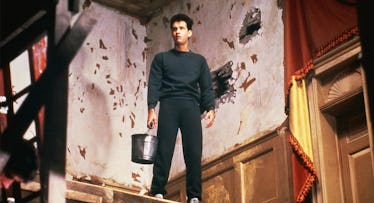 EVERETT
The following was produced in partnership with our friends at Homes.com, the smarter, simpler home search. Start your search and find the perfect place for you with Homes.com Match, HomeShare, and Snap & SearchBETA.
It may happen at the first home you walk through, or at the twenty-first. But eventually there's a moment when you cross the threshold of a property and your gut says you've found "the one." The fact is, a lot of buyers rely on instinct when choosing a house — and that makes it easy to ignore its flaws.
Buying real estate is one of the biggest decisions you'll ever make, so it pays to be systematic in your approach. That means laying out a clear set of criteria at the very beginning and thinking about factors that may not matter until years down the road. It's when they fail to plan that buyers can end up in homes that they later regret. We talked to the experts about some of the biggest pitfalls parents should avoid as they perform their search.
Mistake #1: Going House-Shopping with the Kids
A lot of parents have to scrape together as many pennies as they can to cover the down payment and closing costs. So paying for someone to watch your kids every time you see a property can be a serious sacrifice. But a babysitter is well worth the expense if it means making a better home-buying decision, says Barry Bevis, the owner of Bevis Realty in Tallahassee, Fla. While mom and dad try to put on their poker face, kids tend to have a more emotional reaction to home visits. "You don't want to let those things cloud your vision," says Bevis.
You also will want to keep the early online search process between the adults, since kids bring just as much emotion to digital listings as they do to the real thing. For this, try out Homes.com's HomeShare feature, a simple way to flag homes you love and share them with your partner — who should close the browser once they're done, just in case.
Mistake #2: Focusing on the Elementary School
When parents start their home search, the quality of nearby public schools tends to be one of the most important factors. However, there's a tendency for those with younger children to focus only on the performance of the elementary school. While it might seem a long way off, it's important to think about middle and high schools too. "You find a lot of folks moving once they realize that the next school isn't one they like," says Bevis. Others circumvent the problem by enrolling their children in private schools, thus incurring a huge expense they never foresaw.
Mistake #3: Buying a Home on a Busy Street
Younger parents tend to avoid addresses on bustling highways. But just because you're in a more residential area, you aren't necessarily immune from the noise and safety issues that cars can present. "Even within neighborhoods, there tend to be some streets that get more traffic than others," explains Bevis. These "cut-through streets" can lead to regret for home buyers. Sometimes finding an abode just one turn away can offer a quieter, safer environment for your little ones.
Mistake #4: Not Analyzing the Floor Plan
Perhaps you've fallen in love with a home where the kid's bedroom is right next to the living room, or the kitchen lacks any line-of-sight to where your children play. These factors might not seem like a big deal during your initial walk-through, but they can make things a lot less convenient on a day-to-day basis. Bevis advises clients to go beyond their initial reaction to the house and consider how it will fit into their lifestyle. A lot of times, he says, parents buy homes without a family-friendly floor plan, only to lament their decision later on.
Fortunately, homebuyers have more tools than ever to help simplify their search. If you know the style of house you want, for example, the new Snap & Search feature on Homes.com can be invaluable. Simply take a photo of a house or condo you love and you'll instantly get listings with similar architectural features and exterior materials in your search area. Combined with Homes.com Match to easily compare what you "must-have" against "nice-to-haves", you'll save yourself time and unnecessary stress by only following up on the homes that meet your criteria.
Mistake #5: Downplaying the Home Inspection
Less experienced buyers are often unaware of how important the home inspection is, says Lauren Bowling, editor of the website Financial Best Life and author of The Millennial Homeowner: A Guide to Successfully Navigating Your First Home Purchase. That's why it's important to be there as the inspector points out potential trouble spots with the home. It's also a great opportunity to ask questions. "Even if there aren't any major issues, being a part of the process can help you ballpark the dollar value of any estimated repairs," says Bowling. That way, she says, you'll get a better idea of how much to ask for in concessions, and you'll have a more realistic post-purchase budget with which to work.
There may be concerns in the home inspection that you'll need to address after the purchase, too. For example, the report should note if the smoke detectors need replacement or if there's an unusual level of radon or mold present.
Mistake #6: Ignoring the Location
Over the years, Bevis says a number of his clients have found themselves in the same rut. They bought a house that's otherwise perfect, but find themselves stuck in the car for much of the day as they take their kids to and from sports and other activities. Factoring in the distance to parks and rec centers could have helped those buyers eliminate a lot of headaches later on. "They could have bought a house 10 minutes closer and saved a lot of time," says Bevis.
Mistake #7: Buying More Home Than You Can Afford
A lot of homeowners choose to forgo a starter home and buy their "forever home" right out of the gate. But opting for that perfect place with more square footage can be a big mistake if it means stretching your budget. "Buying over what you can comfortably afford can hinder long-term savings goals, such as student loan repayment and retirement," says Bowling. "So think before signing on the dotted line."
A tool that can help you navigate this pitfall is Homes.com's Match feature, which lets you personalize your hunt by comparing "must-haves" against what's "nice-to-haves." This will help you find that Goldilocks home — not too pricey with just the right amount of features — without getting you stuck wanting more home than you can afford.
Mistake #8: Not Looking at Mortgage Rates
Considering how much time parents put into their real estate hunt, they tend to expend very little searching for a mortgage. According to the Consumer Financial Protection Bureau, only about half of home-buyers bother to compare the rates of different lenders. That's a big mistake. For a typical family, even a half-point difference in the interest rate can change your monthly payment by $60. "Try and aim for three quotes," says Bowling. "Contrary to popular belief, this does not harm your credit score."
Mistake #9: Paying Lifetime Mortgage Insurance
With a low 3.5-percent down payment requirement, FHA mortgages are a popular way for young parents to finance a home. But there's one big drawback to the program: you have to pay mortgage insurance premiums for the life of the loan. Bevis says you may be better off waiting until you can put down 5 percent on the home, the minimum needed for a conventional mortgage. You'll have to pay mortgage insurance with these, too, but you can eliminate it once your loan-to-value ratio hits 80 percent.
This article was originally published on