7 Surprising Things I Learned From Being a Kids Basketball Coach
I had never been an athlete before, much less a coach. But coaching a sport I knew very little about turned out to be life-changing.
by Mark Miller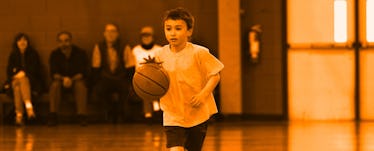 I can do that. That's what I thought as I checked the box next to the statement "I am willing to help out with my son's basketball team" on the fifth-and-sixth-grade city recreational league registration form. Bringing snacks. Assisting with transportation. Inflating basketballs. I can do that.
Checking that box changed my life.
Three days before the league draft, I got a call: One of the head coaches had a personal issue and suddenly dropped out. If I didn't coach, my son would not have a team to play on. Despite my reluctance, my son's prodding worked and I agreed to coach. My youth athletic experience consisted of being chosen last in pickup games and final player off the bench in organized sports. I was simply uncoordinated and my son inherited it. Also, I had never coached anything before.
This story was submitted by a Fatherly reader. Opinions expressed in the story do not necessarily reflect the opinions of Fatherly as a publication. The fact that we're printing the story does, however, reflect a belief that it is an interesting and worthwhile read.
At the draft, I was assigned two sixth graders and my fifth-grade son, but still had six players to select. I had no idea who was good, so I mostly chose my son's friends. Just as any draft expert would have done.
My first season as recreation league basketball coach, the team won a single game, on a lucky last-second shot. My son did not score the entire season. The best moment was "The Jordan Shot." Jordan was a tall sixth-grader who had autism. I set up a play where he was handed the ball and the other players formed a circle around him so he could shoot uncontested. He made it. The team and parents went crazy like we had won the championship. It was the only successful play I ever set up.
I assumed my involuntary coaching experience would end after one season. But something unexpected happened: the fifth-graders asked if I would coach them next season. I was surprised. I was flattered. And I had further evidence that adolescent minds make no sense.
Prior to next season's draft, I hosted a "who should I pick?" party. There was food and a list of players available that the kids ranked for me. My son still talks about that party and how fun it was. I used the list at the draft. As a result, Shivar, Dawson, Nathan, and their families became part of my life, both on and off the court.
Shivar's father offered to be my assistant coach. My wife had to stop me from sending him flowers. He was a basketball guy and later referred to us as "Fire and Ice." Apparently, I was ice. That season we won over half of our games but lost in the playoffs. My son scored several times. More significantly, teammates became friends.
That season also had my first coaching drama. Towards the end of a very close game, the best player on the opposing team fouled out. I overreacted by pumping my fist. A mother rooting for the opposing team overreacted by calling me names. It escalated between parents in the parking lot and then to social media, the arbiter of bad behavior. Ultimately, we were called into the director's office where apologies were said. The lesson was that youth athletics brings out the worst in people, but most often adults — myself included.
After that season, as my son moved to the seventh-to-ninth-grade league, I decided to stop coaching. I had a team party where my son handed me a T-shirt with team pictures on the front and each player's signature on the back. I still have and cherish it.
Each game in the new league consisted of eight four-minute segments. The rule was that everyone played the same number of segments. Many coaches did not like the segment rule. Some coaches told kids to foul out so the better players could play more. Some wanted an exception to play anyone they chose in the last quarter. I liked the rule because it provided my unathletic son equal playing opportunity.
I watched my son play for two years. His coaches put him in early to get his segments out of the way. He rarely played in the fourth quarter and once didn't even play in the second half.
I had to go back in: I decided to coach in his ninth-grade season and promised myself that everyone on the team would get to play at least one segment in the final quarter. The league allowed me to choose some of the players I coached before. Two new players joined our team who turned out to be very good. We won the seventh-to-ninth-grade championship. My son scored in the championship game and was no longer the worst player.
I coached the following season with my son as official assistant coach. We were champions again. The players gave me "The Gatorade Bath." Both my son and I received trophies and league championship proclamations from the mayor, but that is not a result of my coaching.
A few things I learned:
Parents can be awful. Even at the recreational level, they can be loud, obnoxious, and embarrassingly competitive.
But not as bad as grandparents.
Referees have it the worst. In a recreation league, they are the only ones on the court who get paid. With good reason. They get mistreated by coaches, players and parents. They have an impossible job.
Sixth-graders can be handled. An effective way to gain the respect of an obnoxious sixth grader who swears at you is to call him an asshole to his face. Individual results may vary.
The best way to learn basketball is to play basketball. The best practice drill for a recreation league is playing basketball. I split the kids into teams, and played basketball. Sometimes I played, too. That's what the kids signed up for: playing basketball.
Players make coaches look good. Not the other way around.
Some things are more important than winning. Winning is more fun than losing. But real success is building friendships. In my case, parents, coaches, and players became friends off the court.
"You weren't the best basketball coach, but you weren't a jerk, which made you better than most other coaches." Those words from my son are more valuable than any of the trophies. Although the certified proclamations with gold seals were pretty cool, too.
I am now a retired coach. And my son can beat me in basketball. But he's still not very good.
I am glad I checked that box.
Mark Miller is a married father of two and statistician living in Cleveland, Ohio. He enjoys hiking with his college-age son and watching horror movies with this 18-year-old daughter.