7 Lessons For Parents Cooking with Kids, According to a Chef-Turned-Dad
I've learned a few things about cooking and life. They help me out. I hope they help you, too.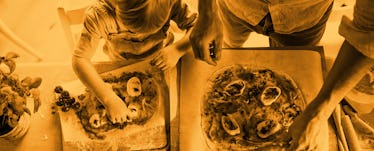 I am back in the kitchen. The virus changed everything. With the country dealing with COVID-19, it turned out to be my turn as our stay at home parent.
Years ago in my teen years, then later a working student, and later still a side gig and even my real gig, I worked in restaurants. I learned so much at each job, whether a sub shop to a 4 star restaurant. Bordain bordered on Biblical with "Kitchen Confidential." I had a ball. And sure, I found out how to cook, but more than that, I learned about people, about working, about being organized, following directions,. I learned how to be a friend. I learned about about life.
This story was submitted by a Fatherly reader. Opinions expressed in the story do not necessarily reflect the opinions of Fatherly as a publication. The fact that we're printing the story does, however, reflect a belief that it is an interesting and worthwhile read.
1. Show up.
2. Find the Right Place for the Right Person
3. Learn to Cook, Cook to Learn.
4. Rules Are There for a Reason
5. Your Eyes Eat First
6. If You're Not Cooking, You're Cleaning
7. Watch How You Do it
Come on guys – are we making dinner or raising our kids? Let's do both.
John Upham lives in rural New Hampshire and is married with three kids. He teaches online English each morning, writes, parents, and cooks each day. A lifelong writer and educator, he no doubt considers co-raising the kids with his wonderful wife the toughest job ever.