7 Daytime Dates That Blow Dinner and a Movie Out of the Water
Forget dinner and a movie. Day-dates are the perfect way to have fun and nourish your relationship.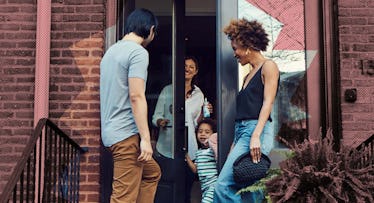 This story was produced in partnership with UrbanSitter, helping you unlock your personal network to connect you with babysitters. With UrbanSitter, it's easier than ever to find, book, and pay sitters you trust — for everything from last-minute dates to full-time care.
If they're lucky, parents get a few date nights a month. Those nights — when kid responsibilities are put on hold for you to bond with your partner — are absolutely essential. But given the limited chances, execution matters.
Admit it, dinner, drinks, and a movie are played out. Most parents wake up wondering, was it even worth it? To answer, think back on the kid-free days, when you and your partner took on the world while the sun was out — seeing sights, brunching, biking, whatever struck your fancy. You had hours to devote to each other and all the variety in the world when it came to activity. Now that was a date. So how do you recapture the magic?
The answer is simple: Go on a date during the day.
It's as easy as taking a few minutes to book a trusted sitter on a site like UrbanSitter.com, a network that is built on recommendations from friends and parents, and then choosing your day-time adventure. To help get you started with this, we surveyed several dating and relationship experts to get the best day-date ideas and calculated how many hours you'd need a sitter. All you need to do is book and go.
Play Ball
For: The Sports Fans
Estimated Sitter Hours: 5-6
Whether or not the two of you are into baseball, a day at the ballpark can be just what you need to have fun and get a conversation going. "Baseball games aren't just America's favorite pastime — they are also great date destinations," says Laurel House, expert dating coach. "They're conducive to more conversation, and the nosebleed seats are the way to go as long as you buy baseball caps, hotdogs, and cheap beer." You can get friendly bets going, teach your wife how the game works — or just chat aimlessly as the action happens on the field.
Do It in Spandex
For: Spouses that Like to Sweat
Estimated Sitter Hours: 4-6
Get some exercise in between exploring your local fare on a bike and pub crawl. "If the weather is nice, grab a set of bikes and create your own adventure," says Rachel DeAlto, relationship expert and television host. Renting a bike (or using your own) and heading out along a map of the unexplored is a great way to relax, have fun, and replenish any relationship. Plus, it might lead to an even more interesting night. "You might want to keep the babysitter through bedtime on this one — or drop them overnight with your parents or in-laws," says DeAlto.
Compete on the Greens
For: Competitive Couples
Estimated Sitter Hours: 2-3
No, not the fairway — mini-golf. "It's goofy, silly, and of no consequence," says Susan Winter, author and relationship expert. "There's no 'win' at stake. The oddity of these courses means that even a seasoned golfer is up against the same odds as a novice. It allows for banter and laughter." What more could you ask for in an afternoon?
Embrace Your Inner Child
For: Kids at Heart
Estimated Sitter Hours: 5-6
Why should your child get to have all the fun? "Kid-like day dates can evoke feelings of nostalgia and create an instant bond between you and your partner," says Damona Hoffman, certified dating coach and TV personality. Head to your local theme park, carnival, or fair, and pretend you're 14 all over again. "Grownups can and should go go-cart racing, skating, or spend the day at an amusement park too — even without the kids." Plus you'll get the chance to win her some oversized stuffed animals we're just sure she'll cherish.
Sit, Eat, and Vibe
For: Music Lovers
Estimated Sitter Hours: 2-4
There are plenty of activities to do in the afternoon if you're on a budget — and one of our favorites is music in the park. "Sometimes the least expensive dates are the best," says House. "Most cities have venues that offer free or inexpensive live music and activities. If you can't find a great spot that offers daytime music, then simply pick a beautiful place, bring a small portable music player and head out. Grab a blanket and a picnic basket, head to the grocery store for food and booze, then enjoy the afternoon." Sometimes the simplest route is the best.
Seek the Thrill
For: Adrenaline Junkies
Estimated Sitter Hours: 4-5
There are certain things that you can only do in the daytime — namely, an adventure date. "The adventure daytime date is designed to break away from routine," says Winter. "It's a chance for each partner to expand his or her personal limits and interests." Depending on where you live, a good adventure might just be a day at the rock wall — or whitewater rafting. From a balloon ride to skydiving and bungee jumping, choose something neither of you has ever done before and explore the new adventure together. "One quality that's routinely compromised in couples that need to be responsible parents is the ability to seek adventurous play," says Winter. "A daytime date allows for this reconnection to each other and their playful selves."
Get Creative With It
For: Artful Lovers
Estimated Sitter Hours: 2-3
It's one thing to have fun — it's another to have fun and come home with something you made together. "Get into the spirit with a wine-paired art class, like a Paint & Sip class," says House. "You'll be working with a canvas and painter's palette while creating your masterpieces side by side with drinks in hand." House advises to call ahead and check on the alcohol situation: some classes will serve you and others are BYOB. Even if what you paint together turns out a little heinous, you've still made something together — and your kids will probably appreciate their new posters.
This article was originally published on