7 Big Lessons to Teach Kids, From Neal McDonough of 'Yellowstone'
The actor and father of five shares some of the most important values he's passing down to his kids.
by Donna Freydkin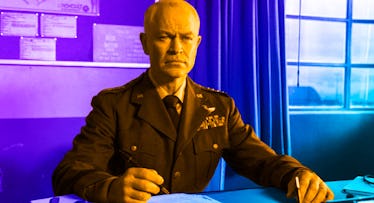 A&E Studios
Of course you know Neal McDonough, he of the piercing eyes and flinty stare. He played Lieutenant Lynn "Buck" Comptonin in the HBO miniseries Band of Brothers, Robert Quarles on Justified, William Parker in Mob City, and Arrowverse creep Damien Darhk on DC's Legends of Tomorrow. He was also in Minority Report and Captan America: The First Avenger. Currently, he's causing problems on Yellowstone, opposite Kevin Costner, as a casino owner who plays dirty.
The 53-year-old Massachusetts native and father of five knows where he fits in the Hollywood ecosystem: "I generally play Army guys in the middle of war, or villains," he says. That's because McDonough, a devout Catholic, refuses to shoot sex scenes on film. "There's no kissing. My lips are meant for one woman," he says, referring to his wife, Ruve, the mother of his five children.
While he was spending a rainy Vancouver afternoon with his youngest son at a McDonald's indoor playground, Fatherly talked to McDonough about what lessons he wants to impart on his children, and had to wonder how he's held on to all his marbles while working full-time, coaching his kids on the weekends, and still being one seriously nice guy. "The sanity part is questionable," he says. Here's what he wants to teach his kids.
1. You Never Get Lost Time Back, So Use What You Have Wisely
I quit drinking about four years ago — because my kids and my wife were more important than a glass of wine. And I wouldn't feel great the next day. I've really focused on what's the importance of life. For me, what's important is being home. I kiss my wife and coach my kids on the weekends.
2. Your Family Is a Team, and Every Member of It Matters
We run everything on family first and me second. It gives my kids a sense of teamwork under my roof. It's about everything they do. We fight to be the best family we can be and make God proud. When you take you out of the equation, it's a team sport. I have talent but it doesn't make me a special person. It's a God-given talent. In our house, my wife is number one, my kids are number two, and God is on top of everything.
3. Embrace Your Faith, and Practice What You Preach
It's always God first, and me second. When you put those things in perspective, you rear kids that are less spoiled and more independent and appreciative. I walk the walk as much as possible. We go to church. I am nice and kind to people. My Christian/Catholic values, I implement those in everything I do. I really try to instill that into my kids. I came from a really small town. I'm a pretty successful guy. You can be successful and be a Christian at the same time.
4. Self-Discovery and Adventure Are Essential
All the temptations are out there, but we don't allow electronics in our house during the week. On the weekends, you can get on my phone for a little bit. They don't play on our electronics. I want them to ride their bikes and fall out of trees and scrape their knees. Kids are so coddled nowadays. It's hard to not be a helicopter parent.
5. It's Good to Put Yourself in High-Pressure Situations
Our kids excel in sports. It isn't so much to be the next Tom Brady. It's not about the pressure to excel. What I tell my kids is, I love them to put themselves into pressure situations and learn to deal with pressure. I'm trying to teach them that it's their job to do the best they can, but not be angry and emotional. Take emotion out of a lot of things. Enjoy the moment and don't worry about the moment.
6. Hard Work Builds Character
Oh, yeah, they do chores. The toys don't pick themselves up. Ruve and I do a ton. The kids should be doing more. They cook dinner one night. You'd be amazed how well they can cook, or burn. Whatever they cook, as bad as it is, we'll eat it. They get such joy out of it. It puts a smile on our faces. They can make their own cereal.
7. Manners Maketh the Man
With Morgan, our oldest, we've always told him to be a gentleman. Look into people's eyes. Remember their names. Always be courteous. It's easy for boys to be lugheads. We can't over-parent. We let each kids be who they are. James our youngest is very different from Morgan. Morgan is a young gentleman. James is the fun, goofy dancing machine.