6 Ways to Stop an Intense Argument From Spinning Out of Control
A disagreement with your partner can go from zero to warp speed with one misplaced word. Here's how you can keep it on cruise control.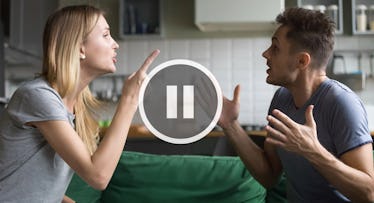 Arguments are an unfortunate byproduct of any relationship. Even the best of partners will disagree on something from time to time. Of course, there are disagreements that walk the line between minor spat and major throw-down. When it comes to such arguments, a couple must perform a delicate balancing act that keeps the conversation on point while preventing things from escalating to a full-blown war of words. Sometimes a simple turn of phrase, a moment of patience, or a gentle touch is all it takes to cool everyone's jets and bring the conflict to a peaceful resolution. Here's what to do to prevent an argument from spinning out of control.
For the Love of God, Don't Interrupt
One of the main reasons an argument falls apart is because one or the other participant can't get a word in. This never fails to be infuriating. People with a predilection for interruption will often simply wait until their partner is done talking and then jump in with an already formulated response, which is a way of signaling that they wait for their turn rather than listening. In order to keep the argument on message, give your partner the time they need to say their piece. "Even if you completely disagree with their point of view, it's not healthy to shut them down," says Maria Sullivan, a relationship expert and the vice president of Dating.com. "Let their voice be heard, just as you would want your partner to do the same."
Mind Your Tone
When you raise your voice, your partner will begin to mimic your tone. From there, things can quickly escalate, until you find yourselves locked in a battle royale. The key, then, is to keep your tone even and calm. Not only will it keep the argument on track, but it will also help you to keep your thoughts organized. "If you take a deep breath and speak calmly and slowly, your significant other will do the same," Sullivan says.
Keep Things Solution Oriented
When couples argue, very often they tend to hammer at the problem over and over again, outlining what is wrong, why it's a problem, and who's responsible. This does nothing but fuel anger and resentment on both sides. Try to state the problem up front and then offer a solution. Saying something like, "I know it makes you angry that I don't always get to the dishes; what's a system we can put in place to make sure they're done?" can diffuse an argument before it gets worse. "What has happened in the past is past. Look for a way to avoid it in the future," says Susan Petang a lifestyle and stress management coach, and author of The Quiet Zone — Mindful Stress Management for Everyday People. "Asking your partner to come up with a solution or offering a collaborative solution makes it more likely they'll stick to an agreement."
Rely on the Power of Touch
When an argument gets heated, both partners tend to retreat into their corners, pulling apart, and avoiding any contact. This can even extend to body language, with crossed arms and legs sending a message to the other person to keep their distance. Before things begin to escalate, reach out for your partner and try to make a connection. You would be surprised how a simple touch can change the emotion in the room. "It is really hard to continue fighting with someone who is being vulnerable and either asking to be held or who takes their spouse's hand in their own," says Dr. Miro Gudelsky, an intimacy expert, sex therapist, and couples counselor.
Take a Break
There's nothing wrong with calling a time-out. In fact, sometimes it's the best way to cool down a dispute and keep things from rising into the red. Stepping out for a half-hour and taking a walk or doing a calming activity can be just what you need to gather your thoughts and approach the discussion rationally. "The reason we often feel regretful after arguing is because we get caught up in the moment and say things we don't mean," Sullivan says. "Take a breather and recollect yourself before continuing the discussion."
Try a Little Humor
Yeah, you might not be feeling too funny in the moment, but a little laugh can take a lot of the stress and tension out of an argument almost instantly. You could throw out a one-liner like, "I'm sorry, could you yell a little louder?" or make a self-deprecating joke. Suzann Pileggi Pawelski, co-author of Happy Together: Using the Science of Positive Psychology to Build Love That Lasts, even recommends speaking with an English accent (or a different accent for our English readers!). "We have used it in our own relationship many times," she says. "We find that this healthy habit can transform relationships by increasing awareness of unhealthy behaviors that we automatically fall into when arguing."