The 20 Most Innovative Companies For Kids And Parents In 2016
Cool watch, bro. Can it help your kid feel better when they're sick?
by Fatherly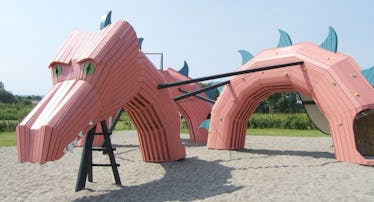 The term "innovative" gets thrown around a lot these days, but not necessarily in the direction of the companies on Fatherly's inaugural 20 Most Innovative Companies For Kids And Parents list. These businesses aren't led by TED Talk stars or crushing the CES news cycle. They're established companies that quietly iterate everyday products to the point of perfection, or passion projects inspired by the founder's true passion: Their kids.
We'd argue these 20 companies are more deserving than many of those you'd find on more traditional innovation lists — because who really needs innovative products? Is it the guy who wants to answer a phone call with his wrist, or a parent whose baby is screaming too hard to take their temperature? Is it the guy who wants to Snapchat while his car drives itself, or the parent staring down a 5-hour flight with a 3-year-old and needs screen time options that won't melt their brain?
If you're reading this, we know your answer. And so do these 20 companies.
Toy Makers
Mattel
There's no law saying a 61-year-old company can't innovate — particularly when it employs all the tools at its disposal as an industry-leading corporation, including R&D, new technology, and savvy acquisitions. In the past year, Mattel collaborated with Google to make virtual reality accessible to kids, completely reinvented Barbie to give them a more diverse choice of dolls, and displayed moonshot-like vision with Fisher-Price's Future Of Parenting report. And, by snapping up Sproutling and Fuhu — makers of smart baby monitors and the Nabi line of kids tablets and wearables — Mattel showed it's as good at shopping as the parents it courts. Signature Products:
View-Master: Consumers and manufacturers have puzzled over what to do with Google's remarkable Cardboard Virtual Reality viewer, but Mattel knew immediately: Turn its kitschy View-Master into a cutting edge, VR-enabled learning platform.
Barbie: Mattel's sweeping redesign of the iconic doll's Fashionistas line includes 4 body types, 7 skin tones, 22 eye colors, and 24 hairstyles. It's never been easier for kids to find a doll that speaks to them.
littleBits
Robotics kits are nothing new. Kits that seamlessly blend basic coding, electronic engineering, and old school maker ingenuity in a package suitable for kids as young as 8, however, are mind blowing. littleBits' big innovation is taking elements like motors, switches, and LEDs, and placing them within self-contained "bits" that snap together magnetically — it's basically a next-gen LEGO set, if every brick contained its own smart functionality. That doesn't mean they'll crawl out of the way before you step on one in the dark. (Unless your kid figures out how to program them to do that.) Signature Product:
The Gizmos And Gadgets Kit: A kit that includes 15 "bits" and 48 accessories, with easy-to-follow instructions for 12 projects, including an RC car and a bubble machine. Plus, it comes with components to build literally hundreds more based on designs from littleBits' robust online community.
Sphero
There are a lot of ways to know your company is doing something right — investors throw money at you; talent clambers to work for you. But this is how Sphero founders Adam Wilson and Ian Bernstein figured it out: Disney CEO Bob Iger personally asked them to help bring R2D2's successor, BB-8, to life as a toy. The original Sphero robot was cool. The next generation Ollie was even cooler. Being identified by Disney for its TechStars accelerator program was even cooler than that. But using cutting edge mobile and robotic technology (plus a little Disney cash) to upstage every other toy launched by Star Wars: The Force Awakens? That's cooler than Lando Calrissian partying on Hoth. Signature Product:
BB-8: The original Sphero is a gyro-stabilized ball-within-a-ball; BB-8 builds on that with a head that uses an ingenious configuration to stay on top of the interior ball. It also responds to voice commands and can map rooms like an adorable (and slightly less useful) Roomba. Because it's controlled by Sphero's app, new functionality is always only an app update away. And because the company is working on a "Force Band" that will let you control BB-8 with hand gestures, your kid won't just have their own pet robot, they'll basically be Obi-Wan Kenobi.
Loog
You probably know all about the developmental benefits your kid gains by learning an instrument — what you don't know is how to play one yourself. Enter Loog, a Kickstarted and Uruguay Innovation Agency-backed manufacturer of app-enabled, DIY guitars for little people with littler hands. By shipping its product unassembled, Loog provides great parent-kid bonding right out of the box. And by developing the Loog Academy app to teach traditional chord work on the guitar's non-traditional 3-string design, it made learning to play easier than ever. Maybe order one for yourself while you're at it. Signature Product:
The Electric Loog: Loog's original acoustic guitar is adorable, but be honest: Are you trying to raise a little Cat Stevens, or a little Zakk Wylde?
Tegu
Plenty of toy companies do right by kids, but how many think beyond that? Tegu's entire business is built around 2 goals: Encouraging free play by updating arguably the oldest toy in the world — blocks — with magnets, and pursuing profit through sustainable economic development in the company's Honduran manufacturing hub. While the blocks are amazingly crafted and weirdly addictive (It's wood! It's a magnet!), the company's vertically integrated supply chain is a true thing of beauty. It ensures fair wages for workers, sustainable sourcing for materials, and responsible methods for manufacturing and shipping from forest to store shelf. Signature Product:
Magnetron: To be fair, all of the Tegu's block sets are equally fun, and promote fine motor skills, problem solving, and storytelling. Magnetron just sort of embodies the quirky digital-meets-analog vibe of the magnetized blocks.
Apps & Books
Tinybop
All you need to know about Tinybop's approach to educational app design can be summed up in this quote from founder Raul Gutierrez: "Google is a terrible interface for a 6-year-old." Instead, his studio creates richly detailed open worlds that come with no instructions, but powerfully intuitive cause-and-effect sequences. The bad news is they're so engrossing, you can count on your kid's screen time counter clicking way up. The good news is that they're going learn basic physics, engineering, biology, and more in the process. Signature Product:
The Explorer's Library: A suite of 7 apps — The Human Body, Plants, Homes, Simple Machines, The Earth, Weather, and Skyscrapers — combine to give kids as young as 4 the delightfully animated equivalent of a middle school science education … with occasional fart noises.
Tiggly
Tiggly was founded on the idea that, while young kids are proven to learn better through tactile experiences, they're also growing up in a world of ubiquitous screens. The company's toys interface with apps that engage multiple senses and encourage problem solving in ways that neither toys nor apps can do on their own. Tiggly believes that screens aren't inherently good or bad; it's what you do with them that counts. But don't take their word for it — that's basically the new position of the AAP. Signature Product:
Words: A set of vowels with silicone touch points that your tablet screen responds to as if it were a finger. Words' 4 accompanying apps help expand your kid's vocabulary by replacing the vowel in on-screen consonant-vowel-consonant word patterns to solve puzzles and create stories. Yes, that also makes it an epic pun generator.
Lost My Name
Now here's a company that belongs on an innovation list: $9 million in Series A funding from firms like Google Ventures and Greycroft; company-sponsored hackathons to solve tricky software challenges —and all in the name of … kids' books? Of course, every single one of Lost My Name's books is customized via an algorithm based on the individual kid's name or address. It's sold through a unique e-commerce platform that prints on demand for a zero-inventory retail business. None of which would matter if the books weren't good. But, seeing as they've already sold 1.5 million of them, that doesn't seem to be an issue. Signature Product:
The Little Boy/Girl Who Lost His/Her Name: The publisher's first title is about a little boy or girl who wakes up one morning and can't remember his/her name. An adventure ensues that's cleverly dictated by each letter of the missing name, which means every single edition is nearly unique. Multiple variations per letter mean that even a common name winds up differing from order to order.
Parenting Gear
Mountain Buggy
Twenty years ago, Mountain Buggy's groundbreaking all-terrain stroller platform was the parenting gear equivalent of a badass minivan: It managed to make guys lust after something they previously associated with running errands. Today, those strollers are still top-of-the-line, with sophisticated suspensions and precision weight distribution. But the company now incorporates its "let's do cool stuff with the kids" vibe into everything from carriers to whatever a Unirider is. Signature Products:
Terrain: One of the first all-terrain strollers, and still one of the best, this is the stroller guys see and think, "Maybe having a baby isn't going to cramp my style." It even comes loaded with smaller wheels for use in places other guys go more often than the trail. Like the grocery store.
Juno: It's the baby carrier equivalent of the Terrain, and not just because it's blessedly free of pastels. Its hip positioning in 4 different carry modes is certified by the Hip Dysplasia Institute, which led the Juvenile Products Manufacturer's Association to give Mountain Buggy a 2015 Innovation award.
Unirider: When a very smart father came up with a clever solution for a stroller-hating kid it was weird that he pitched it to a stroller company. It was even weirder for that stroller company to engineer the hell out of it and create the weirdest (and possibly funnest) kid-carrying device you've ever seen.
Kiinde
Co-founded by an engineer whose wife finished medical school and started her internship right after having their first kid, Kiinde's products answer the question: How would infant feeding be improved if MIT eggheads took a crack at it? Their first product was a bottle warmer that didn't deplete the milk of any nutrients. Next up was a system that streamlines the notoriously inefficient process of pumping and storing breastmilk, which new moms have muddled through for years. Now, they're on to storing and serving proper foods (if you consider fruits, vegetables, and meats blended into mush "proper food"). Signature Product:
Twist Kit: Unlike most milk storage options, which involve the dreaded pouch-to-bottle transfer and more random parts than a rebuilt Jeep, all elements of the Twist Kit interface seamlessly. The pouch goes from the pump, to storage, to warmer, and then effectively becomes the bottle. And the whole thing works with any breast pump and most major nipple designs. No, not those kinds of nipples.
CliniCloud
CliniCloud took the 2 gadgets your pediatrician breaks out immediately — the stethoscope and the thermometer — and digitized them to make their crucial data instantly shareable. Then, they cut a deal with Doctor On Demand, so all that data is shared with someone who can make sense of it and tell you if your kid needs a doctor of another bowl of matzo ball soup. The gadgets aren't cheap, but considering that Debt.org estimates the average doctor's visit costs $69 plus copay, the $150 price tag starts to look cheap by comparison. Signature Product:
Connected Medical Kit: A handsomely packaged bundle containing the digital stethoscope and non-contact thermometer, which combine to collect respiration, heart rate, temperature, and more. The handsome packaging isn't for looks — it's easy to bring to a caregiver and even easier for them to connect to the app that stores all the data.
Home & Community
Dyson
The worst thing about vacuum cleaners are the bags. The grossest thing about fans are the blades. And the most frustrating thing about air purifiers is they still let pollutants smaller than .5 microns through. As a parent, you need all 3 of these products, and James Dyson managed to solve all 3 of those problems by completely reinventing each product. To say he succeeded is a bit of an understatement — his designs are showcased in modern art museums and the Queen didn't give him the honorific "Honorary Commander Of The Order Of The British Empire" for nothing. Signature Product:
Dyson Cinetic Big Ball vacuum: Dyson's original innovation was the bagless vacuum. Then, they figured out how to make vacuums that really suck. With the Big Ball, they've removed the last pebble in your proverbial vacuum shoe: The filters. All that's left is the most powerful vacuum made, which never loses suction and never needs replacement parts.
Amazon
Plenty has been written about Amazon redefining the retail experience through its maniacal pursuit of efficiency at every level of its business. But, for parents, it comes down to one simple thing: The company can practically deliver you a new diaper while you're changing the old one. And, if you ordered with Amazon Family, you can get 20-percent off for the privilege. Plus, with the whole Amazon drone thing, "delivering a new diaper while you're changing the old one" might not be a cheeky line. Because that thing might be hovering right outside the nursery window. Signature Product:
Amazon Prime: Admit it — Prime's free shipping turned "drunk online shopping" into something you can rationalize by throwing a box of diapers/juice boxes/your wife's favorite shampoo in your cart. And that was before they gave you a bunch of free TV shows to go along with it.
Target
Last June, a mom in Ohio tweeted an image of a toy aisle at Target that had a sign for "Building Sets" and another for "Girls' Building Sets" with the simple message, "Don't do this, @Target." Two months later, the company announced that it would no longer separate kids' toys, bath, or bedding products by gender and would forgo the use of pink, blue, green, or yellow as signifiers of products intended for boys or girls. And just like that, one of the nation's largest retailers took a significant step toward normalizing gender neutrality. That helps every parent who doesn't want their son thinking he can't play with dolls or their daughter thinking she can't play with trains. In turn, that helps every boy who dreams of being a caregiver when he grows up and every girl who dreams of being an engineer. Signature Product:
Pillowfort: Target doesn't claim its new home collection for kids is "gender neutral," but it doesn't have to. Because it's for kids. Not boy kids and girl kids; just kids. Who want might want dinosaur sheets this month and unicorn lamp next month and a teepee the month after that — so, you know, your kid.
Monstrum
Far too many communities in the U.S. are content to select a few uniform structures from a catalog, throw them up over some safety surfacing, and call it a playground. Monstrum, a Copenhagen-based playground firm founded by 2 theatrical set designers, comes at it a bit differently. Every feature is custom built from wood to fit within a narrative that's inspired by the playground's setting. This is how you get parks dominated by giant owls and insects, or a climbing wall lighthouse overlooking a massive wrecked ship. One firm can't cure all the country's playground woes. But just with their existing projects, Monstrum provides the blueprint.
Services
DonorsChoose.org
DonorsChoose.org pairs teachers with donors who can help them purchase supplies or build out more robust learning experiences. With over 2 million donors putting up more than $440 million to fund over 750,000 projects, the service is already hugely successful. Founder Charles Best combines his own experiences as a public school teacher in the Bronx with data and analytics savvy that's straight out of Silicon Valley. His true vision is a platform that doesn't just fund innovative teachers — it helps them connect and share learnings to improve education for kids everywhere.
Uber
Pretty much every complaint leveled at Uber gets handled in the next app upgrade. Don't want to pay a black car premium? Here's UberX. Need to move a party? Here's UberXL. Want a sandwich? Meet UberEATS. But, while all of that great for business travelers, bar hoppers, and stoned people, what about families? Oh … right: UberFAMILY. The car seat service is still only available in New York, Washington DC, Philadelphia, and Orlando, but if it rolls out nationwide only one question about Uber will remain: Why do they hate spaces between words? Signature Product:
UberFamily: A top-rated driver, carrying a top-of-the-line IMMI Go car seat, who has been trained in both how to install it and how to install your kid in it, all for a $10 charge. As a simple button under an UberX request in participating cities, it's about 3 million percent easier than trying to get a stroller on a subway at rush hour and about 30 million times faster than walking home.
Pley
Pley's initial insight was pretty simple: There are waaaaaay too many LEGO sets out there, and every kid wants all of them. Thus was born the first LEGO rental service, which allowed kids to choose sets online, hang on to them until they completed them (or got bored trying) and then exchange it for a new set. When customers began clambering for a similar, preschool-focused service, Pley acquired Sparkbox, which already did for the Duplo crowd what Pley did for LEGOs fans. The end result? A "Netflix for toys" that will send you one of over 500 new toys every month for just $13 (unless your kid refuses to give it back, in which case you can just buy at a discount).
e-Nable The Future
Cutting edge prosthetics are fast approaching Iron Man-levels of awesome, but most kids with upper limb amputations or genetic defects don't need neural-implanted, cyberkinetic hand blasters. They need rugged, functional designs, and they need them cheap because they're going to outgrow them yesterday. Today, they can find these designs (16 of them and counting) on e-Nable The Future's website. More importantly, they can connect with a 3D printing enthusiast, who can manufacturer the design for them. For free. E-Nable's platform is so impactful, Google's philanthropic arm recently granted them $600,000 to help them reach a goal of 10,000 prosthetics delivered, all while fine-tuning the exchange of ideas and feedback between designers, printers, and — most important of all — the kids.
Entertainment
Sesame Workshop
When it was announced last summer that Sesame Street would move to HBO, there was no shortage of handwringing about the gentrification of TV's most beloved block. But those who felt the Sesame Workshop was selling out its 60s ideals missed a larger point: the company's longstanding deal with PBS didn't provide enough revenue to pay all the bills. DVD and licensed toy sales made up the difference, but those sales aren't what they used to be.
Sesame Workshop has never been afraid of a challenge; the show helps kids tackle things like racism and autism, sometimes even before parents do. The HBO deal (which allows PBS to air the new shows after 9 months) was the gutsiest in a series of savvy distribution moves: In 2014, Sesame spinoff The Furchester Hotel launched on YouTube; in August of last year, the Spanish language Sesame Amigos debuted on Univision. Your kid will grow up in a world of non-linear programming, but Sesame Workshop's recent deals ensure they'll still have access to the same innovative programming that taught you your ABC's and 123's.
This article has been updated to include more details on Sesame Workshop's distribution deals.
This article was originally published on