What It's Like To Date A Divorced Dad, According To 12 Women
A dozen women offer their perspective on dating a previously married man with kids.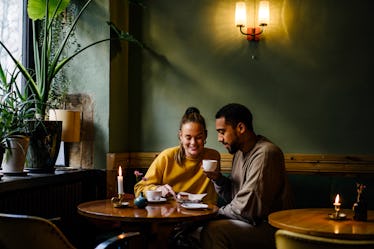 Getty
Dating a divorced dad can often be a challenge for potential suitors. While divorced dads often are, as studies show, viewed as more mature, better communicators, and unafraid of commitment, dating one comes with a bit more baggage. Divorced dads have kids and ex-spouses, both of which bring their own particular pros and cons to potential relationships. By no means is any of this a deal breaker, but those who decide to date divorced fathers simply must contend with — and be prepared for — these elements.
So what is it like from the perspective of someone dating a divorced dad? What wisdom can they share that can make it easier for both divorced dads and the suitors themselves? To find out, we asked 12 women who had varying degrees of success in forming relationships with divorced men. Some needed to leave because they knew they could never contend with his kids or ex; others found a lot of success and long-time love. While by no means enough to paint a detailed picture, their thoughts are nonetheless helpful. Here's what they said about their experience.
1. His Ex-Wife Made it a Nightmare
"I loved my ex's kids. He had a son and a daughter who were just precious. But his ex-wife made sharing custody such a pain in the ass that it ruined our ability to schedule anything. She would pop up unannounced and he'd have to deal with it right then and there. I'm 99 percent sure she was doing it on purpose, too, as a way to sabotage our relationship. It worked, too. We parted amicably, and still keep in touch, but I couldn't deal with the baggage the kids brought into the relationship." – Tara, 37, Michigan
2. It Was Hard Navigating My Role with His Kids
"Dating a guy with kids is hard, because what are you supposed to be to them? When it starts out, you're just 'Dad's friend.' Then 'Dad's girlfriend.' Then there are all these weird, nebulous stages in between that I just didn't know how to navigate. I asked for help — pretty bluntly, actually. I would often ask him, 'Is this appropriate?' or 'Is this what I should be doing?' when it came to interacting and bonding with the kids. He almost seemed annoyed at that, which is why we didn't work out." – Cassie, 38, Florida
3. Our Relationship Is Going Well — And I Have A Special Bond With His Daughters
"I'm currently dating a guy with kids. He has two girls — one is a teen, the other is a few years younger. He and I have been together for almost three years. There have been talks of marriage, but we're not rushing. My relationship with his girls is very unique. I'm definitely not their mother, but I'm in this special, one-of-a-kind role that's like a best friend, plus a mentor, plus a role model. But it's wonderful. I'm able to be there for them — and him — when girl stuff becomes a priority, which has been pretty frequent lately." – Emily, 40, Connecticut
4. It Took Me Time to Realize I Couldn't Be His First Priority
"I had to check myself when I first started dating my fiancé I would get jealous of the time and attention he spent with his kids, especially when he had to cancel or reschedule our plans. It took me a while to realize that I would never be his first priority, and even longer to accept that. But, that doesn't mean I'm not a priority. His relationship with his kids and his relationship with me intertwine, but there are also parts that are exclusive. So I do my best to concentrate on those aspects now, which makes the relationship much healthier and more fulfilling." – Jenn, 40, Ohio
5. I Felt Like A Poser With His Kids For A While
"You know that scene from 30 Rock where Steve Buscemi is dressed like a high schooler, and he goes up to a bunch of kids and says something like, 'How do you do, fellow kids?' That's how I felt hanging out with my boyfriend's kids for the whole first year we dated. Nothing I said was cool, or funny, or interesting. I was just a poser trying to be a part of the conversation. It's not like I was trying too hard, either. I was just unaware of what kids were into. Luckily, I've learned a bit since then. I'm definitely not cool, but at least I'm informed enough not to sound like a jackass." – Millie, 39, Pennsylvania
6. It Was A Great Decision
"My current husband and I are both once divorced, with kids from our previous marriages. When we first started dating, I was terrified that they were all going to hate each other. And, truthfully, it wasn't The Brady Bunch. But, once they got to know each other, I think they realized they all had a lot in common. Specifically, divorced parents. I don't know how much they talked about that, or how in depth, but I know it brought them together. They don't get along all the time, but they fight like brothers and sisters, which is exactly what we had hoped for." – Carin, 42, California
7. It Made Me Remain Closed Off
"One thing I had to remember when I dated a divorced dad was that I needed to protect my own life. And I'm glad I did. Of course, we both hoped things would work out, but it didn't happen that way. Going in, I knew that there were going to be parts of his life – with his kids – that I'd just never be a full part of, no matter how great things were. So, I tried to keep some of my own stuff sacred, as well. I wasn't being evasive or secretive, just making sure that I still had a semblance of my own identity, which I think that's important in any relationship." – Lynn, 35, Texas
8. I Took It Slowly To Protect Myself
"I've heard horror stories of women who get so anxious about dating a guy with kids that they just thrust themselves full-speed into that mother role. And no one wants that. So, when I started dating my husband, I had to really, really, really train myself to play it cool. I definitely wanted to be involved with the kids, but I didn't want to be overbearing or scare them. I knew I wasn't their mom. I made some mistakes but, in the end, I'm glad I took it slow and steady." – Janey, 41, Michigan
9. I Had to Be Patient
"The one thing a divorced parent doesn't have much of is time. I feel like going into the relationship with my now-husband, who has one son, the best thing I could've prepared myself for was being patient. I had to be patient with him, with his son and, most importantly, with myself. I had to remember that our courtship wasn't going to be anything quick and dirty, but was going to take a lot of time, understanding and compromise. And we made it work. Truthfully, patience wasn't one of my strongest traits before I met him, so our relationship gave me a chance to actualize that part of myself as well." – Aimee, 39, Tennessee
10. I Understood His Priorities
"I always roll my eyes when people say that a couple's priorities have to be exactly the same. On the same page? Sure. But, exactly identical? I don't think so. My fiancé has a daughter, and she's his priority. I'm okay with that! That doesn't mean he doesn't love me, or wouldn't do anything for me. It just means that he devoted his life to someone before we met. I wouldn't want him to break that promise to his daughter for me. He does a wonderful job making me feel loved, adored and respected. But, I know she's his true queen. And, like I said, I'm okay with that." – Nora, 37, Kansas
11. His Kids Hated Me
"I dated a guy with two sons, and they hated me. No reason. They just hated me. Maybe it was because they thought I was trying to become their new mom. Or because they were jealous their dad hung out with me sometimes, instead of just them. I don't know. But, in the end, he told me that our relationship was stressing them out, and that was it. I felt bad for him. I really did. It's a tough position to be in, for sure." – Candace, 34, Colorado
12. It Was A Nice Experience
"Of course I can't speak for everyone, but I dated a divorced dad before I met my husband, and he was probably the most mature, grounded man I've ever met. The way he related to his daughter just showed so much love, compassion and empathy. It was really impressive and attractive. We didn't work out, but I learned a lot about what to expect from a man. I think it's fair to say he raised my standards for all of my future relationships, including my husband." – Kaitlyn, 39, California
This article was originally published on