I'm Cripplingly Shy. Here's How I Learned to Make Dad Friends For My Daughters' Sake
The things kids help us accomplish.
by Darryl Smoleroff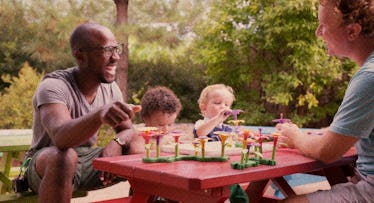 I've always been a quiet, shy guy. I've never been ashamed of this, it's who I am. The only issue is that these qualities often lead me to be easily embarrassed when I'm talking to strangers, seeking out new friendships, or trying to set up playdates for my daughters.
It was really important for my wife and I that we help our daughters meet new and interesting people and cultivate those relationships. But making dad friends was something I really struggled with. I had a hard time making conversation with dads at dance recitals or the playground and experienced more than a few panic attacks. But I knew I needed to break this pattern for my daughters' sake. So, I did something else: I started using my wife as my dad-date wingman.
My wife is a social person. She can talk to anyone about anything. So, it worked like this. Once she met prospective new parents while out and about with our daughters, I would tag along to the subsequently scheduled playdates when I could. There, she'd help stir me into the social pipeline. Basically, my wife would get us down the field, I'd take the handoff, and high-step into the end zone.
I still struggled to make friends and it took me time to break out of my comfort zone. But getting involved in smaller, intimate, and more established group settings helped me transition through the awkward introduction phase more easily. The friendships between the other parents developed more naturally. But I got to know a few other dads through those play dates and eventually met some of their friends, then friends of those friends, and my circle of comfort slowly expanded outward.
Our new friendships benefited my daughters immensely. For instance, my wife met a German mother at one of our daughter's music classes. Together, they ended up organizing a meet-up, husbands included. A few days later, we met at their house, shared pleasantries, ate pizza, and jointly played with our respective kids, side by side. As we developed a more strengthened friendship over the next few weeks, and as their surrounding cast of parental acquaintances became involved as well, not only did the children tighten their relationships, but my daughters became increasingly exposed to a wide variety of other cultures and personalities.
With our new friends, our girls experienced bits and pieces of German and Turkish culture. Most of those within our new group of friends spoke two or three different languages, and had lived in numerous different countries already; new knowledge was transferred to my girls while they played and had fun. We even attended their interesting and unique German Christmas gatherings on two separate occasions.
Sadly, our initial connections from Germany recently moved to the Netherlands because of a job relocation. But, through them, we developed a strong friendship with another couple that have very similar personalities to my wife and I. Like me, the other dad is quiet, reserved, and shy. But he and I have formed a relationship that would never have otherwise materialized.
This is all to say that my wife is a great wingman. And by playing up our strengths, we found a way to lead by example and introduce our girls to a number of great new relationships. As we refine our tactics, expanding our group of friends has become easier and much less stressful. That first meeting isn't easy; but it is getting easier.
This article was originally published on