What Parents Raising Boys Need to Do Above All Else
This is what it takes to raise compassionate, resilient men who are accountable to themselves and to others.
by Andrew Reiner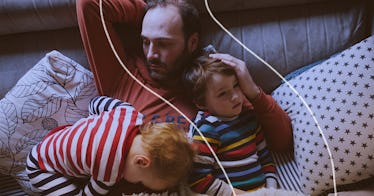 George was similar to many high school-aged boys I interviewed for research on my book, Better Boys, Better Men about the new brand of resiliency boys and men need to thrive at a time when their traditional masculine identity no longer serves them. The then-17-year-old junior from Baltimore said that he had a few girlfriends in whom he could confide the feelings he "couldn't" share with guy friends — sadness, shame, fear. When his first girlfriend ended the relationship and he was "devastated," he refused to turn to his parents.
"I learned not to share my struggles with [them]," he said. "They're always telling me I need to toughen up and learn how to handle things on my own." So, he did. He sought guidance from a guy friend he "admired," which was well-meaning but ineffectual. After all, the boy was 17 years old. Eventually, George attempted suicide.
Many boys today know what ultimately gives them greater emotional resiliency: a masculine identity that permits access to the full range of their human emotions.
But this isn't the script we — parents, teachers, coaches and even the male friends they look up to — hand them, because we fear raising 'incompetent' men.
More than any time in the past, however — when boys are more anxious, depressed and suicidal than they've ever been — embracing these qualities has devastating consequences to boys' well-being and ability to thrive and, increasingly, survive. In turn, they have serious repercussions for the rest of us. Yet we still aren't raising boys in a way that anticipates or meets their most immediate emotional needs.
As soon as boys are born, we, their parents, begin preparing them for 'manhood.' Psychologist and researcher Edward Z. Tronick was one of the first researchers to discover this — inadvertently.
Back in the 1970s, the research associate in Newborn Medicine and faculty member at Harvard's medical school and school of public health began using the Still-face paradigm, which he invented and is still widely used globally. In Tronick's research — which has always focused on the emotional and physical stress in infants — that meant having mothers sit directly across from their babies for two minutes, stoic and silent, no facial expression. What he discovered was that boys had a radically different reaction to their mother's seeming emotional withdrawal than did girls. The boys fussed, their facial expressions revealed anger, they twisted and turned in their infant seats, trying to "escape or get away." They cried and gestured to be picked up more than girls.
In other words, the emotional stress was literally too much for many of the infant boys to bear. They behaved exactly as many of us, if not most, might have expected girls to behave. Tellingly, many of the mothers preferred interacting with their daughters when their sons grew emotionally 'needy.'
Since the 1990s, Tronick and his research colleagues have also discovered that when mothers are intentionally removed from their infants' sight for a few minutes, and their children don't know if they will return, it takes boys far longer to warm back up to them during the reunion stage. It's as if a degree of trust has been broken for the infant boys.
Allan N. Schore believes it is. The neuropsychologist and faculty member in UCLA's David Geffen School of Medicine has observed that when mothers aren't attentive enough, infant boys can develop "separation stress," which can cause "an acute strong increase of cortisol and can therefore be regarded as a severe stressor." Other researchers have found strong evidence that "the attachment style developed in childhood remains relatively stable across the life span and may even be transmitted between generations." All of this points to neural pathways boys are taught to create at very young ages that set up emotional distance, and in turn, distrust for boys and, eventually, men.
"The 'manning-up' of infant boys," Tronick said in an email to me, "begins early on in their typical interactions and long before language plays its role."
If only it stopped there.
Widely touted research from Emory University biological anthropologists Jennifer Mascaro and James K. Rilling found that fathers reacted far differently to their one- and two-year-old daughters than they did their sons of the same age. Fathers sang to their daughters but not their sons. They used more analytical language and words related to sadness with daughters, whereas the words they used most often with sons encouraged competition, dominance. What's more, their brains showed a more positive neural response to their daughter's happy facial expressions, whereas their brains responded favorably to their sons' neutral facial expressions. And, sadly, this: Fathers responded far more often to their young daughters when they cried at night than they did their sons.
These gender-based responses are nicely framed by a 2018 study published in the Journal of Marriage and Family which found that "despite changing expectations for fathers, hegemonic masculine norms continue to shape fathers' behavior."
More research is showing what a 2014 study from the British Journal of Developmental Psychology found — that many mothers unwittingly play into these binary divisions, too. During a play-related storytelling task, mothers used more emotional words with their four-year-old daughters than they did with their similarly aged sons. It's not that mothers are pushing boys to follow the same traditional masculine norms that too many dads do. But these norms are so deeply ingrained they are reflexive, to varying degrees, in all of us.
Even when children are injured, both fathers and mothers follow the same playbook. A 2016 study examined the language parents used with children after visits to the emergency room for non-life-threatening injuries. The study found that parents spoke to their sons and daughters differently afterwards: They were nearly four times more likely to counsel daughters about the need for caution than they were sons. This sends a message to boys — in addition to teaching them that they aren't emotional beings, we teach them that unhealthy risk-taking with their bodies is part of who they should be.
It's no coincidence that boys and men are at the fore of the loneliness and suicide epidemics. They are keeping pace with girls and women when it comes to anxiety and may even experience more chronic depression. (If more healthcare practitioners would use diagnostic scales that more accurately measure such mental illness as it manifests in males, we would see the parity between genders.) The script we teach boys throughout their lives — over which they have no control — plays a large part in these public health crises.
If any of us asked boys what messages our society sends them about what it means to be a 'man,' it would likely echo the findings of the 2018 report "The State of Gender Equality for U.S. Adolescents." Many of the 10- to 19-year-old boys surveyed said that society defines "masculinity" through physical strength, toughness and the willingness to "punch someone if provoked," as well as to make sexual comments and jokes about girls. The "State of American Boys," part of an October 2020 report for the nascent Global Boyhood Initiative, found that 72 percent of adolescent respondents felt pressure to always appear "physically strong" and that 61 percent felt pressure to play and excel at sports. Talk about stereotypes.
Then there's the expectation that boys handle things on their own. Everything. Jake, a 22-year-old college lacrosse player told me that his father was far more helpful with his younger twin sisters than he was with Jake when it came to homework. "He doesn't think twice about sitting down with them and talking things through. With me? He used to say, 'Figure it out. You're a guy.'" Jake told me that his father has always given his sisters affection and nurturing on demand when they've needed it, but he stopped turning to his father for this. "He made it clear pretty early on that this wasn't something I should need from him."
What do boys really want from us? As the "State of American Boys" pointed out, the "most important thing boys say they want from their parents" is a "willingness to listen and understand." Understand what? Mostly this: Raising a 'competent' man no longer should limit boys to such soul-deadening, dusty and dangerous expectations that threaten their own well-being and that of everyone else, as well.
"The State of American Boys" reveals that boys ages eight through 15 want to think of themselves as "helpful, kind, smart," among other qualities. They describe a "good man" as helpful, nice, caring. Perhaps the thing boys want above all else was summed up in the
"State of Gender Equality…" report: Nearly half of the respondents wanted permission to learn about the "right to feel any way you want, and it doesn't matter what people think."
Boys become more 'competent' men when we ditch the impulse to disconnect from them emotionally. The "State of American Boys" observed, "Boys fare better when parents, and teachers and others, provide a 'relational anchor' that helps boys resist reacting in anger, or turning their fear inward in self-harming ways."
Fortunately, George, the high school student who attempted suicide, got the mental health help he sorely needed. But, as is the norm for far too many boys and, especially, men, it took an existential crisis for him to get it. Given the epidemic spikes in anxiety, depression, loneliness and suicide in boys and young men, we need to help them break this dysfunctional, toxic reflex. They cannot — and should not have to — do it alone.
It's not that boys don't want to talk about what they want and need from us. We are often the ones that don't want to talk about it. If we want to raise compassionate, resilient men who are accountable to themselves, to others and who can rise to the changing needs of a culture that values emotional honesty — if we really want to raise competent men — then we need to listen to and understand boys.
We can start by meeting boys where they are and following their lead, not ours. They're waiting for our permission to grow into the type of men they want to be and that we need them to be.
—
Andrew Reiner teaches at Towson University, and his new book Better Boys, Better Men: The New Masculinity That Creates Greater Courage and Resiliency comes out December 1. You can find him on instagram at @andrew.reiner.author, www.andrewreinerauthor.com or at areiner@towson.edu.