What I'm Glad I Prioritized When My Kids Were Still Little, According To 12 Dads
Looking back, these are the decisions these dads are proud they made.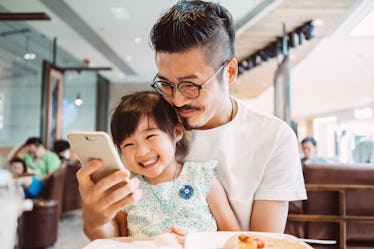 Getty
Raising kids is a lesson in hindsight. In the moment, making the right choices and setting priorities can be overwhelming and uncertain. But for those who've paid their dues and survived early childhood, knowing they prioritized the "right" things is a huge victory. The "right things", of course, are relative and unique to each family, which makes the stories behind them all the more interesting and inspiring. We spoke to a dozen dads about what they are happy they emphasized during their children's early years. From the profound to the seemingly mundane, here's what they did, or didn't do, and why it made a big difference.
1. Letting My Kids Teach Me
"Our daughters are now 30 and 26, and our son is now 20. So I am forever grateful that I had the opportunity and made the choice to be present whenever possible. Whether simply in the car, at sports practices, in barns, gyms, or shopping malls, on golf courses, or around the dinner table, I learned so much. I learned about volleyball, soccer, golf swings, music, and painting. My kids taught me to be adventurous and to try new things. They taught me to enjoy the experience, even if I was not particularly good at it. Most importantly, I got to see them and what they found interesting. I still marvel at the good humans they are and who they are becoming, and who I'm becoming as I continue to be present" — Bill, 56, South Carolina
2. Listening In Audiobooks
"My goal is to introduce my child to stories and to help her develop listening skills, creativity, and imagination. This digital approach has familiarized her with technology at a young age, which is a necessary foundation for her to adapt to newer trends in the future. Navigating through her digital library and independently selecting her favorite stories shows her comfort and confidence with technology. And by engaging with stories through listening, my daughter has likely improved her attention span, concentration, and comprehension skills. Overall, my digital library of audiobooks has provided a unique and tech-inspired twist to my parenting journey, and I'm very glad." — Maurizio, 41, Valencia, Spain
3. Making Sure They Watched Me Do My Taxes
"I'm a finance specialist. I am about to enter my 60s and I see so many teens and adults clueless about how to do their taxes or apply for loans. I am glad I used to make my kids forcefully sit with me while I did my taxes. Somehow, unconsciously, they started to understand the words and terms I was using. After some time, this became a tradition of ours and now they are doing the same thing with their kids." - Howard, 59, Arizona
4. Resigning From My Job.
"When my son was 18 months old my wife passed away. One of the best things I did before my son started school was resign and take the entire summer off to spend with him. I started working as a consultant when he entered school so I could walk him to the bus stop in the morning and meet him when he got off of the bus. The talks we had walking to the bus and coming home were priceless and helped us build an amazing bond that has remained strong through his teenage years and early twenties. Children are only young once and it is very important as a father not to get caught up in the mindset that leads to absence. My own father used to commute from Philadelphia to New York everyday for work. Growing up I would only see him on weekends because he would leave before we woke up and come home after we were asleep. I wish I had the time with my father that I had with my son. Our relationships would have been much stronger." - Garret, 53, Pennsylvania
The talks we had walking to the bus and coming home were priceless and helped us build an amazing bond that has remained strong through his teenage years and early twenties.
5. Road Schooling
"One thing I'm glad we did when our boys were little was to pull them out of school for a year to homeschool and travel, aka Roadschooling. We traveled the country in our late 90's conversion van. Our three boys were 6, 8, and 9 at the time. We drove around for parts of the year, rented houses on Airbnb, and stayed in different cities like Boston, San Diego, Washington D.C., and others for weeks or even months at a time. The kids were the perfect age because they weren't too cool to hang out with Mom and Dad, plus we got to bring education to life. From seeing historical sites on the Freedom Trail to checking out sea lions in their natural setting at La Jolla, we made memories we never could have following a traditional school schedule." — Jake, 40, Ohio
6. I Always Hugged Them
"One habit I instilled with my three boys — now men, aged 24, 21 and 20 — is to always hug and say hello or goodbye when coming and going from the house. It has served two purposes. First, it helps us keep track of each other, and lets us know who we're with and when we'll be back. Second, it's helped continuously build family intimacy on a regular basis. I've been in others' houses and have watched parents go back and forth about where one of the kids is. No one knows! They slipped out a while ago and people aren't sure where they are or when they're coming back. It works for them, but I'm glad this habit has helped our family stay connected and build a stronger bond over the years." - Matt, 52, Michigan
7. Reading Bedtime Stories
"The one thing I'm glad I did with my kids was read to them. It was a really special time of day for us. I would come home from work, we would eat dinner, and then right before bed I would read books with my kids. We really got into it! I would do all the fun voices, and sometimes we would even dress up, like putting on pirate costumes when we read Treasure Island. Now that my kids are getting jobs and going to college, I really miss those times of crowding onto the couch and looking at picture books, laughing with them and connecting. They always looked forward to it, and so did I." — Wes, 50, California
8. Travel
"When my girls were three and six, I quit my job, and together our family began to travel around the world. After spending a year working from home in 2020, I realized I did not want to go back to work in an office. Not like I had, anyway. Sending my oldest daughter off on the bus and then dropping my younger daughter at preschool on the way to work, getting home just in time for dinner and putting my girls to sleep — I couldn't do it. I liked seeing more of my kids, and making lunch and dinner for my family.
So rather than go back, I quit my job, we sold our house, and started to travel. We started going across the US, and then began traveling around the world. Over two years later we are still full-time traveling and my girls have become amazing world travelers and fascinating individuals. We have visited over 30 countries together, seen six of the New Seven Wonders of the World, and my girls can say hello and thank you in more languages than I can count. When we started, we did not know how far we would get or if this crazy plan would work. Looking back, I cannot imagine missing this time with them." - Waker, 47, Connecticut (Currently in Hoi An, Vietnam)
I'm so glad I was involved in their journeys, hands-on and present through their challenges and triumphs.
9. Slowing Down
"Ten years ago, my family moved to the Chicago suburbs. I was having a beer in a circle of maybe six other fathers at our local summer festival when someone I didn't know — a tall, in shape, alpha-type dude — broke down about his daughter going on to college the following month. I'm starting to well up thinking about it now, because it was so personal and authentic—how he felt about his daughter and how fast the time he had with her in his home flew by. It was listening to that stranger that inspired me to slow down, and enjoy all the time with my children that I could. The cold sporting events. The not-so-good school plays. The times the four of us actually sat down together for a meal. Ten years have flown by, and my memory of that dad on that day sticks with me, reminding me to be present for the little and big moments. One day soon, I'll be the short — but still in shape — beta-type guy, getting emotional talking about my daughter going to college next month." — Brian, 50, Illinois
10. Sports
"I grew up in two households — one that encouraged sports participation and one that was ambivalent. A health assessment 20 years ago reintroduced me to fitness, which was fortuitous as it helped me beat cancer. My children benefited from my journey as I encouraged their sports participation. My son earned a second-degree black belt in Taekwondo, played football, and threw shot put and discus. Now a college graduate, he was recently promoted to a lead sales position and helps lead a team. My daughter is a top-rated impact softball pitcher, student body vice president, and multi-sport athlete. She is receiving multiple offers from colleges around the country. The lessons they learned go beyond fitness, as success hinges on attitude, aptitude, and action. I'm so glad I was involved in their journeys, hands-on and present through their challenges and triumphs." — Richard, 55, Nevada
11. Space Exploration
"When my daughter was eight years old, we were watching Cosmos: A Spacetime Odyssey as a family. In that evening's episode, the host and narrator Neil deGrasse Tyson said, 'The planets, the stars, the galaxies, we ourselves and all of life — the same star stuff.' My daughter was so excited by this idea that she immediately went up to the family computer, opened a new document, and started writing. After the show ended, I asked her what she was doing, and she responded that she was writing a book so that all children could know how cool it is that our bodies are made of stardust. We leaned into this excitement and over the next year we wrote a book together. My daughter ended up landing a three-book publishing deal and had the privilege of speaking around the country in front of thousands of people with some of the top scientists and thinkers of our time. We never dreamed of this when we saw her typing on our computer that day, but I am so grateful that we helped encourage her to explore her passions at a young age." — Douglas, 47, California
12. Living Below Our Means
"One thing I am glad we did when our kids were younger was live way below our means. When my daughters — now 16 and 19 — were young, I was an elementary school special education teacher. My teacher's salary was $42,000 a year and my wife was a stay-at-home mom for nine years. To make this work we had one car for four years, which meant I sometimes rode my bike to school. We lived in very moderate homes. And date nights for the two of us usually consisted of a Redbox movie and a Subway sandwich. Looking back, I would not trade those days for anything. They allowed for so much quality time, and today I'm seeing how much those lessons impacted our children now that they're older." — Danny, 47, Georgia