What I'm Glad I Knew About Myself Before I Became A Dad, According To 12 Men
A dozen men reflect on the self-knowledge that helped them succeed.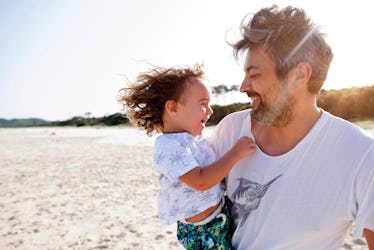 That I'm not patient. That I know how to be flexible. That I sometimes need my space. When we asked a variety of men what they're glad they knew about themselves before they became fathers their answers proved an important truth: self-reflection is a crucial part of parenting. Looking inwards and taking stock of your traits — positive, negative, and everywhere in between — helps you understand not only what will make you a great dad and partner but also the things you'll need to work on or explain about yourself to ensure everything runs smoothly. The stories of the men we spoke with also prove that we don't always know why we're good (or bad) at something until the stakes get high, and that's just fine, too. Here's what they told us.
This article was originally published on