60 Uncommonly Cool Dog Names
Your best furry friend deserves a rad name.
by Jon Gugala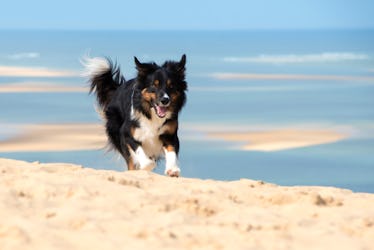 Flemming Andersen / 500px/500Px Plus/Getty Images
Man's Best Friend deserves a name worthy of the title — something timeless and bold that you'll feel good shouting at the local dog run, when it's time to head back home. If you've found yourself the lucky adopter of a new dog, you know that finding a good dog name — much less a unique boy dog name — isn't easy. The deep relationship between people and canines goes back a very long way, and the best male names for dogs pull from history itself: in this case, people who made world-changing art, music, politics, literature, movies, and more. So if your new mutt needs a moniker, our list of cool dog names will get you there — or at least get you thinking in the right direction.
Unique Dog Names From Music
Dylan
Rider
Folsom
Trooper
Ozzy
Huey
Ryman
Lobo
De La
Coltrane
From The Arts
Leo
Ansel
Warhol
Jackson
Degas
Cubist
Henri
Berthe
Rapha
Whistler
From History & Politics
Truman
Harry
Biden
Reagan
Carter
Bernie
Lincoln
Franklin
Revere
Chavez
From Literature
Papa
Tennessee
Brutus
Willie
Titus
Homer
Emerson
Walden
Raven
Haley
From TV and Movies
Riggins
Clooney
Herzog
Kelly
Coppola
Brando
Rocky
Apollo
Redford
Phoenix
Miscellaneous Dog Names
Portholes
Sue
Tool Box
Redwood
Notebook
Kincaid
Claymore
Soapbox
Tee Kay
Ringo
This article was originally published on