After Miscarriage and Stillbirth, I'm Still Determined To Be a Dad
With every occasion after the stillbirth, the storm of depression dissipates a bit.
by Alexander Diegel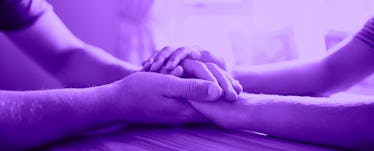 Our first pregnancy loss blindsided me. I'd known miscarriages happened but was firmly in the "bad things happen to other people" frame of mind. I didn't know then that first-trimester miscarriages are fairly common — though knowing the statistics probably wouldn't have helped much.
Our next pregnancy filled me with cautious optimism, rather than the head-over-heels joy I'd felt the first time. Everything was step-by-step. Heartbeat. Yes. Normal heartbeat. Even better. Eight weeks, 10 weeks, 12, 20. Then 22. That's when things started to go wrong. There were signs our Sweet Marie was coming to meet us too soon — way too soon. And she was small.
This story was submitted by a Fatherly reader. Opinions expressed in the story do not reflect the opinions of Fatherly as a publication. The fact that we're printing the story does, however, reflect a belief that it is an interesting and worthwhile read.
We followed the doctors' advice, and my wife underwent a cerclage. What a warrior. We put our faith in the statistics and reports. We have a near 90 percent success rate. The procedure went well. People who had undergone the same procedure reached out with their personal stories. Your aunt did the same thing with your cousin. It was scary, but we made it through. They're fairly common.
We spent nearly two weeks clinging to the anecdotes and statistics, feeling little kicks in Cristen's belly, both for fun and for comfort. As we approached 24 weeks pregnant, I started to get a dark feeling. That something was going wrong. I tried to tell myself I was just paranoid with worry. Then on March 5, I had a dream. A dream that we lost her. I went to work numb and stayed that way until our appointment the next afternoon. That's when we heard those two devastating words, yet again. No heartbeat.
It felt more like a confirmation of what I'd already known to be true than that blindside knockout punch I'd received before. Cristen later told me that the same morning I'd had the dream, she'd felt what she believed was little Marie's final kick. She was feisty and active until the very end.
Cristen hadn't told me, and I hadn't told her about the dream, which then and now felt like more of a vision. We were protecting each other, hoping against hope we were both just succumbing to fears, and that everything would be okay with the baby. Mothers have unique relationships with their children in the womb. The connected father does, too.
On March 7, at 11:39 p.m., we met our beautiful, silent little girl. Marie Louise Diegel. One pound, 3 ounces, 12.5 inches long. We visited with her for three hours that felt like three minutes, before letting her go. We took in every detail and cherished every second. Mommy's nose. Daddy's feet.
In between the pregnancy losses, I also lost my beloved dog and my uncle. Uncle Gary was the patriarch of my mother's side and had a tremendously positive impact on my life. And Brio put the expression "man's best friend" to shame. He was my spirit animal and the first thing I was responsible for caring for and loving. Both deaths were unexpected. Both walking around seemingly in fully vibrant health until — just like that — they were gone.
Those losses, as well as the miscarriage, only made the loss of Marie more difficult. I had told myself with every positive checkup that she was there to bring balance to the three losses. That I would soon have the ultimate joy of a healthy and happy child to counter the grief.
Now I struggle to find meaning in all of it. Why all of this loss? Was she there to give us the closure we never got from the first miscarriage? What I do know is that she made me a better person.
With every occasion after the stillbirth, the storm of depression dissipates a bit. First, receiving the ashes, then the small ceremony at the house. Next it was Mother's Day, Father's Day, then the due date. Replacing the depression is the acceptance of a sort of numb reality: I have a daughter. Her name is Marie. She's an angel.
The reports from the doctors are encouraging. As frustrating as it is to not have a concrete reason for the loss, that also means there is no reason to expect any issues in the future. We are healthy, and we will have the family we deserve someday.
It's waiting for the "someday" that is the hardest part.
Alexander Diegel is a freelance sports writer and author who currently works in content marketing. While he awaits the arrival of healthy human babies, he chases two young fur babies around the house on a daily basis.