A Tidy Dad on the Life-Changing Magic of Cleaning Up After Kids
Being a neat freak is not for everyone, but for this dad, cleaning up is a time to reflect on all the things his kids loved each day.
by Sean Smith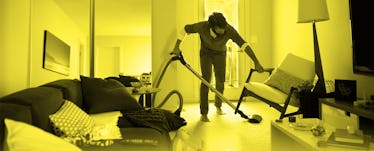 In my marriage, I am the tidier one. My wife would describe me as a neat freak, with an emphasis on freak. Since we had kids, I've tended to be the primary clean-up crew and laundry service provider. Some men might find those roles emasculating, and anyone might find them demeaning. Not me. Picking up after our two boys and making sure their favorite shirts and pajamas are clean and stacked neatly in their dresser are some of the most rewarding things I do as a dad.
I walk around the house at night when the boys are in bed and survey the objects left behind. It's like reading an executive summary of their day. More than that, the wreckage tells a story of who they are in that exact moment, their developmental stage, their interests, their personality. I like to linger in those moments, putting myself in their shoes, feeling close to them, reveling in who they are, and who they are becoming.
This story was submitted by a Fatherly reader. Opinions expressed in the story do not reflect the opinions of Fatherly as a publication. The fact that we're printing the story does, however, reflect a belief that it is an interesting and worthwhile read.
Tonight was a typical shift.
Outside our 4-year old's room, I see a gold foil wrapper, crumpled up. It is a piece of evidence from an incident the night before. Earlier that day, he had found his Easter basket tucked away in its place in the closet. It still had plastic eggs in it, and inside the eggs were some of the chocolate coins from last year's holiday. He convinced me to let him keep it in his room, assuring me that he just wanted it among his other toys for the night. By the time I put him to bed, I had forgotten all about it, until about 10 minutes later when he emerged from his room, wearing a chocolate mustache and a guilty conscience.
"Daddy, I have to tell you something," he said, with a frightful look on his face. "I made a ten one hundred million mistake." I did the thing that parents do in moments like that: I chose the reaction that I thought would best instruct and minimize similar future behavior. In this case, I went into disappointed mode. Seeing the crumpled wrapper tonight, however, makes me smile. I will tell him tomorrow that he did the right thing by owning up to it.
As I turn towards a trash can, my eye catches a basketball by the top of the stairs. I could get alarmed at the obvious safety hazard, but I chuckle to myself instead. When dinner ended this evening, our 2-year old had insisted on playing basketball at the hoop in the guest room. He's at the stage where he mimics the words and cadence of his older brother, often jumbling the intended meaning. Earlier tonight, he held the ball and declared, "I'm going to screen my guy, and roll to the hoop for a slam dunk. Does that sound good Daddy?" He then ran to a spot on the "court" and heaved up a basketball about the size of his entire upper body, grinning like the Cheshire cat the whole time.
I make my way downstairs. Trucks litter the floor of the family room. Some are neatly parked. Others are scattered about. What looks like random chaos is anything but. I see that there's a fire station over by the bookcase, with three engines and an ambulance. Our 4-year old has a strong sense of justice, and firefighters top the list of good guys, working hard to protect our city. He rides shotgun with them in his mind. Next to the chair where our cat sleeps, it looks like a bus had an accident. It's not resting on its side haphazardly. A tow truck is next to it. There's an innocence to that particular scene. My boys are oblivious to the consequences of real car crashes. There's no ambulance nearby, just a tow truck. In their minds, trucks break down, and other trucks come to the rescue.
I head towards the dining room, where evidence of our dinner remains. On the 4-year-old's side of the table, it's pretty clean — just a few stray crumbs. He doesn't like messes. Wonder where he gets that. There is a stray sock, though. I frown and put it in my pocket, fretting a bit about finding its superhero partner, one his favorites. On the 2-year-old's side, it looks like a food bomb exploded. The remnants stick to the table and floor, as he first laid down a base of watermelon juice. Most of our evenings go like this:
A parent: "Time for dinner. Everyone go to the table."
The 2-year old: "I want watermelon!"
What unfolds next is a hostage-style negotiation, stern warnings about the need for protein, and us dodging the alternatives put in front of him as he hurls them through space. It usually ends with him getting watermelon.
As I scrub the mess off, I am grateful he is our second child. We know it's a phase, so we don't stay up all night worrying.
That's the thing. It's all a phase. All of it. In a blink they'll be teenagers, and the messes will change. In another, they'll be out of the house altogether, and evidence of their existence won't fill every corner of our home, like sunshine coming in through a window. It makes me sad to contemplate that eventuality, but thankfully, there's little time to dwell on it. I need to run a load of laundry. But first, I think I'll go hunt for that missing sock.
Sean Smith lives in Berkeley, California. When he isn't cleaning up after his kids, he runs the Reputation practice at Porter Novelli, a global communications agency.
This article was originally published on