These Cultural Icons Shape The Way We See the World
These cool dad artists, actors, writers, and innovators are the real deal.
by Fatherly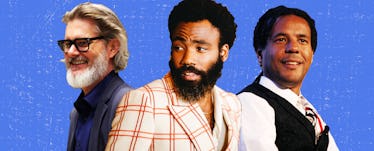 The reality right now is that the most radical an artist can do is cut the gimmicks and the cleverness and deliver something that's just plain better. Better made. Better thought out. Better. That's what the men on this list do, and that's why everyone in their very different spheres of influence wants to pass them the ball. These guys are the real deal, fast-changing our culture and world for the better.
Donald Glover
Cool Dad Job: Incumbent Lando Calrissian and the man who is Childish Gambino
Latest Cool Dad Achievement: Releasing the album 3.15.20
Donald Glover is somehow both a regular, down-to-Earth-guy, and an incredible untouchable genius. We know Glover is a man like us because in 2018, he readily told reporters that his first response to being cast as Lando Calrissian in Solo was to order a giant pizza and eat the entire thing in one sitting. But, could you also create the hip-hop album 3.15.20, which features a song called "Algorithm," that both mocks you for liking catchy music, but also is, itself catchy as hell? Is Donald Glover making fun of you? Yes. Is he trying to be your best friend? Probably also yes. I mean, have you watched Atlanta? This is a guy who is impossible not to like. If Glover were a dad friend you actually knew in real life he would be the one who never posted to social media, but when you saw him while you were both picking up your kids at daycare, he would somehow know what you'd been posting to Instagram anyway, and probably say something really nice about it. Glover is a very private celebrity, insomuch as that concept is a contradiction in terms. He and his partner Michelle White have two sons, Legend Glover and Drake Glover, but it's not like he's constantly putting them in front of the cameras. He isn't a performative dad, and in this fact, a lot of us can remember what being a good dad and dude is all about: You have to do your thing, and not worry what other people think.
Guy Raz
Cool Dad Job: Hype Man for the Real World
Latest Cool Dad Achievement: Fielding Jimmy Fallon's product pitches
Guy Raz is an enthusiastic guy — like, really enthusiastic. He says "wow" a lot and approaches everything with the kind of wonder and curiosity that most of us shed in our early twenties. He's a fun, goofy dad who does a kids' podcast called Wow in the World (and sounds not much older than his own two middle school–age sons when he's hosting it), was the narrator of The Cat in the Hat for a children's theater, and helped design his neighborhood playground. But Raz is also stupid accomplished. He started out as a reporter at NPR, becoming its youngest bureau chief (Berlin at age 25) and reporting on several wars before becoming an NPR host, transforming every show he worked on. He then co-created two of NPR's most successful podcasts — TED Radio Hour and How I Built This — and recently launched a new podcast about leadership, Wisdom From the Top. There is nothing Raz touches that doesn't turn to gold and nothing he can't get us interested in — and he does it all with a wholesomeness and excitement that makes being contagious fun again.
Colson Whitehead
Cool Dad Job: Writer.
Latest Cool Dad Accomplishment: Winning the 2020 Pulitzer Prize
The day it was announced that he'd won his second Pulitzer Prize for his novel The Nickel Boys Colson Whitehead offered his reaction on Twitter: "Thanks to everyone for their kind words. It was a very special Monday for obvious reasons, but also because I scored scotch bonnet peppers for the JERK CHICKEN & also found a good kart combo for MARIO KART so the kids are winning less often. Stay safe!" One of the great writers of the century, Whitehead is a daring stylist and confrontational culture warrior — a man who wants America to confront its past — and the kind of guy you'd want to have a beer with. It's an unusual and perhaps unprecedented combination. Does the man deserve awards? Yes. And he earns them. Also, Colson, consider Waluigi. He's a serious contender.
Mo Willems
Cool Dad Jobs: Children's Author, Pigeon Advocate
Latest Cool Dad Achievement: Doodling with dads across America
Children's Book Author is a strange vocation, but Mo Willems makes it look cool. Sporting a wild, grey-flecked mane, horn-rimmed glasses, and an iconic white beard, Willems plays the part of the kooky artist who never grew up. There's some truth in that, but Willems is also a big time adult. When the country went on lockdown, Willem invited America to dip a toe into his world, live streaming meandering, strange doodle sessions that offered kids inspiration and parents some much-needed escapism. Sitting at his large wood table in front of colorful drawers filled with art, Willems took his place in history by spinning fantastically weird, heartwarming tales for kids. He became the protagonist of his own story.
Eddie Murphy
Cool Dad Job: A Cultural Institution
Latest Cool Dad Achievement: Reminding everyone why he's Eddie Murphy and they aren't.
No one laughs like Eddie Murphy. If you grew up in the 1980s, the Murphy laugh still echoes. It made you want to be funnier. It made you want to be more confident. It made you want to wear leather. Sure, you could argue that Murphy had some lost decades. The Klumps wasn't a great look. But Murphy is still Murphy. In 2019, he became a father for the tenth time and released the Netflix movie My Name Is Dolemite, a joyful return to the fast-talking angle-shooting Murphy-ness of it all.
Hosting SNL's 2019 Thanksgiving Special, Murphy took aim at the so-called controversies of his past. "I have ten kids now, eleven if you count Kevin Hart," he quipped. "But if you had told me 30 years ago that I would be the boring, stay-at-home house dad, and Bill Cosby would be in jail, even I would have took that bet." He continued by posing the audience a question: "Who is America's dad now?" Damn right.
Patton Oswalt
Cool Dad Job: Comedian, anthropomorphic rat
Latest Cool Dad Achievement: Being the face of cautious optimism in the wake of immeasurable tragedy
Kids know him as Remy, the rodent sous chef from Ratatouille. You know him from that one Star Wars scene in Parks and Recreation that nearly broke the internet. But Patton Oswalt is first and foremost a stand-up comic. Give him a mic and he owns the joint. It's how he deals with his own demons, and for him in particular, there has been plenty to deal with. Three years ago, Oswalt was visibly reeling from the unexpected death of his wife, celebrated author Michelle McNamara. Today, he's upbeat, joyous, cautiously optimistic, all of which he showcased in his May Netflix special I Love Everything. It's a sweet paean to his second wife, actress Meredith Salenger, and, of course, an ode to what it means to be a dad. "To me, it is about really being shown in a real way what matters and what doesn't. As you get older that's so crucial. You're not wrapped up in old battles or hurts or resentments. This stuff does not matter. You can move on. Being a dad is such a great shortcut to getting to that and getting beyond the stuff that does not matter," he says.
Stanley Tucci
Cool Dad Job: Movie Star
Latest Cool Dad Accomplishment: Nothing really. He's just the best.
This May, Stanley Tucci was on the receiving end of many adoring Internet pieces after he posted a video of himself, clad in a well-fitting polo shirt and trademark horn rims, making a Negroni. Then, in June, Tucci, chronicling a day in his life for The Atlantic's Lockdown Diaries series, described Peppa Pig as "irritating animated swine," discussed getting kicked in the groin by his kids, and provided an excellent recipe for Pasta Alla Norma. These sorts of things are par for the course for Tucci, who has made a career of playing charming husbands, charming villains, charming creative directors, charming physicists, and charming restaurateurs. He's the guy all bald men wish to be and probably cooler than any of us can fathom. Don't take it from us, take it from Captain America himself, Chris Evans, who wrote in response to Tucci's Negroni video: "However cool, fun, witty, and charming you think he is, double it and you're halfway there."
Quentin Tarantino
Cool Dad Job: Director
Latest Cool Dad Achievement: Welcoming his first child.
In February, Quentin Tarantino welcomed his first child with wife Daniella Pick as well as Oscar noms for Best Original Screenplay, Best Director, and Best Picture. He didn't win any of those categories and it couldn't have mattered less. With Once Upon a Time in Hollywood, Tarantino reminded the world that he's still the king of let's-watch-it-again filmmaking and a peerless writer of American fantasy. How does he do it? Largely by grounding his work in reality. Long before it became de rigeur for his colleagues to protest police brutality, Tarantino, who has a relationship with the Black community complicated enough for hundreds of college theses, was already speaking up and facing boycotts from police unions. Did he see what was coming? No, but the man loves a satisfying ending.
This article was originally published on