These Cool Dads Mean Business
Great business leaders have a lot in common with great parents. These dads prove the point.
by Fatherly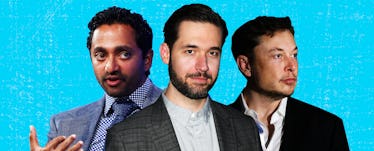 Great business leaders have a lot in common with great parents. They must think broadly and execute precisely, give resources to grow, and know when to walk away. They must have vision for the future and a plan to get there. These men have these qualities, plus they know what to do with their successes — whether buying a basketball team, a rocket company, or some freaking sweet drones for the kids to play with.
Chamath Palihapitiya
Cool Dad Job: Millennial Buffet
Latest Cool Dad Achievement: Taking a victory lap.
The Warriors co-owner has long been a venture capital golden boy, but as the pandemic hit Palihapitiya, whose family fled war-torn Sri Lanka for Canada and later came to America in search of fame and fortune, found his voice. This is not to say Palihapitiya was ever quiet — the man has a reputation for swag — but his screeds against corporate welfare and the government's determination to prop up companies that had handed over their savings to greedy shareholders went viral for a reason. In short order, Palihapitiya started preaching the gospel of supply chain resiliency and asking the big question: Why can't the world's largest economy produce masks or cotton swabs? It's a question that ought to remain at the center of the national discourse. And Palihapitiya, who quickly locked down with his three kids, will make sure that it does. Is he an activist? No. He's a billionaire. But, like the father he is, he sees the opportunity in taking care of people.
Eric Wilhem
Cool Dad Job: Co-founder of Instructables, CEO and Founder of SafeConnect Solar
Latest Cool Dad Achievement: Teaching his kids the art of (drone) war.
Wilhem, the co-founder of Instructables and CEO and founder of SafeConnect Solar takes homeschooling very seriously and book-learning less so. Since the onset of the pandemic he's worked out a curriculum for his kids that includes building drone tanks, woodworking, and mummifying dead squirrels. A DIY demi-god, Wilhelm is a leader in the do-something-with-your-hands movement and a practicing preacher. But back to the tanks. He bought his kids a drone tank that comes with Scratch and Python programming. It shoots things. "We realized we were basically training our kids to be Chinese drone operators," he laughs, adding that he made the kids read Ender's Game then asked them to answer a question: Have I been raised to be a weapon? "I don't really know," said his 7-year-old. Spot on. Raising smarter drone operators? That's the kind of parenting we can all aspire to.
Elon Musk
Cool Dad Job: Space Daddy
Latest Cool Dad Achievement: Launching the first manned American spacecraft since 2011
Elon Musk tweets too much. He violates FCC guidelines. He gets into petty mud-slinging contests. He sometimes fails to deliver and often takes unnecessary risks (Example 1-10: The Tesla plant reopening strategy). And yet… the world would be undeniably less interesting without him. The man has a history of making outrageous claims, but remains exceptional because he's backed many of them up. Even five years ago his plans for boots on the Martian ground sounded nuts, but lately, it looks like SpaceX might be picking up enough escape velocity to get there.
Earlier this year, Musk, already a father of five, welcomed a son named X Æ A-Xii with the pop singer Grimes. Laugh all you want. Musk is ridiculous. He is also getting big stuff done. And there's nothing cooler than that.
Jon Favreau
Cool Dad Job: Making your favorite movies, Tony Stark's bodyguard.
Latest Cool Dad Achievement: Bringing Star Wars back from the dead.
Without Favreau, we wouldn't have Iron Man or, really, the entire Marvel Cinematic Universe. We wouldn't have Baby Yoda. Or The Mandalorian. The man is a world-class world builder who was given the keys to the biggest pop culture franchise and recognizes the magnitude of what they unlock. He's also a hell of a storyteller in general, gifting us the likes of Elf and The Jungle Book. Was The Lion King great? Eh. Not really. But who hits everything out of the park? Favreau, who's father to a son and two daughters, has one hell of a batting average. And it's clear from his films, whether it's the relationship between Mando and Baby Yoda or the delicate bond between Carl Casper and his son in Chef, that Favreau infuses everything he does with the love and perspective of a parent. The combination of being a superhero and a dad is something many of us not-so-secretly want. Jon Favreau has shown us the way.
This article was originally published on