The Dog that Was There For Us Through It All
Our dog Harlan saw us through heartache, watched us become parents, and became my son's best friend. Saying goodbye wasn't easy.
by Dutch Simmons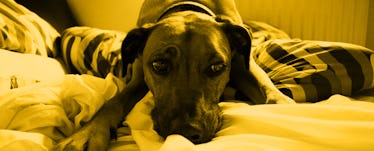 "Harlan" was a purebred Rhodesian Ridgeback puppy I had gotten my wife a few months after she suffered a miscarriage. Devastated, and with the likely prospect of not being able to conceive, I recognized her need to nurture and heal. In the beginning, Harlan was "my" dog; he would follow me around, and lie at my feet when we sat at the couch. Around the six-month mark, however, there was a noticeable shift. When we walked through the neighborhood, he would stay by my wife's side, often stepping in between her and friends who came out to chat. He would sit next to her on the sofa, resting his head on her belly whenever possible. Soon thereafter, we learned Brooke was pregnant, which, given her medical history was as thrilling as it was terrifying.
This story was submitted by a Fatherly reader. Opinions expressed in the story do not necessarily reflect the opinions of Fatherly as a publication. The fact that we're printing the story does, however, reflect a belief that it is an interesting and worthwhile read.
During the fifth month of Brooke's pregnancy, I called home to check on her while I was attending an event in Washington D.C. at the White House. Her tone sounded off, and her lack of shared excitement about me being at the White House, concerned me. Despite numerous affirmations that everything was fine. I skipped the formal cocktail party and instead took the last Amtrak home.
I arrived just past midnight. To my chagrin, Brooke was fine and chastised me for being overly protective. I went to sleep irritated for missing an opportunity to enjoy cocktails in the White House. Around 3 a.m., Heather woke me up to let me know she needed to go to the bathroom. Magnanimously, I gave her permission, to which she hazily said that she thought she already had. I turned on the lights and was greeted by a very pale Brooke and a rapidly spreading pool of blood.
Like in every clichéd movie where the husband barges into the emergency room carrying a wife and screaming for a doctor, life imitated art. She was immediately rushed into surgery for a massive internal rupture. After several hours, a doctor let me know they were doing everything to save her; the baby was secondary. Not comprehending what was going on, I simply shouted, "But I was just at the White House!"
By late morning, Brooke and the baby had stabilized. I, however, remained in critical condition. The doctor explained to me that Brooke would have to stay in the hospital. I readily agreed given what had occurred; it seemed way too soon to release her.
"No", he explained. "She has to stay here until she has the baby."
At the barest minimum, this would require her to be in the hospital for the next three months to get past the crucial threshold for a viable birth. He wanted me to tell her; I did not want to be killed delivering that message. Not only would she have to stay in the hospital, but she would have to remain on her back, lying down the entire time.
I tried to try to make light of the situation. "Just think of all the books and movies you will be able to get caught up on," I enthused. That novelty lasted approximately two days. She mentioned how much she missed Harlan. He clearly picked up on my distress at home, and was constantly pacing around the room, hovering by her side of the bed. I asked the head of the neonatal intensive care unit for permission to bring in the puppy. I knew it would lift her spirits. They agreed it could alleviate her stress which was important, and mentioned that many patients did that with their little dogs as well. I neglected to mention that at less than a year old, Harlan was already about 80 pounds, the size of a small deer.
When he paraded into the neonatal unit, he drew instant attention from staff and patients alike. Some initially recoiled in fear of this "large angry dog" because of the way his hair bristled. (The hair along a Rhodesian Ridgebacks spine grows in the opposite direction giving them a stylish "Mohawk look" that can be misconstrued). However, within minutes of meeting the gentle giant, everyone fell in love with him. He immediately became the floor mascot.
He quickly found Brooke's room, too, and excitedly darted in and surprised her. He climbed into the cramped bed and dozed off by her side, refusing to leave when visitation time was over. He finally relented when I explained that there wasn't any food there for him, and he had to go home. This became a daily pattern; visits to the hospital with Harlan making his rounds checking in on the patients, and then finally spending the rest of the day in bed with Brooke. Eventually, they put a second cot in the room for me, not Harlan, and we had numerous sleepovers.
All of this helped Brooke to the finish line. A month early, our baby Max entered the world. Harlan instantly became Max's dog and much more. He was his de facto sibling and best friend; the two of them separated by roughly a year.
Through the years, they would have endless conversations to which neither Brooke nor I were privy. I remember one teacher's conference when the teacher inquired what grade Max's brother Harlan was entering. When Max turned eight, Harlan was full grown at 125 pounds, and when they slept side by side, Harlan was definitely the big brother.
Shortly after Max's eleventh birthday, we had to put Harlan down. I had promised not to cry in front of Max; to be stoic and a pillar of masculinity. Instead, I bawled like a baby. I absorbed the pain of my son losing his brother, and my wife losing her security blanket and talisman. And because I was losing a best friend who was always there for them when I couldn't be. The occasional stray hairs on sweaters, and chewed tennis balls hidden in the yard are a bittersweet comfort and a reminder that pets may be temporary, but family is forever.
Dutch Simmons established and taught a creative writing program for his fellow inmates while incarcerated. He has been shortlisted for the Texas Observer's Short Fiction Award and the Julia Peterkin Flash fiction Prize. He is a fantastic father, a former felon, and a Phoenix rising. He lives in the woods of Fairfield, CT preparing his debut novel, "Return By" for release. You can find him on Twitter @thedutchsimmons.