How to Text a New Mom or Dad About the Baby Without Pissing Them Off
If you're the working parent and your wife is at home with the new baby, you will receive a lot of texts. A lot of texts. Here's some advice on how to respond
by Corey Levitan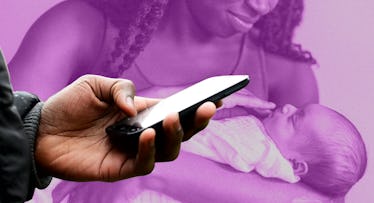 When you're a working parent and your partner is at home — on parental leave, part-time, or full-time — you're going to get some weird text messages. Many will be about the color of poop. Many will be about anxieties. Many will leave you wondering how to respond in a productive way (with one hand, under the conference room table). These new baby texts might sound like a minor thing. They are not. You're still establishing open lines of communication about parenting and work with your partner so, no matter how absurd the issue, it's worth engaging. The question you're asking should be this: How can I engage productively?
Truth be told, your only real option is to text short replies. The key is to do this without seeming or, worse, being dismissive. Being home with a kid is really stressful so it's critical that panic or urgency be accepted as legitimate. It's important that you try to vibrate on your partner's frequency even if, in reality, that's not really happening.
Just Be an Adult
Often when a text buzzes in, it will sound like your partner has a problem she wants you to solve. But that isn't what's happening. In all likelihood, your wife or husband or partner just needs some reassurance or validation. It's hard to feel confident or competent when a baby is vomiting on you. People with little kids need rational and positive feedback because they are getting irrational and negative feedback. More often than not, they're not looking for help. They're looking for another adult.
It might sound dismissive — and you should wordsmith it based on the way you normally converse — but a "You're doing so well" goes really far. Appreciation is everything.
Time Your Texts
Don't text back right away — even if you can. "I'm not that busy" is what doing so communicates. And that's a problem because whoever is at home likely is very busy and might be harboring some resentments. Also, there's no practical value to rapid-fire conversations. At the same time, you don't want your co-parent to feel abandoned. The best bet, give it five to ten minutes for something somewhat pressing and ten to 15 for something that definitely isn't.
Provide Your Timeline
Sometimes even five to ten minutes just isn't possible. Meetings arise. Conference calls need to be conferenced. Business needs to be businessed. Explain the situation to your partner so she or he aren't left wondering why you're ignoring them. That way, she'll understand why she needs to wait every 90 minutes to hear back from you and why, then, you're only responding for 10 minutes at a clip.

 If you are unfortunate enough to have a job where your every move is watched – say, by a camera or a floor manager – then head to the bathroom stall. Chances are, half the people are using a bathroom stall to text anyway.
Take a Deep Breath
You will, at times, feel bombarded by texts. Stress will overwhelm you and you will want to respond back in a not-so-pleasant way. Consider this cheat sheet for what you actually should say.
How you really feel vs. What you should say:
"That's nothing to worry about." / "I'll look it up when I get home."
"Please stop texting so much." / "Busy, talk later?"
"Can you please calm the fuck down?" / "Can I pick you anything at the store on the way home?"
"Get a grip, insane person!" / "Love u!"
"Holy shit! Stop, just stop!" / "Love u!"
Use Text Shortcuts
I know, I know… it's not the most honest. But if you're rushing through work so you can get home to be with said wife and child, it would spare you precious office time to save certain blanket supportive statements as custom text shortcuts. In addition to those mentioned above (See: "You're doing a great job!" and "Love u!")
Also save "Awwwwwwww!" (with extra w's) for photos. Save lots of supportive statements so you don't repeat one suspiciously often. Yes, it's cold. But you need to strike a proper balance between your professional and personal life, and sometimes, seconds count.
A few things to avoid…
Don't get annoyed. It's fine to be annoyed, but it's not fine to communicate that over text. You're not a good enough writer to pull that off. Shakespeare wasn't a good enough writer to pull that off. If you need to air some grievances, do it at the end of the day face to face.
Don't tell anyone to relax over text. That's a rule of thumb that applies to all situations, but particularly to baby situations.
Don't apologize to your coworkers or your boss. Your kid matters more than your job. If they don't get that, there is something wrong with them. You don't have to be aggressive about that messaging, but don't grant the premise that you need to be focused on work all the time. You don't.