My Son Was Diagnosed With a Rare, Life Threatening Genetic Condition. Here's How We're Coping.
I catch myself thinking about what Payne's doctor once told me: "SMA kids are fighters, so we fight." These words alone give me great hope.
by Jim Weaver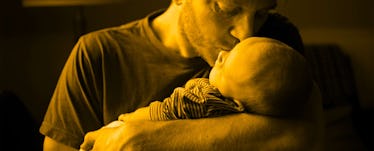 Until recently, my wife Hannah and I were all but certain we would not have a child together.
Years ago, multiple specialists had told her our chances of having a baby were 10 percent at most. That was fine with us – I share a wonderful son, Drake, from a previous marriage and we dreamed of a new future, filled with an RV and traveling around the country as a little family of three.
Then last fall, we received some surprising, but wonderful news – Hannah was pregnant.
Those nine months flew by uneventfully, and before we knew it, it was May 2020 and we were welcoming our kicking and screaming son, Payne, into the world. While it was strange to have a child be born during a global pandemic, the first few hours with him were simply magical. Of course, you go through a million emotions whenever you meet your baby for the first time. The nurses were in awe of how strong he was and we all cried tears of joy with Drake on FaceTime, who helped pick Payne's middle name. When it was time for Payne to get his routine newborn screening test, the only thing on our minds was resting and finally going home together.
This story was submitted by a Fatherly reader. Opinions expressed in the story do not necessarily reflect the opinions of Fatherly as a publication. The fact that we're printing the story does, however, reflect a belief that it is an interesting and worthwhile read.
Five days later, I was out working on our farm when Hannah called me. Hysterical, she said Payne's pediatrician had called because something came back abnormal in his newborn screening test — something in his muscles, and something genetic. He'd tested positive for spinal muscular atrophy, or SMA. The doctor told us not to Google anything, but of course we did. Hannah and I dove straight into the research and learned statistics that punched us in the gut in a way we have never felt.
No one knows how to react when you get news like that. I felt helpless. You always want to do the best you can for your kids, and as a father, facing a life-altering situation that you want so badly to fix, but that you can't, is a very hard thing to accept.
SMA is a rare, progressive neuromuscular disease and it's the leading cause of genetic infant death. We poured over the numbers on life expectancy: Babies with SMA Type 1 have a 90 percent chance of being permanently ventilated or passing away before their second birthday. At first, we assumed that the doctors had to be wrong. Payne looked and moved around just fine. But the more we investigated and found out babies can experience irreversible muscle damage before showing symptoms, reality sunk in.
Hannah and I knew that focusing on grief or despair would not help us. SMA is a treatable disease – and we resolved to be motivated by that scientific progress. Beating SMA was now our goal.
Despite my commitment to staying resilient, I couldn't help but worry about what to tell my son. Drake was the only child for 10 years and accepting that he was going to be a big brother was hard at first. Everything changed the moment Drake held Payne for the first time. The two of them spend about an hour a day just smiling at each other. They became best friends for life — Drake now refers to Payne as "his baby." How do you tell your son that his new best friend is different or sick, even though he seems okay? I told him there was something wrong and we needed to be strong; we're going to have to beat this, for Payne and for our family. I hope no father has to experience the conversation I had with my son.
Our main priority was discovering how to help Payne and give him the highest quality of life possible. Thankfully, there are now three SMA treatment options approved by the U.S. Food and Drug Administration. We decided on a one-time treatment and hit the ground running. We were talking to his medical team daily and they always did their best to answer every question we had. Their compassion for pediatric medicine and care for Payne eased our worries a little more every day. Their amazing teamwork and dedication helped cut the pain of such a life-altering diagnosis.
I will always remember Payne's treatment day. We finally had answers, we could finally breathe again, and we could finally celebrate his birth and all that he had in store for his future. Our baby boy would now have a fighting chance.
Today, Payne is a rock star and is getting stronger every day. He has become mobile in the past few weeks, barrel rolling across the room every time you set him down and pulling himself up off the floor using the base of his sleeper swing. He can't stop watching his older brother's every move. These milestones may not seem like much, but we celebrate each one.
I catch myself thinking about what Payne's doctor once told me: "SMA kids are fighters, so we fight." These words alone give me great hope for Payne's future. One day, I could be playing catch with both of my sons or they could be helping us out on the farm. His existence is a miracle. Hannah's surprise pregnancy had ultimately been a very easy one — making Payne's diagnosis even more shocking. It blows my mind that a simple heel prick changed the course of our lives.
Even though Missouri screens every newborn for SMA at birth, there are still 17 states that do not. We need to do better for our children. If you're a new parent or a soon-to-be parent, don't be afraid to ask questions about your baby. See if your state has newborn screening. Take a genetic test. Knowing early and having a plan to treat SMA is the most important thing. Learn the signs and symptoms of SMA. Tell your care team how much they mean to you. Focus on what you can control — your actions, your reactions and your attitude. And finally, be a leader for your child and remain positive. It can be contagious for everyone else.
Jim Weaver is a dad of two living in Trenton, Missouri. In his spare time, he enjoys spending time with his family and working on the family farm. He is a strong advocate for SMA and rare disease families everywhere, and loves to share update on Payne's progress on the family's Facebook page, SMA Payne Gang.
This article was originally published on