33 Small, Nice Things to Do For Grandparents Right Now
Small things make a big difference.
by Fatherly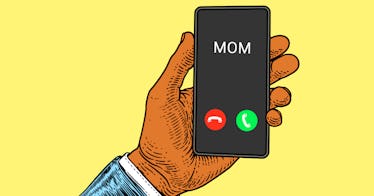 The past few months have been tough for all of us, but they've been particularly so for aging parents and grandparents. Older family members are more at-risk for COVID and many have been pretty much cooped up inside their homes for most of the past six months. So, what can families do to make grandma and grandpa feel special and still connected? Luckily, right now, there's a lot that can be done. So, we've put together this list of small nice things you can do for your parents — your children's grandparents. Some of the items here are obvious; others a bit less so. All of them seek to foster a feeling of connection and love at a time when both are very necessary.
Call them. Call them. Call them again.
Buy your child and grandparent the same markers, stickers, play-doh, or musical instrument — whatever works best — so they can do the same activity in real time over Zoom.
Set up Zoom story time so they can read with or to the grandkids.
Even better: Order the same books for your kid and your parent so that they can read the book together.
Send flowers. Seriously, just do it.
Teach them how to use Instacart or a similar service because they really, truly should not be going to stores very often.
Use Chatbooks to create little photo albums for them, culled from your photo stream, to document events they might have missed.
Send them a card, for no reason. Cards are from a better time, where this used to be the norm. Bring it back.
Do your folks have a bunch of old family videos or polaroid photos? Covert them to digital as a surprise just because.
On the same note, plan a night to watch the old family videos together. Ask grandma or grandpa to do commentary about that trip you took South of the Border in '94. Reminisce. Embrace the embarrassment.
Don't roll your eyes when they give you advice. Yes, even if you know it already and have heard it before.
In fact, go into a conversation with something you need advice for locked and loaded. Feeling useful is feeling appreciated.
Send them a subscription to Masterclass. Sure the ads are everywhere. But those classes are pretty great.
Maybe its quarantining for weeks and then going to their house for a month. Maybe it's a big family vacation a year from now. Whatever it is, make a plan for how you will see one another — or what you will do — the next time you can safely be in person.
If they're sad for a time over the phone, let them be sad. Do not try to cheer them up unnecessarily. Validate their feelings. Tell them that, yes, "it sucks."
If they are local, have them over in the backyard. Wear masks. Stay distant but stay together.
Need to express concerns about their safety? Talk about yourself not them. In other words, don't say: 'I think you should stay home.' Instead phrase it as, 'I'm really anxious thinking about you.' This will to appeal to them as parents, and make you sound like less of a scold.
Invite them on a virtual walk with you and the kids via tablet or phone. You don't have to go far — just around the block or even around the house. What matters is sharing the sights.
Watch a movie together. Using such apps or services as MyCircleTV, NetflixParty, or TwoSeven, you can stream movies as a family from afar. Yeah, it will require some setup — and probably some confusion on their part — but the end result is worth it.
Give them some refresher courses on Zoom and FaceTime if they had trouble in the previous outing. Feeling unable to keep up with the technology we all so easily use can make them feel ashamed or sad. Do your best to help them avoid that feeling.
Try your best to avoid saying anything when all you see on video chat is grandma's face from the nose down. She's trying, she really is.
When chatting, wear an outfit mom loves. Comb your hair. Look "presentable."
Introduce them to the "Just One More Story" app, which lets people record themselves reading stories to kids. It has a great list of available books to choose from (Corduroy, Where the Wild Things Are, etc.) as well as step-by-step instructions that make the recording process easy. They can record it page-by-page and take as long as they want to get it just right.
Give the kids a grandparent-only walkie talkie. Voxer is a free-to-download app that turns your phone into a push-to-talk Walkie-Talkie, which lets you send pictures and messages, and play recorded voice messages. It's a fun way to stay connected if you want to download it.
Does one of your parents like cooking? Ask them to do a demo, via Zoom, of preparing one of their favorite recipes. Make it together. Sit and enjoy it together.
Ask them to download Draw Something, which is basically Pictionary for the phone. The app, available for most devices, has you draw a picture based on a word prompt using your finger. They can play with their grandkids. The kids guess what they drew and then it's their turn. It's fun! Things will get weird and silly.
Do they live close by? Drop off care packages every week. Include some drawings from the kids, some of their favorite snacks, maybe a new book.
Are they into crime novels or TV shows? Sign them up for Hunt a Killer. The game service sends them various clues and notes by the mail. The goal is to decipher the data and figure out who the mysterious killer might be.
Send them a digital photo frame like the Aura. Once its set up — it's easy, trust us — you can upload photos to it from your phone so your parents can have a real-time feed of daily shots.
Or, in any case, just text them a lot of photos of you and the kids.
Have the kids to dress up as grandma and/or grandpa before the next call. Surprise your folks with their mini likenesses when the Zoom screen opens up.
Be honest with them. Tell them that COVID affects older people differently and you want them to be safe.
Don't slouch.
This article was originally published on