11 Date Night Ideas That Don't Suck
A bunch of parents filled us in on their favorite date-night rituals with their spouses.
by Adam Bulger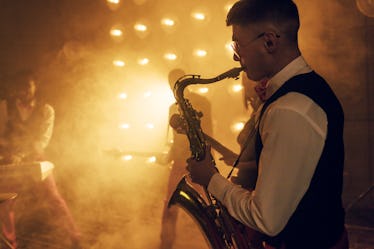 Shutterstock
Free time is one of the first casualties of fatherhood. While this shouldn't come as a surprise, it requires a lot of lifestyle recalibration, particularly when it comes to spending quality time with your spouse. One ritual that's less frequent: date nights. But that doesn't mean they're any less important. In fact, time alone with your partner — and coming up with fun date night ideas — becomes even more necessary during parenthood, as it provides you with a one-on-one moment to connect and remind yourselves why you agreed to bring life into the picture in the first place. In short, date nights earn capital for your marriage.
Such adventures take on a lot more weight when you have kids because they're escapes from the standard routines and rituals. That means the date night ideas you concoct better be worth it — or at least have some thought behind them. That's why we spoke to a variety of busy parents about their favorite date night ideas and why they found them so entertaining. We hope they give you some inspiration for your next night in.
1. Dinner and a Nerf War
My absolute favorite dates are when we stay in. The children spend the night at my parents home a few times a month and if it so happens that my husband has a day off that falls on a day the kids are elsewhere, we claim the night as ours and get completely childish. We pull out the boys' Nerf guns, set up obstacles around the house, and we have all-out Nerf wars. —Riley, Missouri
2. Taking A Cooking Class
I can't cook. I just have no affinity or patience for preparing food. My wife tried to remedy the problem by enrolling us in a one-off cooking class one afternoon. My cooking didn't improve that much but taking the class with my wife was really fun. So we do that regularly.—Terry, Massachusetts
3. Karaoke And Korean BBQ
We go out to karaoke and eat Korean barbecue. In Koreatown, in Manhattan, they have places where you can rent private karaoke rooms for a couple hours. Drinking's encouraged and a bunch of Korean barbecue restaurants will deliver food. My wife and I aren't great singers but that actually makes it more fun. The last time, my wife sang Katy Perry, and I stumbled through a bunch of rap songs after a couple of drinks. —Bob, Brooklyn
4. A Walk Around Town
My husband and I love our town. It's this small, beautiful community that we moved to a few years ago. The people are nice, it's diverse, and there are lots of things to see and do. Having kids makes us unable to do a lot of them, so on our dates — or honestly, or errands that we transform into dates — we pick an area of town and just walk around exploring. It's really nice and confirms why we moved out here. —Jerry, Suisun City, California
5. A Drive Off Into The Sunset
We live in rural Oklahoma so every date night is practically an adventure. It gets tired doing the same ol' movie and dinner thing, which is pretty much all there is to do here. So, some of my favorite date nights are the ones that are unplanned. We know we're going to do something but we aren't sure what it is. We hop in the car, start driving and eventually end up somewhere.
One night we were driving on the interstate through the Arbuckle Mountains, the sun was starting to set, and I wanted to pull off somewhere to watch it. (Oklahoma has some gorgeous settings for sunsets if you know where to look.) We exited the interstate, took a couple turns and found ourselves on a back road that ended just below the top of one of the mountains. We got out, walked the rest of the way to a flat area and watched the sun set over the interstate. It was awesome watching the cars come and go, watching the sun go down. Life just kinda stood still in that moment. —Stephanie, Oklahoma
6. Trivial Pursuit And A Bottle of Wine
The date nights that sticks out in my mind always start off as kind of a disaster, at least at first, before we salvage it. Recently, our babysitter canceled at the very last minute. We were ready to go and the kids were looking forward to seeing the sitter, so everybody was upset. But we all settled down and the kids went to bed early. We opened the bottle of wine we wanted to take to dinner, and drank it while we played Trivial Pursuit. Making lemonade, you know? —Mike, California
7. Movie And A High
Yeah, I know that technically, going to the movies is a boring date. But I can say for a fact that if you and your wife take some edibles right before you get into the Uber taking you to the theater, it can be super fun. The movie feels real extra and while it was weird keeping it together to pay the babysitter, I really enjoyed the sex I had with my wife after the babysitter was gone. —Bryan, Pennsylvania
8. Yoga Class
I've always loved yoga but my husband was skeptical about the practice for a long time. He was a college athlete and has old-school views on exercise and keeping in shape. He didn't think that what he called "fancy stretching" could be a real workout. I signed us up for a couples' class and twisted his arm until he agreed. The skepticism melted away and sharing mindfulness gave us a new sense of intimacy. —Michelle, Florida
9. A Whole Lotta Nothing
My husband works 14 to 16 hour days most days and I know he'd rather be able to stay home and do absolutely nothing. I'm completely okay with that. After you've been in a relationship with someone for a while, your priorities kind of shift from "where can they take me?" to "I'm just glad we're in this moment together," no matter where that moment happens to be. As I'm writing this we're having one of our movie nights in. He's sitting next to me on the couch with his hand in mine and I don't have a care in the world. I don't care where we go or don't go, as long as we do it together. —Laurie, Kansas
10. An Escape Room
We recently tried an escape room. I think I did a bad job explaining what would happen, and my wife seemed a little annoyed with it at first. But as we worked together to solve the room, she brightened up. We did some clever thinking and it was nice to remind her that I'm a pretty smart guy even though I might put the kid's clothes on backward sometimes. —Dave, New Jersey
11. Take Out And Solving a Grisly Murder
We can't go out much these days, what with schedules and expenses and all. But my wife and I recently signed up for a subscription game called Hunt a Killer. It sends you clues in the mail that you have to look over and reach conclusions to help find a "killer." It's genuinely fun and something we can do at dinner table. So, when it comes, we order take out and pore over the materials they send us. It's a great date. — Steven, Milwaukee
This article was originally published on