Should I Buy Bitcoin? 5 Things to Consider Before Investing
Your friends are making bank by jumping into crypto. Should you invest too? Here's what to consider.
by Jesse Will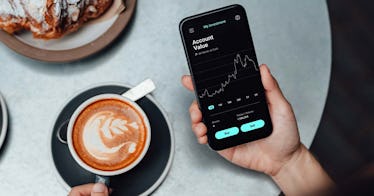 In March 2020, when you were looking up the recipe for no-knead bread and opening up a Zoom account, cryptocurrency markets were tanking: the value of one Bitcoin sunk to $3,850. If you bought a whole Bitcoin at its yearly low, you'd be up about 55 grand right now. It's sensible to ask: Should I invest in bitcoin?
Bitcoin is the buzz. Every day, it becomes easier to buy and sell. You can now use Paypal to buy Bitcoin with a few clicks. Last week, Square's Cash App — run by Bitcoin evangelist Jack Dorsey — started allowing its 36 million users to send and receive the cryptocurrency with no transaction fees. In the first month and a half of 2021, Robinhood reported that six million customers made their first crypto trade on the platform.
Apart from Bitcoin boom happening in retail, institutions are following. This month, Morgan Stanley will begin to allow some clients to invest in Bitcoin, becoming the first major bank to do so. Goldman Sachs will follow, offering Bitcoin to wealth management clients soon. There are a dozen Bitcoin ETFs — exchange traded funds — up for federal approval. Should one get the go-ahead — which may be more likely, now that a crypto expert heads the SEC — it will likely spurn Bitcoin's price even higher.
The TLDR: Cryptocurrency is going mainstream. You don't need to be wearing a tech bro's Patagonia fleece to get involved. But that doesn't make it any less volatile, or safe. So, what should you know? We reached out to a few financial advisers to see what guardrails normal folks should have when deciding to invest in Bitcoin. Here's the consensus:
1. Don't put more money in than you can afford to lose.
Along with the phrase "Do your own research," this is a phrase you'll come across often in the more sensible corners of the crypto-sphere. While you could plunk down for some Bitcoin on coinbase.com or allocate a portion of your IRA to something like Greyscale's Bitcoin Trust (GBTC) today and potentially beat the stock market in coming months and years, you could also lose your shirt should Bitcoin tank.
It's entirely possible that Bitcoin could be knocked off its throne by a cryptocurrency that's more efficient as both a store of value and a means of payment — meaning it could suffer a similar fate to Netscape or MySpace. Jeff Winn, a partner at International Assets Advisory, says that clients that putting a one to two percentage points of their net worth into crypto can be a fine idea: "With anything that you put into Bitcoin or the crypto space, you have to know that you'd be able to live just fine should it fall flat on its face and go to zero."
2. No one knows what it Bitcoin will be worth in a year — let alone what it's really worth now.
How much is bitcoin worth? Some analysts have posited that Bitcoin's value at some point this calendar year could hit $600K; other analysts, meanwhile, have claimed that it could be near worthless. Its current value, near $60K, could be close to the high of this cycle, the bubble just before it pops. Or not. The truth is, no one knows how much bitcoin is worth. As a whitepaper on the Rise of Bitcoin by global investment bank UBS recently stated, traditional valuation models simply don't apply. "Modeling its value is a huge challenge if you're thinking about Bitcoin as an investment," says Jamie Hopkins, Managing Director at Carson Group. "I really do think of it more as speculation — but you can have a small speculative portion of your overall investment fund, and that's okay."
3. Don't expect your investment in Bitcoin to go 100X.
Bitcoin has had a quick and wild ascent, from its 2008 start as an idea posted on a cryptography mailing list to its current-day status of a worldwide financial behemoth with a market cap of more than $1 trillion. Bitcoin lore features stories like those of Laszlo Hanyecz, who in 2010, traded 10,000 bitcoin for two Papa John's pizzas — a figure that would be worth over half a billion dollars today. If you got in early and held, congrats. You are wildly, wildly rich. If you're getting in in 2021, you might do well, but don't expect quite the same returns. Will Bitcoin go up? Probably! But it's volatile.
"Some people saw a 50,000-time multiplier on their wealth, but in essence, that run is over. So don't think of putting your financial future at risk expecting quite the same return," says Hopkins.
4. Beware the tax implications.
Services like Coinbase and Robinhood are making crypto transactions more seamless than ever, and that ease of use might make you forget that every time you sell a cryptocurrency, it's a taxable event — just as if you're selling a stock. If you've started your 2020 1040, you'll notice that the IRS added a highly visible question: "At any time during 2020, did you receive, sell, send, exchange, or otherwise acquire any financial interest in any virtual currency?" The feds are cracking down on crypto holders, so take note. If you're a frequent buyer and seller, dedicated tax services like taxbit.com or zenledger.io can help organize your transactions to make them more easily verifiable.
5. Know that digital currencies are here to stay.
Though this writeup highlights the pitfalls of being all-in on crypto, this writer is bullish on the tech, as are the financial experts interviewed for this story. Cryptocurrencies are here for good: Hopkins likens them to email, websites, or streaming services in their infancy. "If you're just looking at everything that's occurred over the last 20 years in technology, this digitalization of assets has just continued to occur," he says. "At this point, it's actually kind of hard to believe that we're going to move away from that."
For his part, Winn is holding some Bitcoin for the long haul. "I don't want to be the guy who's sitting there at the hitching post slapping a frickin' shoe on my horse and shaking my fist at that new automobile. As the father of two teenagers, how would I possibly look at them and say, I had a few thousand bucks to speculate with that could be a major part of your life when you're my age? I'm a schmuck if I don't do that."
This article was originally published on