5 Sex Positions For Women Who Don't Orgasm Easily
Suggested by a sex educator.
by Carrie Weisman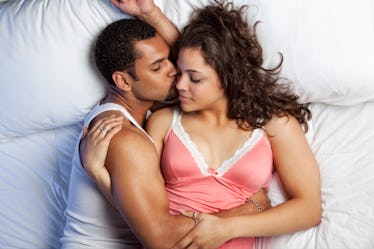 jhorrocks/E+/Getty Images
Sex! It's a fun way to pass the time. It helps you work up a sweat. It allows you to bond with your partner and procreate. It's also one of the few recreations we have left that isn't often interrupted by screens and portable devices. Of course, the opportunity to experience orgasm adds incentive. And a lot of guys get to enjoy that privilege. But women? Well, women don't usually sign up for penetrative sex expecting an orgasm. The odds of it happening simply aren't in their favor.
In 2014, a group of researchers came to a startling conclusion: lesbian women experience orgasm with much greater consistency than their heterosexual counterparts. In their analysis, they note that lesbian couples tend to engage in more foreplay and more oral sex than straight couples. A related study conducted by the Kinsey Institute finds that women are more likely to orgasm when they engage in a variety of sexual acts, apart from penetration.
Of course, that doesn't mean it's not worth engaging in. Penetrative sex can be plenty pleasurable, independent of orgasm. But if an orgasm is what she's after, then an orgasm she shall receive. There are plenty of techniques out there intended to bring her pleasure during partnered sex. Listed below are a few positions designed to do the trick.
1. Coital Alignment Technique
The coital alignment technique was originally introduced by an American psychotherapist named Edward Eichel. Eichel was perplexed by how infrequently women were able to experience orgasm during sex. At the same time, he recognized that clitoral stimulation was key to a woman's ability to reach climax. So he set out on a quest to bring them both together. The coital alignment technique (or CAT) is basically a modified missionary position. The guy is still supposed to get on top, but instead of going in at an angle, he should rest flat across his partner's body, positioning his pelvis just slightly higher than usual. The idea is to allow the shaft of the penis to grind up against the clitoris. "Thrusting is not the name of the game here," says Kati Scalisi, a pleasure-based sex educator and relationship counselor. "Instead, go for slow, smooth, steady pressure… try rocking back and forth instead of thrusting in and out. Be sure to get her turned with lots of foreplay first so that all the tissues are erect and therefore more sensitive and easier to stimulate."
2. Spooning
If you're into sex, you've probably heard of the G-spot. It's a spongy little patch of tissue located up against the front wall of the vagina. Stimulating the area has been known to provide intense orgasms among its owners. And some sex positions are better designed to service the spot than others. "Spooning allows the penis to press against the frontal vaginal wall," says Scalisi. "The more turned on you are, the easier it is to stimulate this part of the vagina."
3. Cowgirl
Sex may be a game of doubles, but there are certain positions that allow one party to take the lead. Women are experts at getting themselves off. Assuming the dominant position during sex might make it easier for them to achieve the same kind of success with a partner. "Woman-on-top allows her to control the depth and drive the stimulation. It also leaves both sets of hands free to play with her clitoris," says Scalisi.
4. Reverse Cowgirl
"It's all about the angles," Scalisi reminds us. This position carries all the same perks the more traditional version provides. But it also encourages her to arch her back, and that's going to make the G-spot easier to access. Hitting that mark is going to help increase physical arousal, blood flow, and lubrication, all of which are important components of orgasm.
5. Doggy Style
The vagina is loaded with erogenous areas that can feel pleasurable when stimulated. If you haven't yet heard of the A-spot, it's time you get acquainted. "The anterior fornix, or the 'A-Spot' is a little archway right in front of your cervix. It's one of the most sensitive areas of the vagina," says Scalisi. "In this position, the receiver's pelvis is tilted backwards. That makes it easier for the penetrating partner to stimulate the area." Though, she cautions, the A-spot is located deep inside the vagina, so size may affect your ability to get there.
This article was originally published on