21 Sweet, Simple Romantic Gestures You Should Try At Least Once
They don't require much time or even all that much effort. But, chances are, your partner will really, truly appreciate them.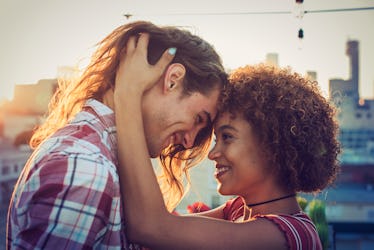 Getty
The grand, sweeping ones are great and all. But not all romantic gestures have to cost a lot of money, require weeks of planning, or cause you stress trying to make everything perfect. At its core, romance is really just the sum of the things you do to show someone you love them. You send them flowers. You cook them dinner. You do whatever you can to make them feel adored, appreciated, and admired. And there are countless ways to make a gesture memorable without going overboard, broke, or crazy in the process.
"Small gestures are key to lasting relationships," says Marley Howard, a licensed family and marriage therapist with more than a decade of experience. "Once we settle into our relationships, we can feel detached at times and think that great acts of love are the answer. But small gestures improve empathy, closeness, and security. They continuously deepen your bond with your partner."
We all remember to both appreciate and show love for our partner on major holidays, birthdays or anniversaries, notes Lindsey Pratt, a licensed mental health counselor. "But," she says "aiming for small gestures spread throughout the year will be ongoing reminders of the strength of your union for years to come. Even though they can be simple, they'll cultivate a lasting connection and keep romance alive."
Any small gesture of appreciation is great for making your partner smile. And there are probably a few you may not have thought of. This list — full of tips and suggestions from qualified relationship experts — offers small, easy romantic gestures you can try to keep the flame glowing. Here's what to try.
1. Order their favorite food
Hopefully you know what that is by now. Cooking a surprise meal can be a big undertaking, but secretly teeing up a DoorDash order to arrive as soon as your partner gets home from a long day can show big affection with little muss and fuss on your end. "Foods are a mood enhancer, and a surprise meal — ready to eat — can make someone feel seen after an especially long day," says Howard. Even better, you can relax too without having to worry about dishes, kitchen fires, or overcooking anything.
2. Bring them a warm towel
You don't have to lurk outside the shower like Norman Bates, but you can still use your partner's morning or evening shower to show affection. Warm a towel up in the dryer for a few minutes before your partner decides to dry off, then show up — tactfully! — and offer a cozy, snuggly embrace.
3. Pretend they aren't there
Stay with us: how often do you ask your partner, "What do you need me to do?" Even with the best intentions, that question puts the onus on them to make a decision. Instead, think for yourself. "Pretend your partner is gone, look around and see what needs to be done…and do it!" says Emmalee Bierly, a licensed marriage and family therapist. "Increased mental load leads to increased fatigue, so a gesture like this would almost be like foreplay in terms of getting your partner to relax so you can deepen your connection."
4. Set a small routine
Make no mistake: routines can be relationship poison if they're steeped in boredom and you're on autopilot. But, you can use the concept of a routine to take advantage of the fact that what happens daily matters much more than what happens once in a while, according to Bierly. "A huge date night every few months is great, but can ultimately lead to a decrease in connection in between," she says. "Instead, think of what can be done daily. Have a five-minute check in each night. Or make sure to kiss each other before you leave the house." Pretty soon, you'll both have a new favorite part of the day to look forward to.
5. Study your partner.
"One of the best, most meaningful romantic gestures is simply studying your partner every day," adds Bierly. "By doing this you can actively understand them before moving toward ways to connect." Maybe your partner always struggles during a certain month because it's the anniversary of a loss. Maybe seeing their family is always a cause for anxiety. If you spend a few minutes trying to empathize with your partner, you can be there for them in a meaningful way when it counts.
6. Make breakfast in bed
It doesn't have to be perfectly cooked eggs benedict or a lobster frittata. A bowl of their favorite cereal, a warm toaster strudel, or a fresh fruit salad will do just fine. The important part is making the effort to show your partner how important it is for you that they have a wonderful start to their day.
7. Leave notes
You don't have to be Shakespeare to write a classic. All it takes is a pen, paper, and a few kind words to surprise them in the best way. If you're struggling for inspiration, start with something like, "You're my favorite person" or "I love you so much", and have fun hiding it somewhere you know your partner will look. When they do, you can bashfully say, "How did that get there?!" while brainstorming your next poetic Post-It.
8. Play a new game
Next time you're out, grab a simple game — think Uno, or Pass the Pigs — and learn it together. Not only will the competition be fun, but you'll both be in a prime position to hustle other couples when you teach them how to play. More importantly, you'll remember what it feels like to discover something together, which is one of the best parts of a relationship.
9. Change how you communicate
Chances are you and your partner do a lot of texting. Whether with reminders about grocery pickups, or frustrations at work, many relationships rely on thumbs to do a lot of communicating. Switch things up once in a while with a simple phone call. "When they see you're calling, they'll probably assume it's something important," says Pratt. "Imagine how pleasantly surprised they'll be when you tell them you're just calling to say hi, or that you wanted to hear their voice." Wouldn't you be?
10. Take a Love Language quiz
You've heard about it. You may have even seen it. But have you and your partner actually taken it? Here it is. "When you take the quiz, let your partner know that you're going to plan a romantic gesture for them that speaks to their love language," says Suzannah Weiss, relationship coach, and certified intimacy educator. "You can even let them know when it's going to happen, but keep the actual gesture itself a surprise." The combination of thoughtfulness and anticipation is a great way to keep your relationship exciting and passionate no matter what love language you speak.
11. Make a photo memory
This could be something you suggest doing as a couple, or a surprise gift for your partner on a rainy day. "You can really make anything to celebrate the wonderful memories you both share," says Weiss. "Matching mugs. A blanket. Keychains. Take a few minutes to create something custom and unique that will always remind you of each other when you see it." It doesn't cost much time or money, but it'll be priceless in your partner's eyes.
12. Read what they're reading
Maybe you and your partner have vastly different tastes in books, blogs, or magazines. What you also have is a great opportunity to show them you care about what they enjoy. If you can sneak a peak over their shoulder, then bone up on their topic of choice. You don't have to become an expert, but you'll be able to affectionately show your partner you're supportive of their interests, and that you're open to becoming interested, yourself.
13. Take notes
Open your phone's notepad app and start a new note dedicated to your significant other. In it, keep track of little things you notice each day like new favorite TV shows, an inside joke you both shared, or something your partner said that made you smile. The next time you want to surprise your partner, you'll practically have instructions. "This is a great idea because you're making a gesture that you know your partner will like, because they unintentionally asked for it themselves," says Rachel Kaplan, a licensed clinical social worker. "It's easy. It's thoughtful. And it shows your partner that you're paying attention to them."
14. Draw them a bath
"Arranging something relaxing for your partner is a lovely way to show you care," adds Kaplan. "Feeling nurtured and comforted by a partner is so important in making someone feel safe and supported." And it doesn't have to be terribly time-consuming, or expensive. You can grab a bath bomb or candle in your partner's favorite scent, turn up some relaxing music, and let them soak in peace.
15. Say their name while making eye contact
It's not that you've never tried this before, but have you done it the right way? Even in a face-to-face conversation, the majority of communication is nonverbal explains Dr. Jan Newman, clinical psychologist. "Hearing is the fastest sense," she says. "So actually hearing you say your partner's name, or their pet name, in a loving tone releases oxytocin into their system." Dr. Newman suggests doubling down with a gentle gaze, which will cause your partner to relax and feel safe through the recognition of your face.
16. Ditch the sarcasm
Cracking wise and throwing wit are tempting propositions. But, for once, try using clear, honest communication when you otherwise wouldn't. "While playfulness is certainly okay, the lack of direct communication can be distracting," says Dr. Newman. Surprising your partner with some unexpected and genuine candor can be just as effective as flowers or jewelry, and it's a whole lot cheaper.
17. Dress up
It's not uncommon for relationships to fall into the trap - or the hamper, as it were - of spending night after night vegging out with no regard for fashion other than, "Can I fall asleep in this?" Imagine your partner's face if they were to arrive home and see you dressed to the nines instead of dressed to the one-and-a-half. Cleaning up yourself for your partner is just as effective a gesture as cleaning up the kitchen, living room, or car, but with the added bonus of their expression when they see how good you look.
18. Curate a playlist
Mix CDs are out, but almost every streaming platform allows you to curate a custom playlist and share it with ease. You can DJ your own mix of romantic ballads, old favorites, or new jams and share it with your partner like a long-distance dedication on TRL.
19. Share a secret
Trust, intimacy, and courage are all wrapped up in this one simple gesture. It could be a silly secret, like the fact that you can't whistle. Or it could be a more serious secret, like confessing that you're scared of screwing up at work. Whatever you decide to share, your partner will be taken aback by such a private, personal admission, and flattered you felt confident enough to show vulnerability in the confines of your relationship.
20. Flirt in public
Keep it classy, of course, but don't be afraid to let the world know how much you absolutely adore your partner. A well-timed peck on the cheek while you're grocery shopping, or a sneaky tickle while you're strolling through the park will catch your partner by surprise and make them feel desired (unless they hate tickling, which, hey don't do that).
21. Watch the sunset
Yeah, it's not actually about the sunset. It's about spending uninterrupted time with the person you love in the company of nothing but nature's majesty. You don't need to find a picturesque mountaintop or hillside either. Throw a blanket down on your front porch, in your backyard, or on the roof and snuggle up together while the lights go down.
This article was originally published on