Rock Music for Kids Start With the 1970s.
Your kid probably doesn't have awesome taste in music. It's your job to change that.
by Gavin Lodge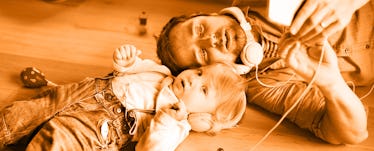 I just need my kids to be kind…and smart…and work hard. Okay, I lied. In addition to those attributes, I need them to be moderately interesting conversationalists. And because we are having a crisis of endless pop music looping in our household, I need to craft a list of the best music from the 1970s to make my kids interesting humans.
My older kid is currently obsessed with Britney Spears. Britney walks (and gyrates) on water for my 7-year-old and, while I'm unabashedly in love with bubble gum pop music, my 7-year-old now thinks that skimpy schoolgirl outfits and head-to-toe red pleather is the very definition of what performance, singing and dancing should encompass.
I'm not okay with this.
With all due respect to Britney, pop music is simple and basic. There's a reason I doubt "Hit Me Baby One More Time" will ever be in the canon of "recommended music for kids." In the car the other day, I insisted on avoiding Ms. Spears and scrolled through YouTube to find some more kid-friendly music, which included "Supercalifragilistic…" and "Do-Re-Mi" and suddenly both my kids were delighted to sing these songs that are relatable for their hearts and minds. But I was still pretty bored. So I decided to do a bit of social engineering. After all, there's more in the canon of American music than the GoNoodle songs, Julie Andrew (British, but it counts), 1990s pop and classical.
I decided it was time to introduce my kids to the 1970s. This story was submitted by a Fatherly reader. Opinions expressed in the story do not necessarily reflect the opinions of Fatherly as a publication. The fact that we're printing the story does, however, reflect a belief that it is an interesting and worthwhile read.
So I made a playlist. Let's call it "The Best Music to Make Your Kids Moderately Interesting Humans Mixtape 1," a compilation of samples from brought down from on high by rock guides that I hoped would give my kids a leg up on the less cool kids. Also, joy. I'm not going to pretend my playlist is perfect (add or amend,) but it works. These songs appeal — I've done some research on this thing — to young kids. I'm making progress. I have not been hit one more time.
So let's go through this together….
Because you're never too old to feel that spine-tingling nostalgia tipping into full-blown tears. (As an aside, this is one of our very favorite picture books in our family.)
2. American Pie, Don McLean
Because duh.
3. ABC, Jackson 5
Because we're never too old for an alphabetical review. (Yes, I'm aware of the MJ music issue, but I'm leaving it here.)
Because our job is to reassure our kids
Because the happiness of his melody gives us all the feels. (Forgive the link to the movie Rocketman instead of to actual Elton John – I just love the crafting of this scene demonstrating the elevating power of music.)
6. Think, Aretha Franklin
Because there ain't no one better than Aretha (even when refurbished in the Blues Brothers scene.)
7. Go West, Pet Shop Boys
Because fun is necessary in all our lives. (As is camp.)
Because every kid needs to know how to strut to this sick beat. (Although Travolta does it better than the actual BeeGees in this video.)
Because life is better with a good tune and a big ol' smile.
Kids will love the beat, the drums, the simple words.
11. Imagine, John Lennon
Because it's a must-know for a life of love and hope.
Because what do kids understand more profoundly than not getting enough?
13. Copacabana, Barry Manilow
Because story-telling is an art, and songs with a through-line (even a murder), are more interesting. (Also, you're welcome for this particular old video.)
Because sadness is an emotion we all need to embrace for our healthy emotional lives and the minor keys of this song take the listener on quite the journey.
15. Sedated, The Ramones
Because it'll make you feel cooler than the other parents when your kids know these very simple lyrics.
Because music teaches your kids to be compassionate instead of assholes.
Because she's the queen who made queens.
Because the randomness of these lyrics delights young and old.
19. September, Earth Wind & Fire
Because it's funk season all year.
Because imagery builds comprehension and every version is doing your kids a favor, here.
Gavin Lodge lives in NYC with his partner and their two kids. He is an entrepreneur, having founded E.C.Knox (baby gear for stylish dads), actor (five Broadway shows and counting), and writer (chasing lots of golden rings); and he blogs on ecknox.com.