Pregnancy Loss, Our Worst Day, and a Letter to My Love While She Sleeps
We had known that our daughter might not make it, but then we got the terrible news.
by Greg Marano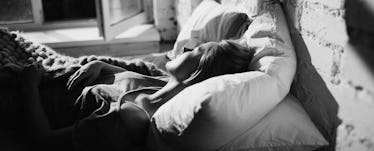 Dear Jamie,
You're resting on the bed next to me. Our two dogs lay next to you – Sully against your back, Zoey on your leg. Animals know when something is wrong. Your watch dings with incoming text messages — probably from friends or colleagues expressing condolences, offering whatever vague but heartfelt assistance they can provide. They're going unread for the time being. For now, you're asleep.
I want to let you sleep. When you wake up, you'll have to remember the doctor's appointment, and the news we received. It hadn't been a total surprise; we'd known for five months that a rare genetic condition would mean our daughter's birth was not likely, a long life was even less likely, and a normal life for her and us was off the table completely. But we'd still held out hope that we would at least meet her.
This story was submitted by a Fatherly reader. Opinions expressed in the story do not reflect the opinions of Fatherly as a publication. The fact that we're printing the story does, however, reflect a belief that it is an interesting and worthwhile read.
When you wake up, we'll get Grayson at preschool, and explain to him that Mommy is going to the hospital tomorrow, so the doctors can take the baby out. Grandma will come to stay for a little while. Daddy will be coming and going. When he meets his baby sister, she'll be tiny, and she won't be coming home with us.
He'll be confused. We'll struggle to alleviate his confusion while processing our own anger at having to have this conversation with a 3-year-old.
When you wake up, we'll get to work preparing the house for the next stage of our lives. I'll put the preemie clothes back in the attic, until we're ready to donate them. I might dismantle the crib, so your mom won't have to look at it while she stays in the guest room — the room that, despite our most fervent wishes, will remain a guest room. I won't do it now, even though I'm aching to do something productive, because my hands will shake. I'll drop a bolt. I'll get frustrated and scream and throw the drill across the room. And that would wake you.
When you wake up, you'll pack your overnight bag with toiletries, your charger, clothes, a book, and maybe a stuffed animal or blanket for her only photo session. I'll want to include the little pink booties I bought — the ones I'd planned to use to tell you our baby's gender. That was before the phone call from the genetic counselor, who needed to tell us that they had found something unexpected in our daughter's test results.
When you wake up, I might not be as strong as I was when I sat next to you at the doctor's office, holding your hand while a doctor on speakerphone explained that the baby's health was failing. We might listen to the recording we made of her heartbeat, knowing that her heart is now getting weaker by the minute. Soon it will stop completely, if it hasn't already. She will die in peace, in the embrace of your warm womb, in the only home she's ever known.
When you wake up, I might break down. I might confess my fears that I wouldn't have been the strong father Noël would have needed. That even though I've always wanted a daughter, the thought of one with her special needs would have terrified me. That I didn't know if I'd be strong enough to provide the unwavering support and devotion she and all children deserve, whether or not they have a chromosomal anomaly. I may blame myself for having been afraid to get too close, for trying not to fall in love with our daughter. I was protecting myself, and hoping I was protecting you and Grayson by extension, by staying strong and being a shield for you during the darkest period of our family, of our lives. But it didn't work. I did fall in love, and now I'm feeling pain I've never known.
When you wake up, we'll face all of those things. The days and weeks that come will bring pain, love, guilt, grief, frustration, bitterness, and unpredictability. We will deal with all of those together.
But for now, I'll let you sleep.
Greg Marano is a former newspaper reporter and columnist and a current English teacher, and he runs a writing and editing business on the side. He hopes that his writing about his family's experience will help others in similar situations to understand that they are not alone, and that others will gain some insight from his family's story.