7 Passive Income Ideas For Anyone Who Wants a Side Hustle
Looking to make some money on the side? Here are a few side hustles — and stories of success — to consider.
by Daniel Kurt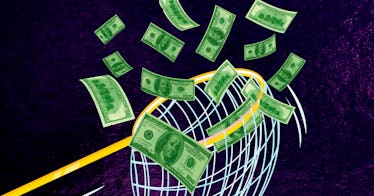 New clothes. Soccer leagues. Tutoring sessions. More than a few parents come to the realization that their 9-to-5 simply isn't enough to cover the endless costs they're racking up on behalf of their kids. Many, too, are simply seeking a way to start a relatively small, low-risk business that helps make some extra income on the side.
If you've come across the term "passive income" — that is, a form of income that requires relatively little effort to maintain in the long run — and found a giant lightbulb flashing in your head, you're not alone. The idea of making some serious coin with very little effort is basically every adult's dream come true.So is there something to it? As it turns out – yes. While there are plenty of side-hustlers whose extra income stream is more a trickle than a tidal wave, others have found a way to seriously augment their regular paycheck while barely breaking a sweat. To gain some insight into what passive income ideas might be worthwhile, Fatherly caught up with several successful side-hustlers. Here are seven of the ways they suggest pulling in some extra revenue.
1. Blogging.
No surprise here. One of the more popular ways to bring in some extra cash: creating your own blog about an area of expertise or a favorite pastime. Like a lot of "passive" income ideas, you'll have to do some heavy-lifting on the front end, from designing your site to creating a bunch of content so you can get the business rolling. But once you've got it off the ground, savvy bloggers can generate significant dough without putting in a crazy number of hours. Samiksha Rawool, who publishes a food blog called Yummy Tummy Recipes when she's not at her full-time business analyst gig, says she brings in at least $300 a day in advertising through Google AdSense and Media.net. As with many other successful bloggers, she also uses affiliate marketing to boost her revenue. In Rawool's case, she includes a link to a meal kit company on her site; every time readers click, she gets a commission. The reward: an extra $150 to $200 a day. And since the pandemic meant working from home, she's had more time recently to scale up her culinary pursuits. "My side hustle has helped me stay occupied, motivated and financially stable," says Rawool. Pros: The opportunity to make substantial money writing about something you love. If your time is limited, guest writers can supplement your content.
Cons:It typically involves considerable work getting the blog off the ground. You may need some experience with search engine optimization to gain traffic.
2. Create a YouTube channel
Successful video creators can drive substantial income from Google Ads and – much like blogs – affiliate advertising, says Bobby Hoyt, who runs a side-hustle website called Millenial Money Man. The key is attracting as many eyes as possible, he says, and that means knowing what keywords YouTube visitors are actually plugging in. Sometimes, the answer is pretty surprising. For example, Hoyt says one of the biggest draws on his wife Coral's home décor channel is a review for a Dyson vacuum cleaner. "You're more successful if your focus is pretty narrow," says the high school band director-turned-entrepreneur. As with a lot of successful YouTubers, he says Coral put in a lot of time early on to develop a sizable assortment of videos. But that upfront time investment has paid off, enabling her to accumulate some 11,000 subscribers. Even after taking a break from the platform following the birth of their son, Hoyt says they continue to bring in around $1,200 from existing videos.
Pros:In some cases, in-demand videos can continue paying out well after they've been posted.Cons:Building a substantial following is never guaranteed and can take months to achieve. To do it right, you'll need good equipment, including a high-quality camera, microphone and lighting source.
3. Become a Landlord
How about a side hustle with the potential for rising cash flow but fixed expenses? Buying and renting properties might just be what you're looking for. Play your cards right, and the rent checks can pay off your mortgage while providing a steady stream of extra income.And then there are the tax advantages. "You can take dozens of landlord tax deductions, including nearly every conceivable expense such as travel, meals, and a home office," says Brian Davis, founder of SparkRental, which provides specialized software for landlords. "You can even deduct for paper expenses such as property depreciation."That doesn't mean renting doesn't have its pitfalls. It's a particularly illiquid asset that can take months to sell, and you have to be willing to either hire a property manager or handle phone calls about a leaky faucet or broken furnace yourself.
There's also the very real possibility that your tenant stops paying up. To head off that risk, Davis recommends investing in stable, middle-income neighborhoods, which tend to have lower default rates. You also want to carefully vet anyone looking to take over your unit by verifying income, running background reports and talking to past landlords. "You can weed out 99 percent of bad tenants through aggressive screening," says Davis. Pros: Relatively stable cash flows. Great tax breaks. Cons: Lack of liquidity. It takes knowledge and time to land good real estate deals. You have to manage the property or hire some else to do it for you.
4. Sell photos or videos.
Making money off of multimedia content may sound like the domain of experienced photographers and videographers, but that's not always the case. Since 2016, Peter Koch has been taking "life hack" videos that he uploads to the user-generated content website Newsflare. Those how-to clips often get picked up by major outlets like Yahoo and MSN or by any number of TV shows around the world. While running the finance website Dollarsanity
is Koch's main gig, he estimates that he's collected more than $6,000 in video royalties on the side. "It isn't something I could live off of but it is nice to get $100-200 check from time to time, out of nowhere," says Koch. Pros: Very little ongoing work once a photo or video has been uploaded. Good way to turn a hobby into some cash. Cons:Royalties aren't going to buy you a new house unless you're extremely dedicated and talented. High-quality gear definitely helps.
5. Sell Merchandise.
Sites like Etsy have helped innumerable artists and craft enthusiasts turn their passion into a nice little revenue stream. But you don't need to make physical products to become a seller online.John Frigo, for example, uses free software programs to make designs that he then uploads to platforms like Amazon Merch and Redbubble that adhere his artwork onto t-shirts, PopSockets and phone cases. He admits that getting the project up and running wasn't particularly easy, having spent hundreds of hours making designs and growing his audience. But once he got past that initial stage, he estimates that he brings in $1,500 a month on average without a whole lot of heavy lifting. "It's completely hands off," says Frigo, who by day works as an e-commerce manager for a web retailer. "I just upload designs and these platforms handle everything from shipping to returns to customer service. I'm paid a commission on each design of mine which has sold."Pros: Creating products or uploading designs are things you can do from the comfort of your home.Cons: Those looking for significant income may have to hire outside designers or production staff to increase their scale.
6. Create An Online Course.
The formula is pretty straightforward: identify a topic on which you have expertise, create an online course around it and watch the money come pouring in. In fairness, it might not be quite that simple. But it's close, according to Daniel Roberts, who makes roughly $600 a week from three courses he developed for the popular Udemy website. Each of the courses, which focus on statistics and data analysis, took about a week to develop, he says. "All I had to do is sit next to my laptop and make video recordings, hire a video editor to make them into perfect pieces, upload them on my Udemy profile, set a price and launch," says Roberts, who also operates the education and career website ThinkImpact. Roberts says paying for keyword research software can go a long way in maximizing search traffic and thus revenue. If you're not a talented copywriter, he suggests hiring someone who can weave those in-demand phrases into a polished course description. Like most side hustles, you can make your course-selling as passive or as involved as you see fit. Hoyt was on the more aggressive end, creating a website called Laptop Empires, where he markets a course on managing Facebook ad campaigns. The Houston-area resident admits that he spent "a massive amount of time" upfront designing the site, developing an SEO strategy, and creating a payment-processing capability. But it's paid off, with a business that has brought in around $2 million over the past three and a half years." "We were fortunate in becoming successful quickly in the business," says Hoyt. "But it can take a long time, too. It's like anything else." Pros: Relatively little ongoing work is required. The satisfaction of using your knowledge to help other people grow professionally or in their personal lives. Cons: It requires decent videography and editing skills to avoid looking like a hack. If you want to create your own publication platform, you'll need to put in a lot more time and money.
7. Sell Your Excess Capacity
If there's a car sitting idle in your driveway most of the time, or a boat tied up at the marina, you could be sitting on a small gold mine, says Julie Austin, author of The Money Garden: How to Plant the Seeds for a Lifetime of Income. Often, there are people in your community willing to pay you to use those vehicles.Obviously, renting one of your prized possessions isn't for the faint of heart. And because of that fact, Austin recommends using well-established rental platforms that provide insurance coverage. For example, Turo is a popular service that lets you rent out your car and provides $750,000 in liability insurance through Liberty Mutual. According to the company's revenue-estimating tool, the owner of a 2017 Honda Accord who rents their wheels out 13 days a month would bring in roughly $446 during that stretch. For boat owners, Boatsetter offers a similar service, with coverage provided by Geico. And there's no reason to stop there. Austin says there are other forms of "excess capacity" you might want to monetize as well. What about a storage unit that's only partially full? Or even a parking space that's often vacant? CurbFlip is among the platforms that will connect you with drivers willing to pay you for temporary use of your slot. Is there a chance some jackass will refuse to leave your space when they're time's run out? Sure. "This is why you use sites that have deep pockets and plenty of attorneys," says Austin. Pros: Very little effort is required; you can rake in extra dough from property that's otherwise unused. Cons: You might not be crazy about strangers behind the wheel of your car or boat, no matter the insurance coverage. You'll want to do your homework to make sure the website you're listing on is reliable.
This article was originally published on