The Valuable Parenting Lesson The Pandemic Taught Me
I want to hold onto as much extra family time as possible.
by Khaner Walker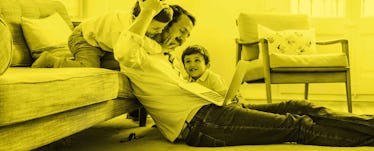 Earlier in the pandemic, you would hear about a distant cousin's friend that contracted COVID. Almost a full year later and in a remarkably similar manner to the virus' spread, there are a few unicorn stories in my Instagram feed of friends receiving their first vaccine. Spring — and by proxy, summer — cannot get here fast enough.
While we look to tomorrow's horizon and see an increasing number of rays streaming towards us, I wonder what we may lose in a 'normal' world as we sprint back to restaurants, vacations, and office buildings.
It's something I think about an awful lot lately.
I've made it a habit that for any work call that starts at or runs past 4:30 pm to take it on my headphones. While I participate, I'm also lacing up my shoes, getting jackets on, and leashes out. When the call ends, two kids, two dogs, and dad sprint out the door.
But what happens when I swap my regular 5:00 pm kids, scooter, and dog walk around the block, with a commute down I-40? Do I, do we lose something here or are we gaining for it?
This story was submitted by a Fatherly reader. Opinions expressed in the story do not necessarily reflect the opinions of Fatherly as a publication. The fact that we're printing the story does, however, reflect a belief that it is an interesting and worthwhile read.
Sure, when you're holding two leashes, one scooter, and a tired kid while the other zips just too far away, there is pure mayhem. And while it's incredibly easy to take such moments for granted in the midst of everything right now, thinking about being back in the office simply crystalizes them for what they are: Moments of pure joy I simply didn't have before COVID-19.
Lessons Learned
As I've aged, I've learned that I must make concrete actions to see any change in my life. Instead of "I'm going to lose ten pounds this year," I now focus on "running at least twice a week, every week." The rule especially goes for me at work, where I now make an agenda for any meeting I set and send it ahead of time to my colleagues for their thoughts. The benefits of doing so are more thoughtful planning (and conversations), inclusion, and a fair bit of efficiency.
So, in the same spirit, I've decided to make a few concrete changes in my life. I've resolved to purposefully change my habits both from 9-5 and the hours before and after that window.
I've learned I can work from home and will make it a point to do so half the week going forward for the foreseeable future. The days I'm home? I'm putting that 'extra' family time on my calendar for leashes, scooters (bikes soon), dogs, kids, and yes, the varied moments of pure mayhem.
There are other things, too. There's a family-run hardware store not too far from us that I like shopping at. While we don't get there every weekend, there's a cat there that prompts a lot of conversation throughout the week and eventually leads to my son wandering down every aisle when we arrive so he can pet it before we check out.
I ask him to pick out one of the small candies at the register and as he eats it on our way home, we pass some cows, which always results in a shriek of excitement no matter how many times we see them. He 'helps' me unload one or two of the bales of pine straw into the yard, before disappearing to burrow his way into one of the bushes in our front yard.
As I watched him pop out of one of these bushes and into the nearby tree last Saturday, I wondered "Is this something I will miss as we leave our houses with more regularity in the coming months?" I immediately knew the reply was "yes" as he got a foot stuck and looked at me with a silly "come help me dad" grin.
So here's to more planned, weekend trips to the local hardware store in 2021, blocking my Tuesday and Thursday afternoons going forward, and despite my thoughts and comments to the contrary, to holding onto as much extra family time as possible from 2020.
Khaner Walker is a father in Raleigh N.C. He recently joined Syneos Health's communications team, and before then led global communications teams at Lenovo for the past 10 years. He loves all things ACC Basketball, is tragically committed to NC State Athletics, and finds his zen time on the slopes snowboarding.
This article was originally published on