NBC Anchor Craig Melvin On How Love Endures When It Evolves
"The best kind of love is that which adapts, surprises, and endures."
by Craig Melvin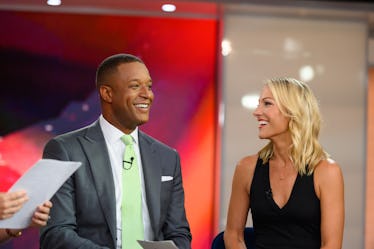 NBC/NBCUniversal/Getty Images
Love letters are wasted on youth. No matter what artistry and passion go into the prose you once laid out for your lover, the letters lack, well, life experience. When you devote yourself to someone, partner with them, and have a child together, then you have something to write about. Before, you were stumbling in passion. Now, you've truly found love. In Found Love, we celebrate the unique love partners feel for the mother of their children.
Dear Lindsay,
Long before we met during a commercial break in Washington, D.C., my mother gave me one of those free-standing, framed collections of inspirational messages that occupied the space between my phone and computer monitor in the newsroom. It was on brand for Betty Jo. Clearly worried about me veering off course, she had a habit of using special occasions to gift things to me that inspired, encouraged, or provoked thought. For years, I stared (and still stare) at a list of "20 things that would lead to a successful life." At the top of the list? "Marry the right person. It will determine 90 percent of your happiness or misery." Next to life, it's probably the greatest gift she's ever given me because it led me to you.
One of the most curious things about true love that endures is how it evolves. Romantic love, the kind we enjoyed exclusively roughly a decade ago during dating days, as newlyweds, and certainly before our kids, grew into something more dynamic and durable. Now it peacefully coexists with a love I've come to know as: Surviving Love.Let me explain.A decade ago, we had this weird thing we didn't fully appreciate: free time. We used it to binge watch mediocre TV, high fived as we watched our favorite teams come close, or enjoyed a bowl of seafood pasta and decent glass of cabernet at our favorite Italian spot in town as we shared thoughts about news of the day.
That was easy love. Then came the kids. First a boy. Then a girl. Then madness all around. So far one of my life's great joys has been watching our children Delano and Sybil morph from these crying and crawling creatures who couldn't always tell us what they wanted or needed into these small people who rarely leave a thought unshared. I marvel, sometimes with a tinge of sadness, at how quickly they've learned how to do so much. What's been even more remarkable is this front row seat I've had to your evolution.
Being a decent father, especially if you didn't always have the best role model growing up, can be tough at times. Am I setting the best example? Am I working too much? When I am around, am I "present" enough? I've been told if you're doing it right you're never quite sure you're doing it right. But being a good mother, especially in the times in which we find ourselves, requires a special magic. You've been masterful with your wand for some time now, but over the past year you've been particularly amazing. When the pandemic struck, I watched in awe as you, like hundreds of thousands of others in our country, became the reading, math, music, art, gym, and Spanish teacher. When you weren't running IT or conflict resolution (breaking up sibling fistfights), you were a counselor — for them and, occasionally, me. Occasionally.
As if that wasn't enough, you launched a pandemic NASCAR show on Fox Sports, spent more than dozen weekends covering sidelines at NFL games, caught the virus, bounced back, launched a podcast with Sony, insisted our family spearhead an effort to deliver communion crackers and juice for the church, shipped iPads to the elderly care center where your grandmother lives so loved ones could FaceTime, and made sure our children still had the happy memories you talk about and treasure so much. You've taught me so much since this wretched virus took hold. The greatest lesson? The best kind of love is that which adapts, surprises, and endures.
Love,
Melvin
Craig Melvin is an American broadcast journalist and anchor at NBC News and MSNBC where he covers complex, thorny stories for early morning audience. Melvin delivers nutrition to viewers who generally prefer something a bit sweeter and easier to swallow. And he does the same thing at home, where he's raising two children, Del, 7, and Sybil, 4, with his wife, Fox Sports anchor Lindsay Czarniak. His new book Pops: Learning to Be A Son and A Fatheris out this June.
This article was originally published on