My Son Was Killed in a School Shooting. Here's How Families Can Help Prevent the Next One.
There are ways to see violence coming. The organization I co-founded is helping families and schools learn — and report — the signs.
by Mark Barden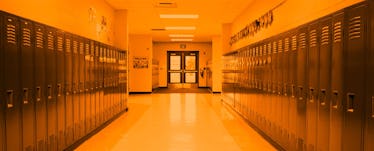 "So, where do you live?" It's such a neutral and common conversation-starter that can often tell you a lot about a person. I used to look forward to answering this question and the opportunity to describe the quiet, tight-knit community and lush green neighborhoods of Sandy Hook, Connecticut. I had happily left the big city for small-town life, to be a stay-at-home dad by day and a musician by night. I was living my dream.
Little did I know that, in 2012, my little-known town was to become a household name.
Not because of the kind-hearted people or picturesque landscapes that make it so remarkable, but because of an unspeakable tragedy: the mass shooting at Sandy Hook Elementary that would claim the life of my sweet little 7-year-old, Daniel, and 25 of his classmates and educators.
This story was submitted by a Fatherly reader. Opinions expressed in the story do not necessarily reflect the opinions of Fatherly as a publication. The fact that we're printing the story does, however, reflect a belief that it is an interesting and worthwhile read.
In the days that followed, I made a promise to my little boy that I would honor him and the other innocent lives cut short on December 14, 2012 by devoting my own life to preventing gun violence. And I promised my beloved town that I would do everything in my power to make sure Sandy Hook is remembered not as the town filled with grief and victims, but as the place where real change began.
Today, as I reflect on these promises, I am finding hope in Texas… in Massachusetts… in Indiana… in Ohio… and in Pennsylvania. Big cities and small towns that averted school shootings and narrowly avoided the notoriety that comes with large-scale tragedy.
In the past year, more than 5,000 schools have partnered with Sandy Hook Promise, the gun violence prevention and school safety organization I co-founded after Daniel was killed, to train youth and adults to "know the signs" of potential violence and to "say something" to a trusted adult or through a "Say Something" Anonymous Reporting System.
The system allows students and educators to anonymously report potential threats, acts of violence, and self-harm through an app, website, or call center that interfaces with school officials and law enforcement. We trained more than three million people on how to spot at-risk behaviors and to intervene through this system.
And it's working.
Of the more than 20,000 tips we have received through our system, five came from brave middle-schoolers reporting a threat on their school made by a fellow student via Snapchat. Thanks to these tips, our counselors gathered the information needed for law enforcement to intervene. They investigated and found an accessible, loaded weapon in the student's home — along with plans for an attack. This is just one example of a community on the brink of catastrophe, saved by anonymous students who knew what to look for and how to report it to adults who could help.
Interventions like this one are the Sandy Hook Promise in action.
Although Sandy Hook may never return to being just another small town in Connecticut, I am so thankful and relieved that dozens of towns have been saved from similar devastation and notoriety as a result. The regular stories of interventions I hear strengthen my promise to my sweet little Daniel and our town, driving me to do everything I can to ensure no one else has to endure the preventable loss of a child or loved one due to gun violence.
Mark Barden is a co-founder and managing director of Sandy Hook Promise. Following the death of his son, Daniel, one of 20 first-graders murdered at Sandy Hook Elementary School along with six educators, Mark has dedicated himself to bringing people together to prevent future tragedies. He hopes that more parents will join him in turning tragedy into transformation by making the promise at sandyhookpromise.org.