4 Family-Friendly Mountain Resorts That Offer Something For Everyone
If you're looking for a summer vacation with stunning scenery, tons of kid-friendly activities, and plenty of mountain town fun, these resorts have you covered.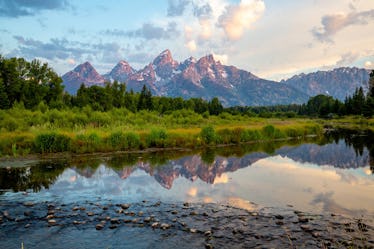 Courtesy of Jackson Hole Mountain Resorts
It wasn't long ago that most ski resorts became ghost towns come the warmer months. These days, though, there's a boom in summer recreation on the slopes at winter resorts. Ski areas are building bike parks, zip lines, and even mountain-based rollercoasters to take advantage of their ski lifts, and mountain resort base areas are abuzz with attractions like waterparks, disc-golf courses, and farmer's markets. It's family fun of the most active kind. And business is booming: At world-renowned ski area Whistler-Blackcomb, for example, summer visits now surpass those in winter. If you're looking for a summer getaway that features stunning scenery, tons of activities, and plenty of mountain town chill, here are four mountain resorts to know.
Jackson Hole's signature red tram cars have been hauling summer sightseers 4,139 feet to the summit of 10,450-foot Rendezvous Mountain for decades. But now the Wyoming resort has far more than that to offer once the slopes turn green. Your kids can still grab one of the resort's famous waffles at the top of the tram, but now you can have them burn off the sugar in the resort's bike park, on the aerial ropes course, or on the Via Ferrata. First constructed in northern Italy to help WWI soldiers move safely about the mountains, a via ferrata ("iron way" in Italian) consists of steel rungs and cables fixed to the sides of sheer mountainsides. Set on cliffs atop the Bridger Gondola, at Jackson Hole's via ferrata, participants older than 12 can hire a guide, rent a harness, and experience the thrills of alpine rock climbing without the difficulty. One of the few such courses in North America, the Via Ferrata boasts 14 separate routes.
For kids too young for the climb, the Aerial Ropes Course at the resort base presents a thrilling set of challenges like balance beams, wobbly bridges, and cargo nets, all set 25 feet above the ground. There's also no minimum age for Jackson Hole's world-class lift-serviced bike park. Rent a bike and load it onto a lift to access 14 jump-and berm-studded trails ranging from the cruisy Buckaroo to the expert-only Dirty Harry. It's not all spills and thrills, though: Kids aged three to 12 can sign up for the Grand Adventure camp at the Kids Ranch every Monday-Friday and have access to an array of attractions, including the bungee trampoline, rock climbing wall, pathway bike rides, and art and science activities.
This Vermont resort is so focused on summer family fun that they literally guarantee it. Smuggler's Notch has a written policy that if your child participates in their summer camp programs for at least two days and doesn't have fun, they'll refund the cost. The refund isn't redeemed very often as families can choose from pickleball, arts and crafts and mountain bike lessons for kids as young as five (riding beginner strider bikes.) The resort boasts eight different swimming pools, including the Mountainside Water Playground featuring four giant waterslides, and offers daily swimming lessons for kids.
Smuggler's Notch boasts two of the world's top-ten ranked disc golf courses (and is set to hold the world disc golf championships in August.) There are fireworks every Thursday, and an all-ages outdoor movie night every Tuesday, amongst dozens of other weekly entertainments like magic shows and concerts. If it rains, head inside to the 26,000-square foot, two-story Fun Zone 2.0, which boasts climbing walls, bounce houses, warrior courses, mini golf, and more. Looking for something totally unique? Try the Llama Treks, a three-hour guided hiking tour accompanied by llamas carting pints of Ben and Jerry's ice cream. It's Vermont, after all.
Summertime at British Columbia's Whistler-Blackcomb is synonymous with mountain biking. As far back as 1989, riders have been loading bikes into the Whistler Village Gondola to whiz the 4,900 feet back to the base, and the purpose-built Whistler Mountain bike park officially opened in 1999. Today, Whistler's expert instructors offer lessons for kids as young as five on 50 miles of trail including on famous classics like A-Line and Karate Monkey.
There's way more than bikes at Whistler though. Equally popular is sightseeing and hiking via the resort's famous Peak-to-Peak Gondola, which traverses the 1,427-foot valley between Whistler and Blackcomb mountains. Or take an airy ride on the Peak Express chairlift to the summit of Whistler Peak, where guests can cross the 426-foot long suspended Cloudraker Skybridge to the West Ridge to the Raven's Eye, a cantilevered viewing platform extending 40 feet into the air over Whistler Bowl. There's a bouncy castle, human gyroscope, bungy trampolines and climbing wall at the Family Adventure zone and six levels of escape room if it rains. Whistler-Blackcomb's most unique family activity, though, has got to be the guided bear viewing tours, a 4x4 tour of the mountain where more than 60 black bear and cubs roam the fields and forests.
Michigan's Boyne Mountain is probably better known for its massive indoor water park than its skiing. Featuring four pools, seven waterslides, and a surf simulator, the 88,000 square foot Avalanche Bay water park will keep kids entertained all day long no matter what the season. Of course, their water sports aren't indoors only: Boyne's Adventure Center has a beach on adjacent Deer lake, where guests can also rent paddleboards, kayaks, and sailboats. Boyne's renowned five-day wakeboard camps for kids ages 6 to 16 also take place on Deer Lake for overnight or day campers. Younger kids, from age 4 to 13, can drop into Fritz's Adventure Camp weekdays all summer long for activities ranging from swimming to outdoor games.
For an airier experience, try the Zipline Adventure, which begins at the top of the mountain and descends a series of 10 lines to the base. Boyne also has 11 tennis courts, a stable for horse and pony rides, a paintball center, and a disc golf course. If you don't fall directly into bed after days of adventure featuring all that, the resort hosts activities like hayrides, bonfires, and outdoor movie nights most evenings all summer long.