9 Images Of Martin Luther King Jr. At Home With The Kids
He was an inspiration to millions — and a father to the children he called his own.
by Fatherly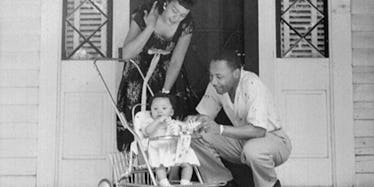 While Martin Luther King Jr.'s most iconic moments include delivering soaring rhetoric that roused the conscience of a nation and leading a movement that changed the course of history, he was passing the string beans as a father of 4. But despite the earth-moving nature of his day job, King's family life includedmany moments that were relatably ordinary.
On a day where we celebrate King's ideas, which irrefutably made us a better nation, take a minute to celebrate the man himself. After all, it wasn't an angel sent from heaven who joined a nation under the auspices of equality and forgiveness. It was a man from Atlanta whose numerous achievements came despite all-too-human foibles. If King's legacy inspires us to be better people, his example reminds us that we're all capable of joiningin the struggle for justice and equality.
The King's Princess
King's first daughter, Yolanda, was born in 1955, the same year that he organized his first major protest, the Montgomery, Alabama bus boycott.
Head Of The Table
The King family at their Atlanta home in 1960, not long after King returned from a trip to India, where he studied Gandhi's principles of pacifism. A portrait of Gandhi hung above the dinner table.
Welcome Home, Dad
King is greeted by his wife Coretta, son Martin Luther King III and daughter Yolanda after being released from jail following the 1960 sit-in protest at Rich's lunch counter in Atlanta, Georgia.
Give Her The Rock
Yolanda, 5, and Martin Luther King III, 3, play in the King's Atlanta home. While King could have afforded otherwise, he chose to raise his kids in one of the city's less affluent neighborhoods.
And Then There Were 3
Yolanda pushes her little brother, Dexter, who was born in 1961. The Kings ultimately had 4 kids, with their second daughter Bernice born in 1963.
Undeterred
When the Ku Klux Klan went on a cross-burning rampage in Atlanta in 1960, they were sure not to skip Dr. King's front lawn. He showed Martin Luther King III how to handle that type of trash.
Reality Check
This image was reportedly taken as King explains to Yolanda why she cannot go to an Atlanta amusement park called Funtown, which at the time was still segregated. He recalled as one of the most painful experiences of his life seeing "the first dark cloud of inferiority had floated into her little mental sky."
The Sky's The Limit
What looks like King and the kids backing out of their driveway was actually taken at the 1964 World's Fair, in a replica Ford convertible.
This article was originally published on