Luis Guzmán: A Letter to My Boys About Success and Humility
Finding success and learning humility are not journeys that usually go hand in hand. But if the goal is happiness, they must.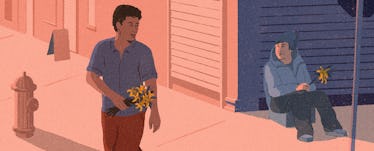 Peter Phobia for Fatherly
Fatherly's Letters to Boys project offers boys (and the men raising them) guidance in the form of heartfelt advice given generously by great men who show us how to take that crucial first step in confronting seemingly unsolvable issues — by offering honest words. Read all the letters here, or share your own.
Dear boys,
I learned a lot from my humble beginnings. Nothing was handed to me. I had to work for everything. I learned to be independent and proactive. I learned that work — hard work — is everything. I didn't have a silver spoon handed to me and I made sure that you didn't have that either. But being humble isn't something that comes naturally, especially not when your dad has money and bought you beautiful presents and games and flew you out to vacation in far-away places.
Yes, I made my mistakes. I spoiled you sometimes. But I've told you to be grateful. I've told you that you need to stay in touch with who you are and where you come from. Honestly, this isn't something that is easy to teach you. But I have tried to show you.
I shot a documentary a couple of years ago about homelessness (The NIMBY Experience) where I lived in the streets for three days in New York City. I wore special-effects makeup to change my appearance, so no one would recognize me. You saw it and were so clearly affected by seeing your dad do something like that. If you wonder why I did it, it wasn't to stroke my ego, or as a vanity project. I did that in the name of humanity. I wanted to bring attention to the fact that, yes, I play powerful and wealthy people in movies, but this is America, where a mom can live in her car with her three children and get them to school every day.
I was raised in New York City, on the Lower East Side, by a mother who was a hospital worker and a stepfather who repaired TVs. They pushed me to be my best. As soon as I graduated from high school I went to college. I wanted to help others. I wanted to become a community activist so that's what I did. And I worked — for the community, for my job, to find time to act, to make a living to raise you. You need to keep what you love close, and to work for it.
As successful as I have become, I missed out on a lot. I was away. Sometimes I forget to look into your eyes and see your soul. I got caught up with my work, in being a public figure, in being seen. But when I was with you, my focus was on you. I can't take a picture with someone if I'm with you. That is important.
Part of the reason I moved to Vermont years ago was to preserve myself, to preserve our family. Hollywood is go, go, go. It's all work — which is fine and dandy — but sometimes you need to get off the grid, slow down, remember what you have, get your hands dirty. I'm building a deck myself now. It starts with a foundation. In life and work and a deck, the foundation keeps building and building and next thing you know, I have a new deck — or I'm doing movies for Paul Thomas Anderson.
Here's the good news: Being humble starts with enjoying what you have. I have always enjoyed my life, my work, my family. And I hope we all remember we have each other — and that's a lot.
Love,
Dad
Luis Guzmán is a prolific actor, appearing in over 100 movies and television shows, from Traffic to Carlito's Way. Guzmán's latest television project, Perpetual Grace, LTD, premieres on 6/2 on Epix. He currently lives with his family in Vermont where he is slowly, steadily working on that deck.
This article was originally published on