The Family Dog: Reel Fishing with Upstream Host Gerard Robinson on His Terrier Rocko
Gerard Robinson, host of "Reel Fishing with Upstream", discusses how much his long-haired terrier Rocko means to his family
by Seth Simons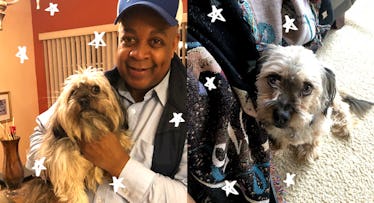 Welcome to The Family Dog, Fatherly's series about dogs and the families who love them. Want to submit your dog and their story for inclusion — or just want to show us some great pics of your best ? Send us a note at thefamilydog@fatherly.com.
As the host of Reel Fishing with Upstream Gerard Robinson spends a lot of time on the water. And while his kids may all be grown up, he still has Rocko, his long-haired terrier to keep him company. Rocko, who is eight years old and grew up with the Robinson family, loves fishing just as much as owner and is even an adept fisherman himself, dashing into the fray to catch fish on nature hikes and other outdoor adventures. Here, Robinson, talks about Rocko's unmistakable impact on his family
A friend introduced us to Rocko. Once we saw him, we had an instant connection. We knew he would be coming home with us and be a part of our family.Raising him with the kids was fun. They loved him and felt he was a part of our family. He's a very smart dog, he wants to be involved with us wherever we go. The kids helped out with Rocko as they grew up together.One of the biggest issues we had raising a dog along with raising kids was everyone around us thinks they know how to raise kids along with a dog. People around you love to give you input.But, simply put, my lovely wife Harriette and I raised Rocko like he was one of our family members. When we first got him, he was going along with everything we were experiencing and wanted to be involved in everything. So, we just let Rocko be involved in everything. He was a good dog growing up with the kids.The kids are now grown up. But they're still in Rocko's life. They find time to spend time with him and love him dearly. He gets so much attention at home.Rocko immediately grew fond of fishing. He was a fan right away. I have a pond in the development where we live and the first time we took Rocko there he enjoyed himself. He was running near the pond and chasing the geese. Then, he saw fish for the first time. It was a like a little kid watching the fish go by in the pond.Once I caught a fish when we were together, that was it. Before I could release the fish back into the water, Rocko leaned over and licked it.From then on, I always took Rocko on fishing trips.
He absolutely loves it. He gets so excited when he gets into the car to go fishing. He senses it. As soon as we arrive, Rocko sniffs everything and then heads towards the water. Rocko loves the water and fishing. As soon as I catch the fish, he loves to sniff it and lick it. It's almost as if he's proud of the catch, too.
Rocko's more than a dog to us. He's family.
This article was originally published on