Kwang Uh: A Letter to My Son About the Care That You Bring to Food, and Life
If you devote yourself and spend your time cooking a meal, the more delicious the food is. This is truth of cook — and life.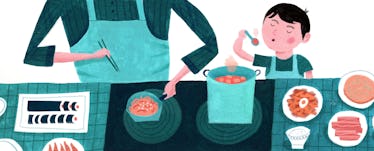 Jonathan Muroya for Fatherly
Fatherly's Letters to Boys project offers boys (and the men raising them) guidance in the form of heartfelt advice given generously by great men who show us how to take that crucial first step in confronting seemingly unsolvable issues — by offering honest words.Dear Son,
You are not even two years old and have an entire life of eating and cooking ahead of you. But already I've seen you are developing a love for food. As your father, and as a chef, nothing makes me happier. I love how you let out a contented "aaaaah" after finishing a bowl of soup, just like an old Korean man does, just like I do. I love to see how, when you come into our restaurant kitchen, you "help," just like I "helped" my mother, by arranging and rearranging the ingredients on their shelves, with the utmost seriousness. I love how you avoid the brown spots of bananas and reject unseasoned food. I love how we are building memories at the table.
Many of my own memories from my childhood take place in my family's kitchen. It was there that I learned the three principles that support so much of my cooking. The first is 조화, (jo hwa) which means harmony or balance. When you have a large feast, gathering in Korea, there are lots of different dishes each with their different kinds of seasonings. For example, if you have galbi jjim, you want it to be saltier and more seasoned so it assumes the starring role of the meal, while the other banchan are more lightly seasoned so they take the supporting roles. It's often said that if you're eating a certain dish with rice, it's okay for it to be strongly seasoned because it is balanced with the white rice. Bibimbap is a good example of this idea of balance because the vegetables in this dish should be very lightly seasoned since you typically have a strong gochujang sauce that is mixed in. This is Korean culture, embodying yin and yang and balancing the five elements.
The second is 손맛 (son mat), which means, cooking by hand. When you use your hands while you cook, you can feel the texture, the temperature, the thickness, consistency in a very visceral way .Korean cooking requires mixing things with your hands often. When you do so, you are more connected to the ingredients. If you believe in qi, energy flow, then you know your energy goes into the food. Positive or negative energy. For example, when you make food for your loved ones, as you are, the food reflects yourself. It's full of love, which flows through your hands.
This ties closely with 정성 (jungsung), which we can connect with unconditional love and sacrifice. If you devote yourself and spend your time cooking a meal, the more delicious the food is. This is a universal truth, I believe. For example, Korean cooking requires a lot of labor. You can see there are all kinds of soups, bone broths, and braises, hand-cut noodles, rice cakes and more, that take almost an entire day to prepare. In the old days, everything was made from scratch. It's not just Korean. This care that you bring to the food you make is 정성.
I see you now watching me as I cook at the restaurant. I see how fascinated you are when when I'm stir-frying something in the wok and there are huge flames. It makes me feel proud of myself and of our family. It motivates me to make and sell food that I would be proud to serve to you. And I hope you'll remember this just as you'll remember the thousands of meals I'll cook for you as you grow up. I hope that you remember the meals that we have as a family. And when we are gone, I hope that you'll have a favorite dish – one that we have yet to discover — that we used to make for you, and remember us and the 정성 we put into cooking for you.
Love,
Dad
Along with his wife, Mina Park, Kwang Uh is the chef and owner of the award-winning Shiku in Los Angeles. Previously Park and Uh ran Baroo, an innovative Korean-American restaurant in Los Angeles.
This article was originally published on