7 Kinky Sex Ideas For Couples Looking To Spice Things Up
Because you know what they say about variety.
by Carrie Weisman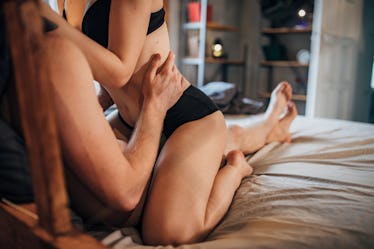 South_agency/E+/Getty Images
There's nothing wrong with wanting kinky sex. Who doesn't want novelty? But sometimes the desire to stand out manifests itself not so much in how we look, but what we do. And where better entertain that urge but the bedroom; a place designed for doing the one you love — and doing them well. So good on you for wanting to try some new things. There's no shortage of kinky sex ideas.
Kinky sex refers to any kind of non-traditional erotic expression. It spans anywhere from light spanking to hardcore bondage and discipline. Of course, that's a pretty wide net to cast. Unsurprisingly, a good chunk of the population has already been caught up in the thread. According to the 2015 Sexual Exploration in America Study, more than 22 percent of sexually active adults have participated in role-playing while another 20 percent have engaged in being tied up and spanked. But maybe the most interesting finding to come out of this school of research revolves around not what we do, but how it makes us feel. A 2013 study found that both dominant and submissive practitioners of BDSM boast higher subjective well-being compared to others. They were also found to be less neurotic, more extroverted, more open to new experiences and more conscientious.
Now that's a pretty good sell. In the interest of helping those curious about kinky sex and the benefits it may carry, we decided to put together a friendly list of suggested kinky sex ideas to try out at home. Check out the list below to see what you might want to bring into the bedroom next.
1. Try Some (Light) Spanking
According to the Kinsey Institute, roughly 30 percent of people enjoy some light spanking during sex. Some suspect the attraction is rooted in the physical sensation it delivers. The butt is a meaty and protected region of the body. Plus, its proximity to the spine means there are a lot of nerve endings around, making it even more sensitive to any kind of contact. There is also a psychological component to the act to consider. Some find the exchange of power and control deeply erotic. Plus, practically speaking, it's a fairly easy activity to bring into the bedroom. Sure, there are some varsity level props out there to assist with the act, but rookies don't necessarily need to invest to get things going. An open hand can go a long way.
2. Give Role-Play A Shot
Who hasn't fantasized about being someone else at some point, especially in the bedroom? Sexual role-play is a great way to see that through. But some may hesitate before diving in. And that's understandable. Dressing up and relying on scripted speech comes paired with the possibility of feeling really fucking foolish. So maybe start slow and let the confidence build. Think about entertaining your role-play fantasy via text before making it an in-person activity. Think about what turns you both on most, and how you can best accessorize that desire. And remember, it's okay to break character. You're not auditioning for the actor's studio. This is about pleasure, not performance.
Look Into Bondage
Twenty-five percent of those who responded to the Skyn Condoms 2019 Sex & Intimacy Survey admitted to having used handcuffs during sex, at least once before. This would fall under the category of "restraint play," which is defined as when someone is made partially or completely immobile by way of restraints during sex. It could also refer to instances in which your movement is somewhat restricted. This can be accomplished with the aid of a few different kinds of props. Handcuffs, of course, are one option. But so are rope, leashes, hogties, door cuffs, posture collars, and spreaders. The only way to gauge what's best for you and your partner is to talk about. Do some research. Read some erotica. Watch some porn. And head into a sex store and see what calls out to you.
3. Try Orgasm Denial
Have you ever skipped lunch because you know you're going out for a huge dinner? Sure, you feel pangs of hunger throughout the day, and you know could easily resolve that discomfort by having a quick bite but you chose not to because, at the end of the day, a big meal is more rewarding than decent snack? That's kind of what orgasm denial is. The idea is to bring your partner to the brink of orgasm but cease stimulation before they hit climax. This concept of prolonged arousal is thought to lead to more intense orgasms. Plus, there is a BDSM element to consider. Taking control of someone else's orgasm isn't exactly for the vanilla of heart. Being asked permission to come seem a little contrived at times, but it can also be extremely hot.
4. Use A Sex Toy
According to the Skyn Condom's 2018 Sex Survey, 66 percent of respondents in relationships regularly incorporate vibrators into sex. But maybe the more encouraging statistic is as follows: 95 percent of vibrator users are actually experiencing orgasm during sex. Think about exploring the concept of "couples toys." These are high-end, high-tech sex toys specifically designed for partnered play. Of course, the market also gives you the option of exploring other kinds of kink. Bluetooth compatible vibrators are a thing, They allow you to control the device directly from your phone over long distances. And many are designed so that they can be worn discretely under clothing. The technology allows you to dabble with the idea of public play without the risk. If that's not your thing, then there are plenty of other options out there that will help bring you closer to the kink realm.
5. Make A Sex Tape
Watching other people have sex might feel a little strange, at times. It can also be extremely hot. But putting yourself in front of the camera is something else entirely. There's a certain psychology attached to seeing yourself perform sexually. And getting turned on by your own show can serve as an immense confidence booster. The material gives you and your partner a private sense of accomplishment. It's also something you can share when you're looking to get back to action, or even when things start to feel a little stale. Of course, you're going to need your partner's explicit and enthusiastic consent before you flip the camera on yourselves. It would also be wise to prepare for whatever hiccups might come your way. Cameras slide. Dogs bark. Phones ring. Worlds collapse. Be prepared for disruptions, and don't let it ruin your good time.
6. Maybe, Why Not, Try a Threesome?
Non-monogamous endeavors are officially on our radar. And that appears to be extremely appealing for some. According to a recent study published by Debbie Herbenick and colleagues in the journal PLOS ONE, one in seven Americans have had a threesome at some point. One in five finds at least finds the idea appealing. If you and your partner happen to fall into this seemingly expanding demographic of individuals, you might think about inviting more folks into your ménage. Of course, it's probably best not to dive in too deep, too fast. Think about setting up a joint profile with your partner on an online dating app. Think about what photos you want to use, how you want to describe yourselves, and how to articulate exactly what you're looking for. Scroll around. Fantasize about your finds. After all, planning is part of the fun.
This article was originally published on