26 Songs To Get Your Kid Psyched About The Outdoors, Picked By 2 Guys Who Canoed The Mississippi
And hiked the Appalachian Trail, too!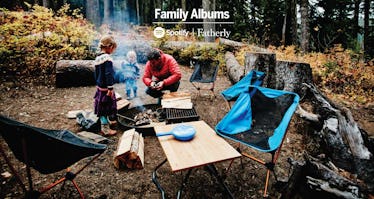 The following was produced in partnership with our friends at Spotify.
You had fantasies of quitting the rat race and hiking the Appalachian Trail or rafting the Mighty Mississippi, but these days the closest you'll get to that is taking the long way on the day care carpool. That's when you should fire up some Okee Dokee Brothers. The folk and bluegrass duo of Joe Mailander and Justin Lansing go on those adventures — literally, both of the above — and turn them into Grammy-winning family music albums (the video below is for the title track from their latest, the western adventure, Saddle Up). You'll enjoy the echoes of old timey kids' music and maybe even get a little misty over the coming-of-age themes; your kid will love the bouncy lyrics and melodies. And everyone loves a bullfrog opera.
[youtube https://www.youtube.com/watch?v=uEHkK2LBbAw expand=1]
The Bros' mission, according to Mailander, is to inspire kids and families to "get outdoors, take risks, leave their comfort zones, and get creative in nature." The 16 artists and 26-song playlist below encompass some of their favorite tunes about the great outdoors. All you have to do is press play and convince your spouse that the family that goes off-grid together stays together.
The Song: "Green, Green Rocky Road"
Why It's Great: An Okee Dokee friend and collaborator, Mitchell's production and approach are raw and stripped down, resulting in tender, heartfelt music that offers families a reprieve from everyday craziness and a reminder to slow down and appreciate their time together. There's not even a joke there; that's literally the sweetest thing ever.
The Song: "I Don't Need Sunny Skies"
Why It's Great: The Brothers aren't shy about tweaking the traditional, public domain folk songs they often reference, and neither is their pal, Zanes. "He blows the dust off and gives it the Dan Zanes energy," Mailander says. Toss in some Andrew Bird because adventurin' calls for whistlin'.
The Song: "Gum Tree Canoe"
Why It's Great: "When it comes to a folk musician that writes songs about the Mississippi River, he's an authority," Mailander says, which is absurdly specific but highly useful for a duo writing a concept album about a month-long Mississippi River canoe trip. This song is about growing up, and since you're a parent, also about sobbing.
The Song: "Getting In A Treetop"
Why It's Great: It's more Kindie rock than Americana folk, but the Brothers sort of have a thing for themed concept albums for families and Gustafer Yellowgold — a yellow cartoon creature that fell from the sun and landed in a Minnesota lake to entertain your kids — is that. This song's about taking a risk in nature, but Gustafer had Minneapolis native Mailander at "Minnesota."
The Song: "Catfish John"
Why It's Great: It's a banjo-pluckin' family tune by a group the Okee Dokees will be opening for this summer about a river and the delta dawn and, uh, a fish. No? Not a fish? Actually a hobo? Whatever, they're called the Nitty Gritty Dirt Band — can't get more outdoorsy than that.
The Song: "Two Trees, Old Friends"
Why It's Great: The Grammy-nominated album Trees is less rocking than Ledford's kindie band, Lunch Money, and a perfect match of voices with her good friend, Kelly. Even if you're a city-dweller, "Trees" is a pretty relatable starting point for the outdoors. Beats "Street," anyway.
The Song: "California Stars"
Why It's Great: Just because you expected a Woody Guthrie cover, Mailander picked the most famous track he never recorded. This cut, from 'Til The Morning: Lullabies And Songs Of Comfort, is a mellow, gorgeous take, but Billy Bragg and Wilco also do a version if your kid needs more energy or you've given up and gone full dad-rock.
The Song: "Deep Woods Revival"
Why It's Great: Critter party! This song about sneaking out at night and stumbling on a woodland animal revival goes from mystery, darkness, and danger to celebration in much more kid-friendly fashion than, say, South Park's "Woodland Critter Christmas." Google it. Actually … don't.
The Song: "Big Yellow Taxi"
Why It's Great: Everyone loves this song like no one loves tree museums. Don't pave paradise, kid.
The Song: "Sloppy Jalopy"
Why It's Great: The Minnesota-based singer-songwriter (noticing a theme?) has loads of songs that evoke the "jumpin' in the river, Huck and Tom" great outdoors vibe — including the actually about jumpin' in a river with Huck and Tom, "Mississippi River" — but none more fun to say than "Sloppy Jalopy." Besides, you gotta get to the river somehow.
The Song: "City Don't Sleep"
Why It's Great: England's recently-released album, Explorer Of The World, is about getting outdoors and taking risks, but within your own city. Please note, this in no way suggests the Okee Dokee Brothers condone following the friendly raccoon to his hideaway in Central Park.
The Song: "The Moon Song"
Why It's Great: Okees' producer Dean Jones fronts this outfit, which thrives on capturing the "sound and positive energy of real people in a room making real music for real families." All without the allergic reaction you might experience if you were actually in Jones' straw bale studio.
The Song: "My House"
Why It's Great: Country music's "It Girl" of 2015 has a number of songs the whole family can enjoy. Especially this one, an adorable ode to packing up the trailer and turning the open road into the family home that still won't convince your spouse to do it.
The Song: "Goin' Across The Mountain"
Why It's Great: The Brothers met this duo on their Appalachian Trail trip that became Into The Woods, and they play strictly old time music. It was their destiny to wind up on this playlist.
The Song: "Mother Nature's Son"
Why It's Great: Dude, it's the Beatles. The Okees do a version of this, but even Mailander must rightly admit there's no beating the original.
The Song: "Campin' Tent"
Why It's Great: They made the list, they can be on it. All their songs are outdoorsy (that's the point) but this one uses kid-friendly wordplay to deliver a message adults will understand: mansion dreams become mortgage nightmares and end with you livin' in a campin' tent down by the river.
For all of the above, plus even more of the Okee Dokee Brothers' favorite family tunes about exploring the great outdoors, check out the full playlist.
This article was originally published on