I'm a Naval Officer. Leaving My Family Is Hard. But Coming Back Is Always Harder.
Realzing why that was — and fixing it —made me a better husband and father. In the end, isn't that what all of us are trying to do anyway?
by David Burmeister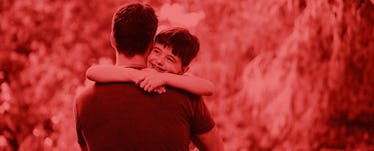 "Yayyyyyyy!!!! Daddy's home, Daddy's home!" These are the most amazing and heartwarming words to hear from your kids when you walk through the door after a long and sometimes difficult trip. That first embrace from your spouse feels so good, too. Over the years, I have been gone a lot for my job. Sometimes it would be for months. Once, I was gone for ten months. Everything about it is tough, especially if you have a family. I'm a Naval Officer and, as most everyone knows, deployments and "going away" are part of the job. It's likely you know someone in the military and have seen first-hand how difficult the coming and going can be.
Here's the thing: Leaving for extended periods of time is tough but coming back is even harder. I'm not talking about my anticipation of a glorious reunion with my loved ones in the days or weeks waiting to return. I am excited. It's just harder for my wife and kids once I get there. It seems counter-intuitive but it's true.
This story was submitted by a Fatherly reader. Opinions expressed in the story do not necessarily reflect the opinions of Fatherly as a publication. The fact that we're printing the story does, however, reflect a belief that it is an interesting and worthwhile read.
I am fortunate to be married to an amazing woman who is an even better Mom to our three girls. For 14 of my 23 years in the Navy, she has been there, changing diapers, taking them to events, helping with homework, and all the other things parents do on a daily basis. She has done this while I've been out there doing all kinds of crazy things in all kinds of far off places.
Now, many of you probably have jobs that take you away at various points in time and also have amazing spouses at home holding down the fort. Maybe you go out of town for three days, two weeks, or more extended periods of time. I have no idea. What I do know is that the coming back is usually tougher than the leaving.
Why is that? For me, the toughest thing our family has gone through in my career were the multiple, short (two-to-three week) periods of time away. I would leave, which was tough to start with, but my wife and girls would adjust quickly. They would get into a routine and their lives would start to normalize. Then all of a sudden, I was back. The moment of return was of course fantastic. There were hugs, kisses, etc.…. but as soon as that was over, it seemed like our family would fall into this chaotic state of distress and instability.
This went on for years and it would happen every single time I was away. Then one day after I had been home for a couple of days, my wife said to me, "You know, this is all your fault." I said, "What's my fault?" "Our house is a mess, the kids are cranky and out of control, and I'm not happy either." I was shocked! How could this be my fault? I just got back. I was out there, sacrificing time away, and serving my country. She was here, doing the things our family always did.
Here's the problem. I had come home and ruined everything. They had a good thing going while I was gone. Sure, they missed me liked crazy and wished I was there to do the fun stuff I always did like make chocolate chip pancakes on Saturday morning, go to the park, or let the girls take turns steering the car on my lap while driving through the high school parking lot. But I messed up their routine when I came home.
You're probably thinking, That doesn't apply to me because he's in the military and he's gone for long periods of time. And their family knows this is part of the deal. It's part of life for them. My family doesn't feel this way when I come home after a business trip, right? Well, maybe, maybe not. Do you really know?
The reason I'm bringing this up is not to say we have this totally figured out or it applies to every family across the board. I'm saying it because it might apply to you and help your family in some small way. I'm guessing if this has happened to me, it's probably happened to someone else. There's some state of chaos upon your return from a trip or extended time away and you're not sure why.
Once I came down from my throne, and realized the simple fact that my absence and then sudden return had caused the problem, I softened. I began to understand how hard this was on my family on a deeper level. I started to show more kindness, more love, more caring, more empathy. The realization that I was the central node to this particular family issue, helped me be a better husband and father, and in the end, isn't that what all of us are trying to do anyway?
David Burmeister is a Naval Officer and Aviator getting ready to return to the civilian sector after an almost 23-year career. His days of coming and going, flying off aircraft carriers, and ruining everything will hopefully be over soon…
This article was originally published on