How to Teach a Kid to Pitch a Tent
by Jen See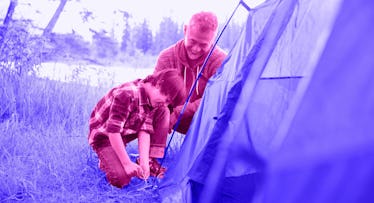 Pitching a tent is an outdoor skill every young camper should know. It can be a fun, collaborative task that can get a camping trip off to a good start ⏤ or a frustrating one. Taking time ahead of a trip to become familiar with how your specific tent works is an essential first step.
Though it can look like a jumble of nylon fabric and poles, most tents are relatively easy to assemble. You and your young camper should be able to master it with just a little practice. Pitching the tent is also one camping skill that doesn't present all that many safety hazards, so kids of all ages can join in.
For some tent-pitching advice, we caught up with Beth Welliver for help. Welliver is an avid backpacker and bikepacker and she also endured survival training with the US Air Force on the way to graduating from the Air Force Academy. Here are her main pointers.
Check it before you go
Before leaving on the trip, check over your tent. Make sure all the poles and stakes are present. You should also give the fabric a look-over to ensure there aren't any holes or tears. If there's a hole, you can pick up a repair kit from an outdoor store and patch it as need be.
As you inspect your tent, explain the various elements to your kid, so they become familiar with how it works. "Count out the stakes and make sure you have enough to stake down the four corners and the rain fly effectively," says Welliver. Also, make sure the poles are in working order.
If your tent is new or you haven't used it recently, it's worth taking a few minutes to put it up in your backyard or living room. "The worst is when you get out there and it's dark and windy and you just want to be in your tent, but can't remember how it works," says Welliver.
Pick your spot
Sleeping in a rock garden is never fun, so you'll want to pick your spot carefully. Look for a level area with limited vegetation and as few rocks as possible. "Make sure it's free of sharp debris such as pine cones, sticks, or rocks," says Welliver. "You don't want anything sharp poking you in the night." Tree cover is nice in hotter climates, too, but be sure the branches won't hit your tent. If rain is possible, check around for possible drainage areas. You don't want to pitch your tent in a dry streambed that could come to life overnight.
Choosing the place for your tent can be a fun, collaborative effort with your kid. Let them take the lead, while carefully explaining the ideal set-up. You can also use this opportunity to talk about any environmentally sensitive plant-life that's in the area or if you're in a region with poison oak or ivy, how to identify these plants.
Spread your ground cover
You'll want to place a ground cover under your tent to prevent any dampness from the soil from creeping upward into your bed. A square of Tyvek material will also work well for this. Spreading the ground cover is easily a two-person job that you and your child can do together. Stand at opposite ends of the cover and smoothly lay it over the area where you'll pitch your tent.
Lay out your tent
Placing your tent over the ground cover is another easy team effort. You can let your kid decide which direction they want the doors and windows to face. An epic view out the front door is prime tent life. "Pay attention to the ventilation points in your tent," says Welliver. "You want the breeze to come in or your tent will be stuffy at night." If you're expecting rain or intense wind, you'll want to orient the door away from the wind direction. There are few things worse than rain blowing into your cozy sleeping spot.
Assemble your poles
These days, most tents are fortunately easy to assemble. Typically a small number of poles will do the job. Flexible fiberglass lengths connected with elastic cords are the usual construction for most tent poles now and they are easily assembled, even for younger children.
Most of the time, they'll be stored folded and you simply need to unfold and fix them into their full length. "I've noticed kids really love unfolding the poles," says Welliver. You'll likely need to help balance the poles, but your son or daughter can have the fun of unfolding them.
Attach the poles to your tent
Each manufacturer has their particular system for attaching the poles to your tent. Usually, you'll slide the poles into a fabric sleeve or attach them to the tent using clips that are sewn to the fabric. For this reason, familiarizing yourself and your family with your tent before heading out for your weekend away is a good call.
Most tents will have end points at the base of the tent to secure the poles. This can be an awkward process as poles pop out or flex in the wrong directions. "Try having your kid stand across the tent from you to stabilize it as you feed the poles into the tent," says Welliver. Encourage your kid (and yourself!) to be patient. You got this.
Secure your rain fly
Secure the rain fly to your tent. "You want to pull your rain fly as tightly as possible," says Welliver. "If it's flapping in the wind all night, it'll keep you awake." It'll also likely leak if it isn't tight. Welliver recommends using the rain fly even if it's not going to rain. "It's a little more shade, so you'll be able to sleep a little longer," she says.
Typically, there will be one line at each end and on either side of the tent to secure the rain fly. Using a hammer or flat rock, hammer the necessary stakes into the ground and attach the lines from your tent to the stakes. "You want the stakes at an angle, so that you can tension the lines correctly," she says.
Stake your tent
Keep that hammer or rock at the ready, because you'll need it for this next step. Gather the stakes for your tent, which you counted out at home before heading out camping. You did count out your stakes, right? Of course, you did. "You want the stakes as far into the ground as possible, while leaving enough room to hook them to the tent," says Welliver. This is an easy task for kids to take on, though younger children will need supervision to avoid smashing fingers instead of tent stakes.
Start at the corners and pull the base of your tent smooth. You'll want to hammer your stakes in at an angle. Once the four corners are complete, work around the tent, filling in the remaining stakes. Ask your son or daughter to find rocks to place on the stakes for extra security. "This also helps you visually," says Welliver. "It's a good way to avoid tripping on the stakes."
Stow your gear
When stowing your gear, make sure to keep it clear of the tent's interior walls. Otherwise, the moisture from dew or light rain will transfer through the fabric to your clothing or sleepsack.
Point your head toward the uphill side of the tent, if it's not completely flat. A sleeping pad is a nice addition for both comfort and insulation. Listen to the crickets and enjoy a great night's sleep in your tent in the outdoors!
Clean and store your tent
When you return home, be sure to air out your tent before storing it. "When you get home, you don't want to leave your tent in the bag," says Welliver. Hang it up over a stairwell or in your garage. "You don't want it to mildew," she says. You should also brush off any dirt or debris that you picked up while camping. Then, it'll be ready to go for your next adventure.
This article was originally published on